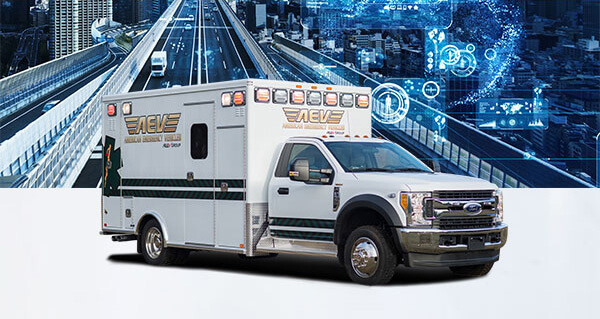 American Emergency Vehicles (AEV), part of REV Group® (NYSE: REVG) and manufacturer of Type I, II, III and Medium Duty ambulances, now offers Traumahawk Telematics, integrated vehicle intelligence solutions as a standard feature on select AEV Type I, Type III and Medium Duty ambulance models.
Traumahawk Telematics generates advanced vehicle informatics to help ambulance fleet owners manage their fleets more efficiently and keep their crews and patients more safe. Additionally, Traumahawk Telematics enables remote fleet management and maintenance, monitors driver behavior, tracks fleet utilization, and provides an intelligent platform for additional capabilities such as RFID asset tracking.
"The introduction of Traumahawk Telematics is another example of AEV's commitment to continually improve the productivity and safety of our customers each and every day," said Randy Hanson, President of AEV.
Traumahawk Telematics, which is powered by ACETECH™, includes the following benefits:
Real-time driver and fleet monitoring​
Real-time driver safety coaching with voice alerts​
GPS location services​
Accelerometer & turning data​
Vehicle Accessory Information (i.e. lights on) ​
Maintenance Alerts​
Battery Monitoring​
Fuel Use Monitoring​
Ambulance Status​
Geo-Fencing​
OBD2 Codes​
Collision Alerts​
Data collected, preserved, and stored even in cellular dead zones
One-year free subscription to ACETECH iNSIGHT cloud-based software
###
About AEV
American Emergency Vehicles (AEV), a leading manufacturer of ambulances with an uncompromising commitment to safety and integrity, builds ambulances to customer specifications on all chassis platforms including Type I, II, III and Medium Duty.  AEV has earned the Frost and Sullivan Award as a world class manufacturing company by demonstrating achievement across a wide variety of domains including sustainability, operational excellence, innovation, and supply chain management.  AEV has also earned North Carolina's Star award which is designed to recognize employers and who have implemented effective safety and health management systems and maintain injury and illness rates that meet the criteria for participation.
About REV Group, Inc.
REV Group (REVG) is a leading designer, manufacturer, and distributor of specialty vehicles and related aftermarket parts and services. We serve a diversified customer base, primarily in the United States, through three segments: Fire & Emergency, Commercial, and Recreation. We provide customized vehicle solutions for applications, including essential needs for public services (ambulances, fire apparatus, school buses, and transit buses), commercial infrastructure (terminal trucks and industrial sweepers) and consumer leisure (recreational vehicles). Our diverse portfolio is made up of well-established principal vehicle brands, including many of the most recognizable names within their industry. Several of our brands pioneered their specialty vehicle product categories and date back more than 50 years. REV Group trades on the NYSE under the symbol REVG. Investors-REVG
About ACETECH
ACETECH™ is a multi-award-winning global manufacturer of Vehicle Intelligence for emergency service fleets. Its solutions include cloud-based fleet management software, specialist safety & eco-friendly modules and intelligent electronic control units. ACETECH solutions integrate seamlessly with the client's fleet to boost performance, improve safety, and revolutionize the operation of the fleet. ACETECH has clients in over 50 countries worldwide, with regional offices in the US, Canada, Europe, Middle East, and Australia. For additional information, please visit www.acetech.com or follow on social media.