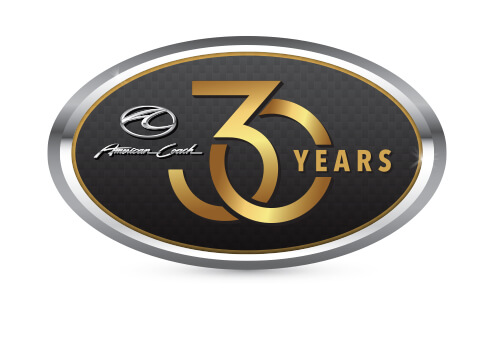 REV Recreation Group, a subsidiary of REV Group, Inc. (NYSE: REVG), commemorates 30 years of the American Coach® brand and its legacy for building the best in luxury Class A Diesel motorhomes. To celebrate this milestone, American Coach introduced the renewed American Tradition® for 2021 and launched itsexclusive membership platform Platinum Experience. Still to come, the American Coach Association (ACA) will hold the 30th Anniversary Rally for members in November and American Coach will release an Anniversary Edition American Eagle®, with limited availability.
Following continual customer requests throughout the 1980s for the ultimate luxury motorhome, REV Recreation Group unveiled the first American Coach in 1991, the American Eagle. With luxurious interior accommodations meant to replicate the comfort of home, the American Eagle soars today as the flagship of brand and the industry's benchmark for the finest in materials and craftsmanship.
Over the last three decades, American Coach has become renowned for introducing new innovations to the industry, among these are the first ever modular bridged chassis which led to the exclusive Liberty Bridge® chassis and the full-wall slide out. American Coach is also the first coach to offer a digital dash. Today, the brand is sought after for its luxury appointments, for its remarkable structure, and for its stunning front caps and exquisite four-color ultra-clear paint work, among many other highlights. For the anniversary year, American Coach debuted the new American Tradition® in three floorplans including a 37-foot model which is small, yet has significant horsepower, making it ideal for traveling through the mountains. The American Dream® and American Eagle are also available in multiple floorplans, with such sophisticated features as large spa showers, heated porcelain tile floors and granite basin kitchen sinks. No detail is overlooked, including fabrics with a residential feel, unexpected in a recreational vehicle, and high-end cabinetry with soft edge. The Anniversary Edition American Eagle will feature Hydro-dipped cabinetry typically found in high-end yachts as well as Isenberg® faucets, BLANCO® SILGRANIT sinks, quartz countertops, and anniversary badging.
"We are very proud to be celebrating American Coach's 30th anniversary," said Bill Reith, Vice President and General Manager of REV Recreation Group in Decatur, IN. "Our customers prompted the launch of American Coach and it's a great joy for our skilled team, some who've worked with the brand for 30 years, to experience the pride our customers feel for their American Coach motor coaches."
ACA members are looking forward to the 30th Anniversary Rally at Paragon Casino RV Park in Marksville, LA, from November 1 to 6, with a variety of exciting events planned. For more information, visit https://myamericancoach.com/rallyinfo-2.
To learn more about the 30th anniversary and view the 2021 American Coach models, visit https://www.americancoach.com/.
###
About REV Group®, Inc.
REV Group®(REVG) is a leading designer, manufacturer, and distributor of specialty vehicles and related aftermarket parts and services. We serve a diversified customer base, primarily in the United States, through three segments: Fire & Emergency, Commercial, and Recreation. We provide customized vehicle solutions for applications, including essential needsfor public services(ambulances, fire apparatus, school buses, and transit buses),commercial infrastructure(terminal trucksandindustrial sweepers) and consumer leisure (recreational vehicles). Our diverse portfolio is made up of well-established principal vehicle brands, including many of the most recognizable names within their industry. Several of our brands pioneered their specialty vehicle product categories and date back more than 50 years. REV Group trades on the NYSE under the symbol REVG. Investors-REVG