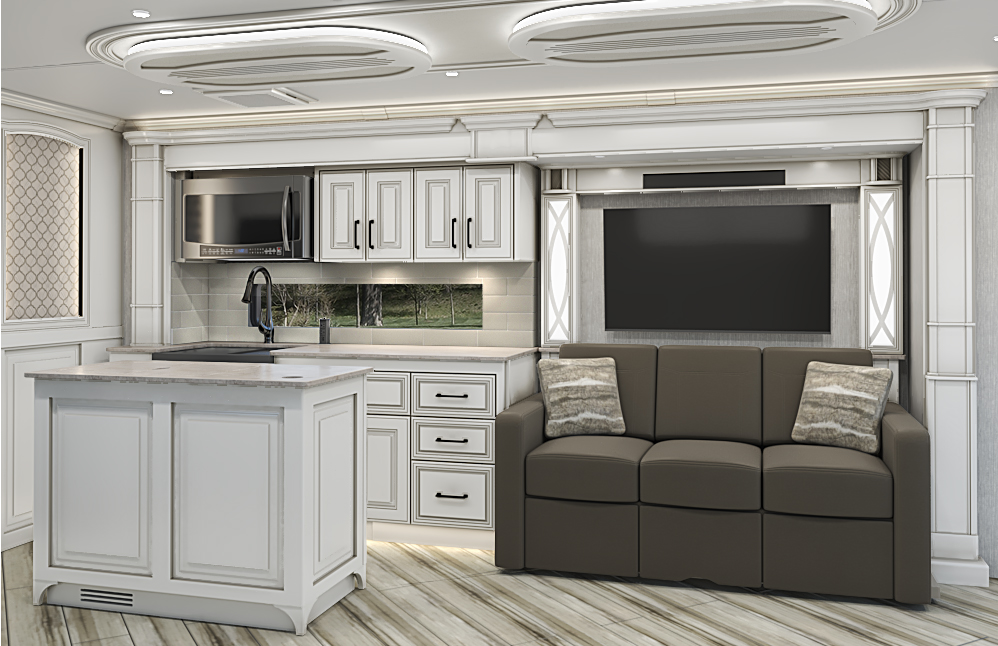 Known for its exquisite luxury, attention to detail, and exceptional customer service, American Coach has added an innovative interior design tool to its website. The interactive tool is an industry first that allows customers to mix-and-match and visually explore the décor packages and cabinetry options on the American Eagle, American Dream, and American Tradition 2022 models. American Coach is a luxury RV brand within REV Recreation Group®, a subsidiary of REV Group®.
Each Class A model on the American Coach website features a customizable view of both the living and bedroom areas. Users can toggle between décor packages and cabinetry options to see how the selections look together.
For example, in the living space, customers can view the coach's hand-crafted cabinetry, tile flooring, quartz countertops, backsplash, wallpaper, leather sofa, and accent pillows in different colors, design styles, and finishes. In the bedroom, the cabinetry, flooring, comforter, and accent pillows change based on the selection.
"American Coach has a standard of excellence that we are delivering throughout the entire customer roadmap," says Deb Stapel, Director of Marketing for REV Recreation Group's Class A products. "This new design tool significantly enhances our customers' experience and catapults us ahead of the traditional fabric swatches and door samples that don't allow the customer to fully visualize the interior of their new RV to make the design choices they like best."
The interactive interior design tool complements the existing customer friendly features on the website – a real-time MSRP calculator and 3D immersive tour. The "Build & Price" calculator allows customers to instantly generate a MSRP based on the floorplan, options, and décor elements they have selected. The 3D tour utilizes a 360-degree camera view that gives customers the ability to "walk through" and explore the coach in a more in-depth way rather than relying simply on a floorplan drawing.
"We're continually evaluating how to best meet the wants and desires of our customers. These new virtual tools allow for an easier, more engaging and exciting experience of shopping for and buying an American Coach," adds Stapel.
For more information, visit americancoach.com.
###
About REV Recreation Group, Inc.
REV Recreation Group, Inc. is a REV Group® subsidiary and a leading manufacturer of Class A Gas and Diesel recreational vehicle brands. This company has one of the best and longest standing distribution networks in the industry and boasts some of the industry's most recognized and iconic brand names such as American Coach®, Fleetwood RV®, and Holiday Rambler®. Headquartered in Decatur, IN, which is also its principal manufacturing location, it operates two state-of-the-art service and repair centers and a genuine parts online warehouse.
About REV Group, Inc.
REV Group® companies are leading designers and manufacturers of specialty vehicles and related aftermarket parts and services, which serve a diversified customer base, primarily in the United States, through three segments: Fire & Emergency, Commercial, and Recreation. They provide customized vehicle solutions for applications, including essential needs for public services (ambulances, fire apparatus, school buses, and transit buses), commercial infrastructure (terminal trucks and industrial sweepers), and consumer leisure (recreational vehicles). REV Group's diverse portfolio is made up of well-established principal vehicle brands, including many of the most recognizable names within their industry. Several of REV Group's brands pioneered their specialty vehicle product categories and date back more than 50 years. REV Group trades on the NYSE under the symbol REVG. Investors-REVG