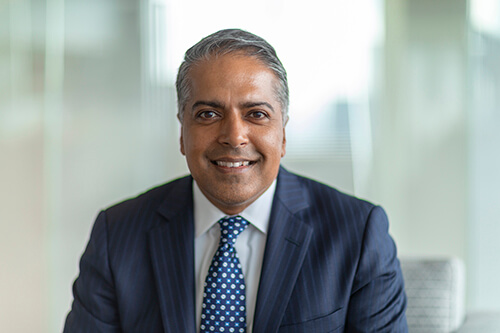 REV Group (NYSE: REVG), manufacturer of industry-leading specialty vehicle brands, announces Anoop Prakash will join the company as Ambulance Group President on Monday, September 23, 2019, where he will oversee all the ambulance brands including Horton, AEV, Leader, Road Rescue, McCoy Miller, Wheeled Coach and Frontline.
Anoop's appointment comes as Bob Collins announced his retirement after 42 years of dedication and service to the ambulance industry. Bob will remain with REV Group until the end of the year, to help in the transition of his duties to Anoop.
Prior to joining REV Group, Anoop was with Harley-Davidson, most recently as Director, Retail Development where he led the U.S. distribution channel organization for motorcycle and related product sales through a network of over 700 independent retailers. In addition to leading the U.S. Sales Operations and Planning efforts at Harley, he also led the U.S. Electric Vehicle go-to-market and network readiness efforts. Other notable positions at Harley-Davidson include Director of U.S. Marketing and Market Development, Managing Director for H-D Canada, as well as leading the company's entry into India as the Managing Director, overseeing the commercial office.
In addition, Anoop has advised leading automotive and consumer companies as a consultant with both Egon Zehnder and McKinsey & Company. He served as a Captain in the U.S. Marine Corps and holds a BA from Stanford University as well as an MBA from Harvard Business School.
"With over 20 years of driving business performance and growth, leading go-to-market strategy, as well as business and dealer development, we are thrilled to have Anoop join our team," said Ian Walsh, Chief Operating Officer, REV Group. "We thank Bob for his service over the last four decades. He was instrumental in overseeing the growth of the REV ambulance business including the acquisition and transition of several ambulance brand additions under REV Group, Inc. We congratulate him on a highly accomplished career."
###
About REV Group, Inc.
REV Group (REVG) is a leading designer, manufacturer and distributor of specialty vehicles and related aftermarket parts and services. We serve a diversified customer base primarily in the United States through three segments: Fire & Emergency, Commercial and Recreation. We provide customized vehicle solutions for applications including essential needs (ambulances, fire apparatus, school buses, mobility vans and municipal transit buses), industrial and commercial (terminal trucks, cut-away buses and street sweepers) and consumer leisure (recreational vehicles 'RVs', and luxury buses). Our brand portfolio consists of 29 well-established principal vehicle brands including many of the most recognizable names within our served markets. Several of our brands pioneered their specialty vehicle product categories and date back more than 50 years. REV Group trades on the NYSE under the symbol REVG. Investors-REVG