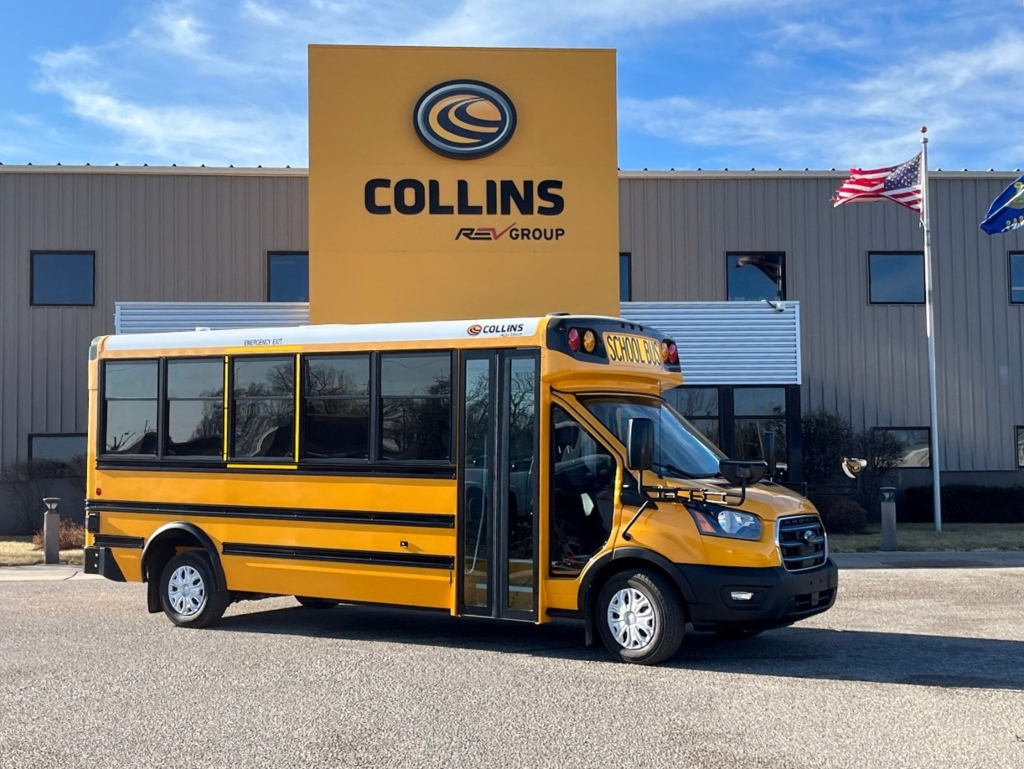 SOUTH HUTCHINSON, KS – May 1, 2023 – Collins Bus, a subsidiary of REV Group, Inc., and an industry leader in manufacturing Type A School Buses, Multi-Function School Activity Buses (MFSAB), childcare buses and electric/alternative fuel buses announces its zero-emissions Ford E-Transit Type A School Bus is available for orders starting Monday, May 1st.
E-Transit is the first Type A School Bus on an electric powertrain from a full-line automaker.  Introduced at NTEA's Work Truck Week in Indianapolis, Indiana in March 2023 by Ford Pro, the Type A school bus package features a fully electric powertrain with a 68 kWh high-voltage battery, and 8-year/100K-mile warranty.
"Collins Bus is renowned for its commitment to driver and passenger safety innovation with unparalleled bus structure designs, driver visibility, and driver safety features. Now, with Ford's E-Transit chassis, this commitment expands to help keep the environment safe with zero-emissions technology," said Bryce Pfister, Vice President and General Manager, Collins Bus.
In addition to zero emissions provided by the Ford E-Transit, the complete Collins school bus offers:
A narrow-body design that allows for easy vehicle maneuverability
The industry's largest view-out window which reduces blind spots and enhances visibility
An innovative structure featuring an exclusive one-piece tubular roof bow design for unmatched structural integrity
A 5-year body warranty and limited lifetime paint warranty
"Ford and Collins Bus have a long history working together to provide mobility solutions for school systems, and now, we're delighted to offer a more sustainable choice for their customers with E-Transit," said Raj Sarkar, Ford Pro General Manager Product Marketing and Strategy. "For use-cases with condensed routes, the Type A school bus package on E-Transit can be a great zero-emissions solution for student transportation."
The Collins Type A School Bus is offered on Ford's T-350 single-rear-wheel E-Transit cutaway and is available with floor plans accommodating up to 12 seated passengers or 8 seated passengers and two wheelchairs.
For more information, contact your local Collins Bus dealer. Ford Pro will showcase the Collins all-electric school bus at the ACT Expo May 2 to 4, 2023 where the latest developments in the clean transportation sector will be showcased.
###
About Collins Bus Corporation
Collins Bus Corp., a subsidiary of REV Group Inc., has delivered more than 50 years of the best bus designs. The Collins name has long been synonymous with the school bus industry. After half a century of delivering Type A school buses with A+ marks for strength and safety, it only makes sense that Collins has become the nation's most trusted bus manufacturer across every segment. From Type A school buses to the latest Collins Mobile Clinic, passengers and businesses can place their trust in Collins' engineering and innovation as much as the company itself.
About REV Group, Inc.
REV Group companies are leading designers and manufacturers of specialty vehicles and related aftermarket parts and services, which serve a diversified customer base, primarily in the United States, through three segments: Fire & Emergency, Commercial, and Recreation. They provide customized vehicle solutions for applications, including essential needs for public services (ambulances, fire apparatus, school buses, and transit buses), commercial infrastructure (terminal trucks and industrial sweepers), and consumer leisure (recreational vehicles). REV Group's diverse portfolio is made up of well-established principal vehicle brands, including many of the most recognizable names within their industry. Several of REV Group's brands pioneered their specialty vehicle product categories and date back more than 50 years. REV Group trades on the NYSE under the symbol REVG. Investors-REVG