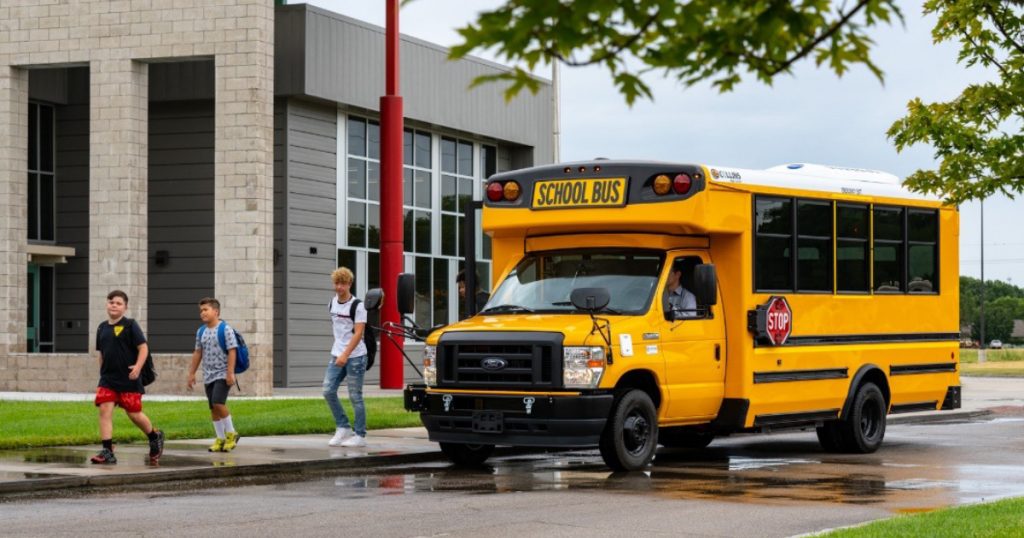 Collins Bus, a subsidiary of REV Group, Inc. and an industry leader in manufacturing Type A School Buses, Multi-Function School Activity Buses (MFSAB), childcare buses and electric/alternative fuel buses has delivered an all-electric Type A school bus to Peak to Peak Charter School, which operates Colorado's first all-electric school bus fleet.
The K-12 charter public school, located in Lafayette, Colorado, chose Collins to supply the first all-electric Type A school bus in its fleet. The bus features Collins' Flat-Floor design for wheelchair accessibility. In addition to the all-electric Type A school bus, Peak to Peak operates a fleet of Type C electric school buses.
"We are thrilled at Peak to Peak to have the first all-electric school bus fleet in Colorado," said Sam Todd, Executive Director of Operations, Peak to Peak Charter School. "By going with electric buses, we are reducing our carbon footprint and decreasing the number of cars on our campus dramatically by providing morning pickup service that we were not able to do in the past."
Peak to Peak, part of the Boulder Valley School district, worked with Highland Electric Fleets on the conversion of its fleet to electric. Highland provides electrification, financing options and infrastructure to school districts moving to all-electric fleets. Lightning eMotorsTM, which collaborated with Collins on the development of its all-electric Type A school bus, is managing the charging stations for the schoo
"The zero-emission, all-electric Type A school bus from Collins is not only a healthier choice for the environment, students and communities, it is highly efficient, helping school districts reduce costs," explained Matt Pinkham, OEM Account Manager, Lightning eMotors. "Electrification is here to stay, and we are proud to be part of it with Collins."
The highly efficient Collins all-electric Type A school bus is engineered with smart, commercially proven lithium-ion batteries with 125 kWh total capacity and tested over millions of real-world miles. Equipped to reduce operating and maintenance costs by up to 85%, these buses have a range of 120 miles. They are recharged with Level 2 13.2 kW AC charging or optional Level 3 CCS1 80 kW DC charging.
"It's exciting to be part of one of the first school districts in the country to transition their bus fleet to all-electric," said Ed Kendzierski, West Region Manager, Collins Bus. "Peak to Peak is a trailblazer, much like Collins, leading the way in electrification and providing cleaner, more efficient transportation for students."
Colorado Governor Jared Polis spoke at the official launch event recognizing the state's first all-electric school bus fleet. In addition to $64 million allocated for electric school buses in the state, funding from the federal Environmental Protection Agency (EPA) provides grants for EV buses and infrastructure upgrades.
Visit https://www.collinsbus.com/electric-school-bus or a local Collins Bus dealer for more information.
###
About Collins Bus Corporation
Collins Bus Corp., a subsidiary of REV Group Inc., has delivered more than 50 years of the best bus designs. The Collins name has long been synonymous with the school bus industry. After half a century of delivering Type A school buses with A+ marks for strength and safety, it only makes sense that Collins has become the nation's most trusted bus manufacturer across every segment. From Type A school buses to the latest Collins Mobile Clinic, passengers and businesses can place their trust in Collins' engineering and innovation as much as the company itself.
About Lightning eMotorsTM
Lightning eMotors has been providing specialized and sustainable fleet solutions since 2009, deploying complete zero-emission-vehicle (ZEV) solutions for commercial fleets since 2018 – including Class 3 cargo and passenger vans, Class 4 and 5 cargo vans and shuttle buses, Class 6 work trucks, school buses, Class 7 city buses, and motor coaches. The Lightning eMotors team designs, engineers, customizes and manufactures zero-emission vehicles to support the wide array of fleet customer needs including school buses and ambulances, with a full suite of telematics, analytics and charging solutions to simplify the buying and ownership experience and maximize uptime and energy efficiency. To learn more, visit https://lightningemotors.com.
About REV Group, Inc.
REV Group companies are leading designers and manufacturers of specialty vehicles and related aftermarket parts and services, which serve a diversified customer base, primarily in the United States, through three segments: Fire & Emergency, Commercial, and Recreation. They provide customized vehicle solutions for applications, including essential needs for public services (ambulances, fire apparatus, school buses, and transit buses), commercial infrastructure (terminal trucks and industrial sweepers), and consumer leisure (recreational vehicles). REV Group's diverse portfolio is made up of well-established principal vehicle brands, including many of the most recognizable names within their industry. Several of REV Group's brands pioneered their specialty vehicle product categories and date back more than 50 years. REV Group trades on the NYSE under the symbol REVG. Investors-REVG