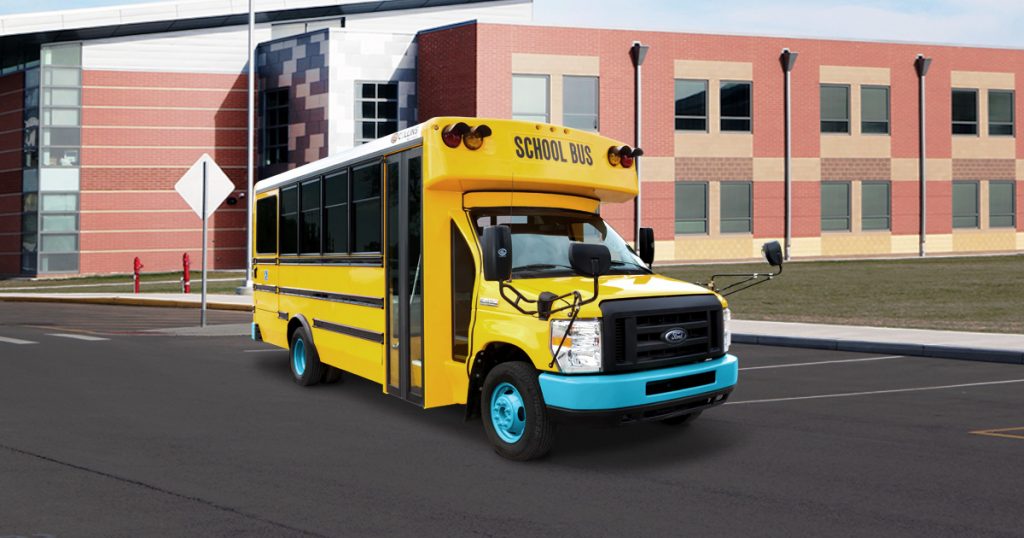 Collins Bus, a subsidiary of REV Group, Inc. and an industry leader in manufacturing Type A School Buses, Multi-Function School Activity Buses (MFSAB), childcare buses and electric/alternative fuel buses announces a new chassis option for its Type A Electric School Bus.
With the addition of the GM® G-4500 chassis, Collins is expanding its Type A Electric School Bus product offering, which is also available on a Ford® E-450 chassis. This additional chassis option will help alleviate the chassis shortage that began with the COVID-19 pandemic. Both platforms deliver an estimated 130-mile range and support both Level 2 13.2 kW AC charging or optional Level 3 CCS180 kW DC charging.
The Collins® Type A Electric School Bus was built in partnership with Lightning eMotors, the leader in electric fleet vehicles. Engineered and built in the USA, these battery-electric buses feature an elegant cabin integration with batteries conveniently stored under the floor.
"We are excited to continue our efforts to offer more choices in electric-powered school buses with the introduction of this GM chassis," said Bryce Pfister, Vice President and General Manager at Collins Bus. "The electric bus industry is growing as school districts increasingly look for ways to operate more sustainably. Collins is proud to expand and provide even more innovative, efficient alternatives to them."
Both chassis options are now available on the Collins Type A Electric School Bus. Visit https://www.collinsbus.com/electric-school-bus or a local Collins Bus dealer for more information.
###
About Collins Bus Corporation
Collins Bus Corp., a subsidiary of REV Group Inc., has delivered more than 50 years of the best bus designs. The Collins name has long been synonymous with the school bus industry. After half a century of delivering Type A school buses with A+ marks for strength and safety, it only makes sense that Collins has become the nation's most trusted bus manufacturer across every segment. From Type A school buses to the latest Collins Mobile Clinic, passengers and businesses can place their trust in Collins' engineering and innovation as much as the company itself.
About REV Group, Inc.
REV Group companies are leading designers and manufacturers of specialty vehicles and related aftermarket parts and services, which serve a diversified customer base, primarily in the United States, through three segments: Fire & Emergency, Commercial, and Recreation. They provide customized vehicle solutions for applications, including essential needs for public services (ambulances, fire apparatus, school buses, and transit buses), commercial infrastructure (terminal trucks and industrial sweepers), and consumer leisure (recreational vehicles). REV Group's diverse portfolio is made up of well-established principal vehicle brands, including many of the most recognizable names within their industry. Several of REV Group's brands pioneered their specialty vehicle product categories and date back more than 50 years. REV Group trades on the NYSE under the symbol REVG. Investors-REVG
Ford® is a trademark of Ford Motor Company, registered in the U.S. Patent and Trademark Office.
GM® is a trademark of General Motors Company, registered in the U.S. Patent and Trademark Office.