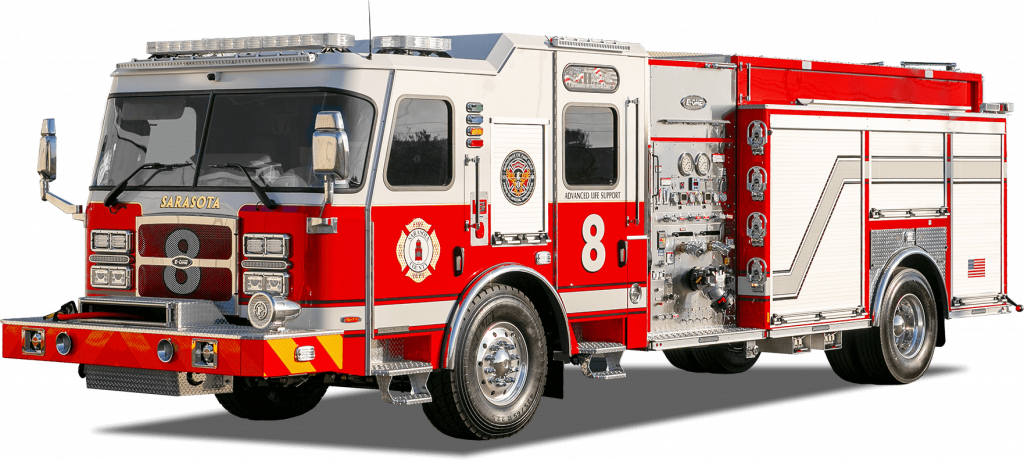 E-ONE®, a subsidiary of REV Group® and a leading manufacturer of fire apparatus, is pleased to announce the delivery of four E-ONE Custom Cyclone® Pumpers to the Sarasota County Fire Department in Sarasota, Fla.
These four Custom Pumpers are among the first apparatus with E-ONE's new 100″ wide Cyclone cab, which features more interior space for firefighters and includes a 12" vista roof for crew and 4" of additional headroom for driver and officer. This cab provides excellent visibility for driver and crew with its low-profile dash, one-piece door glass, and reduced profile interior A/C system.
Other features of the E-ONE Custom Cyclone Pumpers include:
Industry leading 27" seating width area for driver and officer
Barrier style cab doors with extended lower steps
Severe duty interior including cab dash, overhead console, door panels and seats with easy to clean upholstery
Wheel well medical cabinets both sides of cab
Cummins 450 HP L9 engine with Allison EVS™ 3000 transmission
Extruded aluminum body with roll-up doors
Zico hydraulic drop-down ladder rack
Powered two-piece aluminum hose bed cover
Hale QMAX 1250 gpm pump with 1500-gallon water tank
Akron deck gun discharge with electric valve controller and Akron Apollo™ hi rise monitor
Low pre-connected hardlines for easy access
Front bumper booster reel
Decontamination discharge outlet on driver side pump panel
Hypro/FoamPro® foam system with 30-gallon foam tank
V-MUX multiplex electrical system with driver and officer color displays
AXIS® Smart Truck Technology
Whelen® LED warning lights
Firetech® LED Scene lighting
360° camera system
Sarasota County Fire Department worked with E-ONE dealer REV Technical Center (RTC) in adding these four pumpers to its fleet as replacement trucks.
"We are always excited to work with Sarasota County and count it a privilege to help this department better serve its community with customized fire apparatus," said Larry Daniels, E-ONE's Director of Sales. "Our E-ONE 100-inch wide Cyclone cab is the new fleet standard and is the perfect fit for this busy fire department. We look forward to working with them for years to come."
For more on the E-ONE Custom Cyclone Pumper, go to e-one.com
###
About E-ONE
E-ONE is a leading fire apparatus manufacturer, making emergency vehicles, rescue trucks, aerial fire trucks, rescue pumpers and custom fire apparatus, and has produced more than 28,000 vehicles delivered around the world. Headquartered in Ocala, Florida, E-ONE is an industry leader in product innovations, new technologies and exceeding customer expectations. E-ONE is owned by the REV Group.
About REV Group, Inc.
REV Group® (REVG) is a leading designer and manufacturer of specialty vehicles and related aftermarket parts and services. We serve a diversified customer base, primarily in the United States, through three segments: Fire & Emergency, Commercial, and Recreation. We provide customized vehicle solutions for applications, including essential needs for public services (ambulances, fire apparatus, school buses, and transit buses), commercial infrastructure (terminal trucks and industrial sweepers) and consumer leisure (recreational vehicles). Our diverse portfolio is made up of well-established principal vehicle brands, including many of the most recognizable names within their industry. Several of our brands pioneered their specialty vehicle product categories and date back more than 50 years. REV Group trades on the NYSE under the symbol REVG.