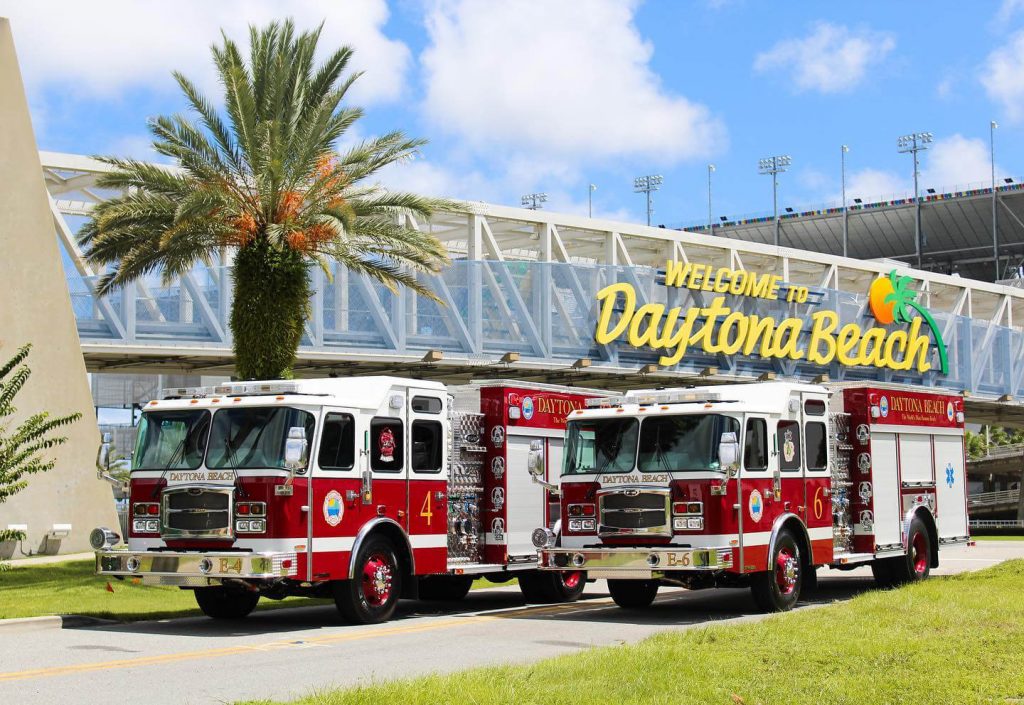 E-ONE, a subsidiary of REV Group and a leading manufacturer of fire apparatus, is pleased to announce the delivery of two E-ONE® Custom Pumpers to Daytona Beach Fire Department in Florida. With the recent addition of these two pumpers, Daytona Beach now has an all E-ONE fleet.
Key features of Daytona Beach Fire Department's E-ONE Custom Pumpers include:
Typhoon™ cab with 12″ vista roof, severe duty interior and dark tint glass
Galvanized and powder coated frame for corrosion resistance
188″ wheelbase with 18,000 lb front axle and 27,000 lb rear axle
Cummins 450 HP L9 engine with Allison EVS 3000 transmission
Extruded aluminum rescue pumper body with full height compartments and ROM roller shutter doors
Enclosed ladder tunnel for 24′, 14′ and 10′ ladders and pike poles and pry bar
Wide upper roof-top compartments for additional storage space
Waterous 1250 GPM pump with 780 gallon tank (750 water / 30 foam)
V-MUX electrical system with driver and officer color displays, integrated A/C controls, integrated tire pressure monitoring and left, right and rear cameras
Whelen LED warning and scene lighting
AXIS® Smart Truck Technology
"These custom pumpers are the newest members of our fleet for a total of six all-matching E-ONE Typhoon pumpers. This provides our crews with the latest and greatest tools that meet NFPA compliance so they can be successful on the fire scene," said Daytona Beach Fire Chief Dru Driscoll. "We hope to continue our relationship with E-ONE and REV Technical Center for years to come as our needs continue to grow as Daytona Beach grows."
"With apparatus built to Daytona's specific requirements, E-ONE is grateful that the department now has an all E-ONE fleet to serve its community," said Larry Daniels, E-ONE's Director of Sales. "We are honored that Daytona continues to trust E-ONE for all of its fire apparatus needs."
For more on the E-ONE Custom Typhoon Pumper, go to e-one.com
###
About E-ONE
E-ONE is a worldwide designer and manufacturer of fire trucks with more than 28,000 vehicles in operation around the world. Headquartered in Ocala, Florida, E-ONE is the industry leader in product innovations, new technologies and exceeding customer expectations. E-ONE is owned by the REV Group (NYSE: REVG).
About REV Group, Inc.
REV Group (REVG) is a leading designer, manufacturer, and distributor of specialty vehicles and related aftermarket parts and services. We serve a diversified customer base, primarily in the United States, through three segments: Fire & Emergency, Commercial, and Recreation. We provide customized vehicle solutions for applications, including essential needs for public services (ambulances, fire apparatus, school buses, and transit buses), commercial infrastructure (terminal trucks and industrial sweepers) and consumer leisure (recreational vehicles). Our diverse portfolio is made up of well-established principal vehicle brands, including many of the most recognizable names within their industry. Several of our brands pioneered their specialty vehicle product categories and date back more than 50 years. REV Group trades on the NYSE under the symbol REVG. Investors-REVG