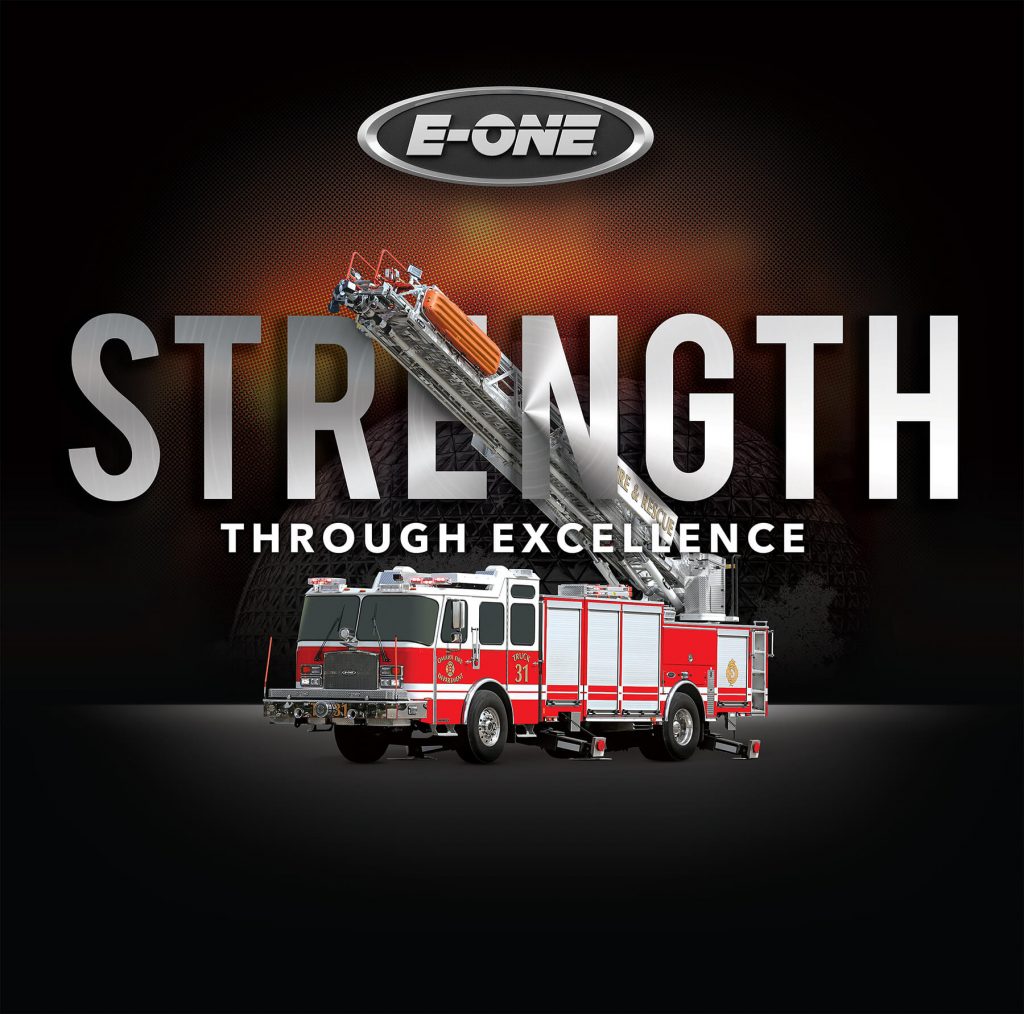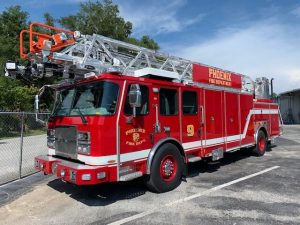 E-ONE®, a subsidiary of REV Group® and a leading manufacturer of fire apparatus, will display a wide assortment of vehicles and feature the latest technology at FDIC International (Fire Department Instructors Conference) in Indianapolis, Indiana from August 5 – 7, 2021.
E-ONE will have a cross section of their finest apparatus – including several aerials – that showcase 'Strength Through Excellence.' The trucks on display will include:
HP 95 Mid-Mount Platform: Designed for departments that have travel height restrictions or prefer to have the turntable directly behind the cab, this platform has only one set of extending stabilizers and auto levelling, making it quick and easy to set up in tight locations. The chassis also features G4® Electronic Stability Control with the OnGuard® collision mitigation system.
HP 100 Platform: E-ONE will be showcasing two of these aerials that incorporate a high strength integral torque box chassis that provides a rock-solid foundation. These aerials have crisscross under-slung outriggers with only 15'6" spread and include a new short-jack system that also provides even greater leveling capability.
Metro HR-100 Aerial: This single axle "truck company" model, available in multiple configurations, is compact and maneuverable for tight streets, featuring crisscross under-slung outriggers with only 11' spread – requiring very little space to deploy. The model on display at FDIC features the ToughTruss™ ladder design with a 500-lb tip load (wet or dry) and a pinnable monitor at the tip.
HP 75 Aerial: With the combination of generous compartmentation, ground ladder storage, SideStacker™ hosebed, 1500 GPM pump and 500 gallon tank, plus the extruded aluminum ladder that exceeds NFPA's 1901 requirements, the HP 75 is a high performance and versatile aerial that provides tremendous value.
In addition to the display of apparatus inside the Indiana Convention Center, E-ONE will have one of their HP 100 platforms outside to allow firefighters to experience this aerial for themselves.
E-ONE will also have several custom pumpers on display including:
Cyclone™ Custom Pumper: This unit features an extended length 100" wide cab and 4" front / 12" rear raised roof providing expansive room for the crew. The extruded aluminum body features full depth compartments on each side and a power actuated hosebed cover.
Typhoon™ Custom Pumper: Built for the demands of a large city department, this short wheelbase unit has a low hosebed, and crosslays. The cab features lowered cab steps and is equipped with the ECO IDLE-TEC idle mitigation system.
Typhoon™ Custom Pumper with Stainless Steel Body: This engine features a low hosebed with a center enclosed ladder tunnel below for easy access.
VM8 Custom Pumper with the new FC-94 chassis: Value priced custom pumper with a 1500 GPM pump, 1,000 gallon tank, full height compartments each side and enclosed ladder tunnel.
E-ONE will also be part of REV Fire Group's World of Innovation and Protection, featuring the latest technological advancements for the fire service, including:
Smart Flo™ new integrated pressure governor system that allows control of both water discharge pressure and foam from one location.
ECO IDLE-TEC™ idle reduction system specifically designed for fire apparatus that serves to reduce operating costs, protect the environment, and improve driver safety and comfort.
Active Air Purification System that kills 99 percent of pathogens, including the virus which causes COVID-19, in the air and on surfaces.
"We're excited for the return of the FDIC and seeing customers in person! We look forward to showcasing the E-ONE difference in fire apparatus and technology," said Larry Daniels, Director of Sales for E-ONE.
To see all the great E-ONE products at the FDIC, visit booth #3637.
###
About E-ONE, Inc.
E-ONE is a leading fire apparatus manufacturer, making emergency vehicles, rescue trucks, aerial fire trucks, rescue pumpers and custom fire apparatus, and has produced more than 28,000 vehicles delivered around the world. Headquartered in Ocala, Florida, E-ONE is an industry leader in product innovations, new technologies and exceeding customer expectations. E-ONE is owned by the REV Group (NYSE: REVG).
About REV Group, Inc.
REV Group® companies are leading designers and manufacturers of specialty vehicles and related aftermarket parts and services. Our companies serve a diversified customer base, primarily in the United States, through three segments: Fire & Emergency, Commercial, and Recreation. They provide customized vehicle solutions for applications, including essential needs for public services (ambulances, fire apparatus, school buses, and transit buses), commercial infrastructure (terminal trucks and industrial sweepers) and consumer leisure (recreational vehicles). REV's diverse portfolio is made up of well-established principal vehicle brands, including many of the most recognizable names within their industry. Several of our brands pioneered their specialty vehicle product categories and date back more than 50 years. REV Group trades on the NYSE under the symbol REVG.