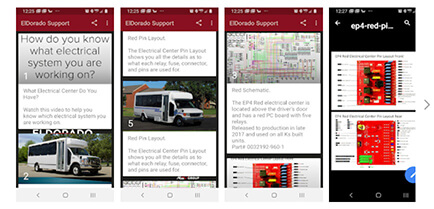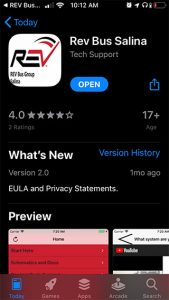 ElDorado, a subsidiary of REV Group (REVG), celebrates 40 years of innovation by designing the app for technicians, as well as end users, to offer convenient, at-your-fingertips customer service. ElDorado is the first in the bus industry to launch such an app. Designed by ElDorado's quality engineer, the app gives technicians easy access to wiring schematics, pin layouts, chassis tie-in locations, how-to-videos, links to parts and warranty and the ability to call or FaceTime an ElDorado technician.
The app is available for iPhone, iPad and Android devices, and once installed does not require a Wi-Fi signal to access an all-encompassing range of information. This includes training manuals which provide essential information necessary to test and repair a REV Salina bus including the chassis tie-in locations and pin layouts which show what every fuse, relay and connection is for, down to the color of wire used for a standard bus and lets the technician know if the circuit should be a power or ground.
On an iPhone, iPad and Android devices, the app will give the technician access to:
App News and Updates
Electrical Documents
Call Tech Support
The Complete Tech Website
REV Parts
Warranty Registration
Warranty
"We are committed to giving our customers the best in customer service, as well as developing innovative ways to give technical assistance when they need it," said Brian Perry, President of Commercial Segment. "The app allows the technician to have all the information they need in the palm of their hand, rather than carrying a bulky laptop computer into the bus."
To access the app, go to Apple Appstore for REV Bus Salina, or on Google Play search for ElDorado Support.
Android App:
https://play.google.com/store/apps/details?id=com.andromo.dev9576.app1014895&hl=en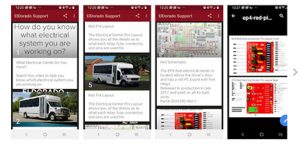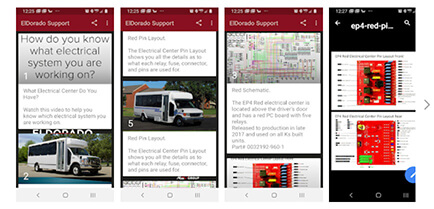 Apple App:
https://apps.apple.com/us/app/rev-bus-salina/id1473638939?ls=1
About ElDorado ElDorado, a subsidiary of REV Group, manufactures light and medium-duty commercial buses for public transit, paratransit, airport, parking, hotel/resort, group tour, assisted living, church and university transportation markets. Every vehicle produced at the company's 252,000 square foot, ISO 9001 certified facility in Salina, Kansas has met a comprehensive set of quality, performance and safety standards to meet applicable Altoona, FMVSS and CMVSS requirements for ensuring safe and reliable service. Backed by one of the largest and most trusted dealer networks in North America, ElDorado has hundreds of available seating configurations and dozens of vehicle options for accommodating any design request. For more information, visit www.eldorado-bus.com.
About REV Group, Inc. REV Group (REVG) is a leading designer, manufacturer and distributor of specialty vehicles and related aftermarket parts and services. We serve a diversified customer base primarily in the United States through three segments: Fire & Emergency, Commercial and Recreation. We provide customized vehicle solutions for applications including essential needs (ambulances, fire apparatus, school buses, mobility vans and municipal transit buses), industrial and commercial (terminal trucks, cut-away buses and street sweepers) and consumer leisure (recreational vehicles 'RVs', and luxury buses). Our brand portfolio consists of 29 well-established principal vehicle brands including many of the most recognizable names within our served markets. Several of our brands pioneered their specialty vehicle product categories and date back more than 50 years. REV Group trades on the NYSE under the symbol REVG. Investors-REVG.