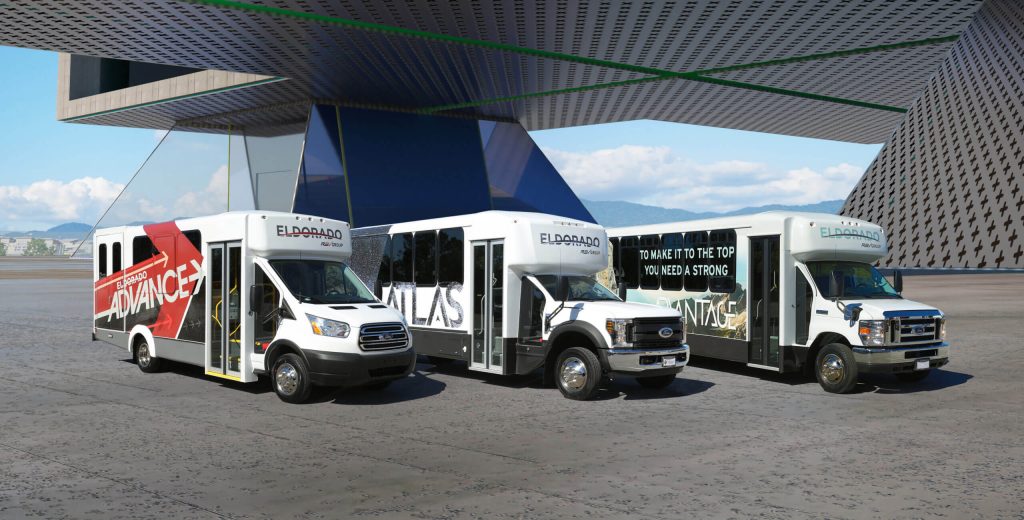 ElDorado, manufacturer of light and medium-duty commercial buses and a subsidiary of REV Group (REVG), launched two new steel cage construction models, adding to its existing steel cage product – the Advantage. Having marked 40 years of manufacturing expertise and performance, ElDorado expanded its product range to a total of six models, all which exceed 7 year / 200,000 mile durability and roof crush testing standards.
Taking to the roads this year is the new Advance, a narrow body, steel-cage bus built on a Ford Transit T350 cutaway chassis. The Advance features superior front-end visibility which reduces blind spots and improves safety. Available in non-CDL configurations, the Advance has dual rear wheels which allow for more stability than a van. And for outstanding durability, the floor, roof and walls are all made with a high-strength rust-proofed steel.
Also new to ElDorado is the heavy-duty Atlas, the largest and first ever steel bus to be built at ElDorado on the Ford F550 chassis. The Atlas offers an array of floor plans to choose from, due to the flat floors without wheel well interference. Atlas' interior is designed with the new standard FRP wall and ceiling materials, which create a clean and modern appearance.
The Advantage, a favorite since its launch in 2012, has an updated look for 2020 with a newly styled front cap, standard stainless-steel entry and wheelchair lift doorframes, and a new one-piece rubrail molding. The new molding cover limits rust and ensures durability by eliminating sagging inserts. The updated rear wheelchair door location allows adequate room at the rear wall for versatile seating arrangements.
"Over the past 40 years, ElDorado has built a strong family legacy around the reliability, consistency and performance of our products," said Brian Perry, President of Commercial Segment, REV Group. "Looking ahead to the next 40 years, we are further solidifying our legacy of ensuring the safest and most durable buses, with the launch of the Advance and Atlas and updating the Advantage."
The Advance, Atlas and Advantage will be built in REV's Salina manufacturing plant, and the new Advance and Advantage will have first deliveries in March 2020, with orders opening for the Atlas in March 2020 and deliveries in July 2020.
###
About ElDorado
ElDorado, a subsidiary of a subsidiary of REV Group, manufactures light and medium-duty commercial buses for public transit, paratransit, airport, parking, hotel/resort, group tour, assisted living, church and university transportation markets. Every vehicle produced at the company's 252,000 square foot, ISO 9001 certified facility in Salina, Kan. has met a comprehensive set of quality, performance and safety standards to meet applicable Altoona, FMVSS and CMVSS requirements for ensuring safe and reliable service. Backed by one of the largest and most trusted dealer networks in North America, ElDorado has hundreds of available seating configurations and dozens of vehicle options for accommodating any design request. For more information, visit www.eldorado-bus.com.
About REV Group, Inc.
REV Group (REVG) is a leading designer, manufacturer and distributor of specialty vehicles and related aftermarket parts and services. We serve a diversified customer base primarily in the United States through three segments: Fire & Emergency, Commercial and Recreation. We provide customized vehicle solutions for applications including essential needs (ambulances, fire apparatus, school buses, mobility vans and municipal transit buses), industrial and commercial (terminal trucks, cut-away buses and street sweepers) and consumer leisure (recreational vehicles 'RVs', and luxury buses). Our brand portfolio consists of 29 well-established principal vehicle brands including many of the most recognizable names within our served markets. Several of our brands pioneered their specialty vehicle product categories and date back more than 50 years. REV Group trades on the NYSE under the symbol REVG. Investors-REVG.