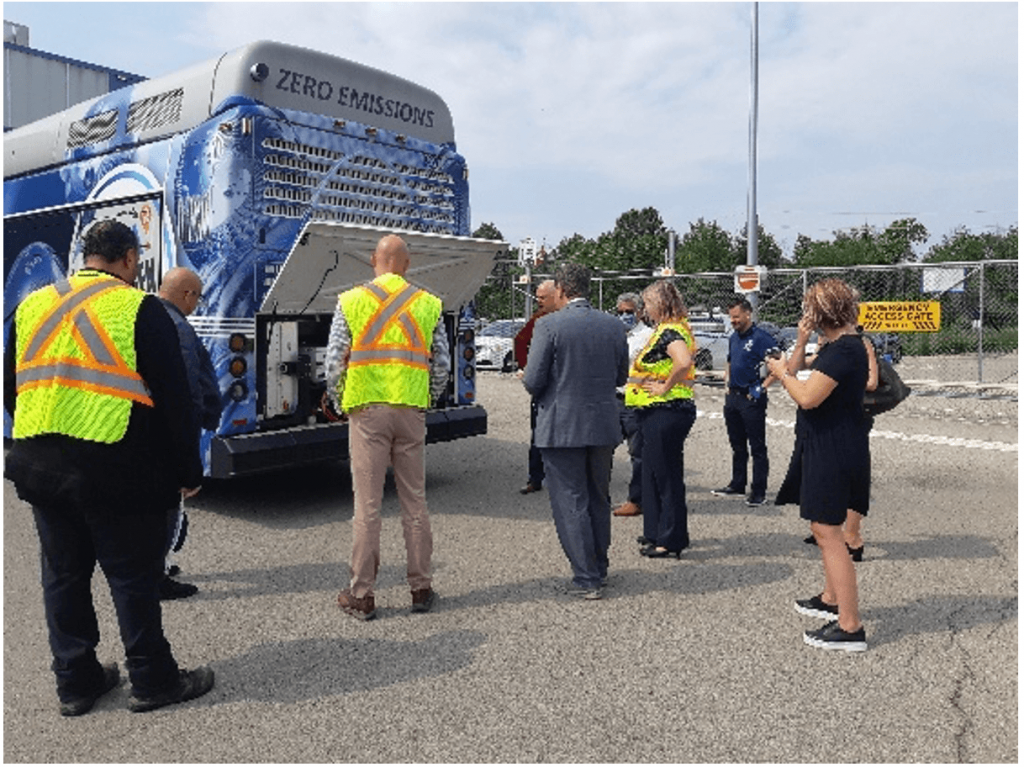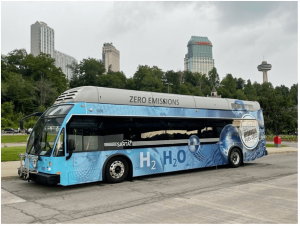 ElDorado National (California), (ENC), recently partnered with the Stark Area Regional Transit Authority (SARTA) and City View Bus Sales & Service on the Canadian leg of its 'Borrow a Bus' Zero-Emissions Tour. The ENC Axess-FC® hydrogen fuel cell-powered (HFC) bus led the six-stop tour, showcasing the potential of zero-emission transportation. This marked the first time the 40′ ENC Axess-FC bus was displayed and operated in Canada.
The 'Borrow a Bus' program was created to raise awareness about and generate support for innovative zero-emission technology in transit applications. In addition to a U.S. tour that was held in June, the Canadian phase of the tour began at the Toronto Transit Commission on July 26. Additional stops included Niagara Falls Transit; Halifax Transit (virtual), Brampton Transit, GO Transit and Mississauga Transit at City View Bus Sales & Service.
"ENC has been a leader in alternative fuel options for transit operations over the last 40 years," stated Jason Moore, Vice President and General Manager of ENC. "As the Canadian transit market transitions to zero emissions, the ENC Axess-FC bus is ideally suited given its industry-leading fuel range and service-proven chassis design. We thank SARTA and City View Bus for partnering with us on this opportunity to demonstrate its capabilities in cities and at transit authorities throughout Ontario, Canada."
The Canadian government has pledged to help purchase 5,000 zero-emission buses over the next five years as the country works toward a net-zero emission future. The ENC Axess-FC is equipped to meet and exceed the 25% Canadian Content requirement for transit buses sold into the Provinces of Ontario and Quebec. Its non-corrosive 100% 304 Grade stainless steel body construction and fully composite exterior skins are designed to excel in the highly corrosive Canadian transit market environment.
The ENC Axess-FC which is fueled by hydrogen, is a true electric bus and its only emission is water. It's the only hydrogen bus in the industry that's federally certified for 3-point seat belts and electronic stability control. The Axess-FC was the first hydrogen fuel cell bus to complete FTA Altoona testing and has passed both physical side impact and roof crush tests.
Less than half the hydrogen fuel capacity was utilized for all the ride-and-drive demonstrations, showcasing the efficiency of the ENC Axess-FC bus. Representatives from City View Bus Sales & Service, BAE Systems and Ballard were present at stops on the tour. As a safety precaution, all presentations were held in accordance with local health and safety guidelines.
###
About ElDorado National (California), Inc.
ENC®, a subsidiary of REV Group, has manufactured low floor and standard floor buses for over 45 years to public transit/paratransit, airport, parking and university transportation markets. ENC is best known in the industry for its customizable options including thousands of floorplan configurations, as well as ensuring unparalleled manufacturing and safety standards. All ENC models pass a comprehensive battery of durability and crash tests. ENC manufactures the greenest buses in the industry including the Zero Emissions, hydrogen-powered Axess-Fuel Cell as well as the 100% battery electric Axess. All buses are crafted in the state-of-the-art 227,000 square-foot, ISO 9001 certified production facility in Riverside, California.
About REV Group, Inc.
REV Group® companies are leading designers and manufacturers of specialty vehicles and related aftermarket parts and services. Our companies serve a diversified customer base, primarily in the United States, through three segments: Fire & Emergency, Commercial, and Recreation. They provide customized vehicle solutions for applications, including essential needs for public services (ambulances, fire apparatus, school buses, and transit buses), commercial infrastructure (terminal trucks and industrial sweepers) and consumer leisure (recreational vehicles). REV's diverse portfolio is made up of well-established principal vehicle brands, including many of the most recognizable names within their industry. Several of our brands pioneered their specialty vehicle product categories and date back more than 50 years. REV Group trades on the NYSE under the symbol REVG. Investors-REVG.