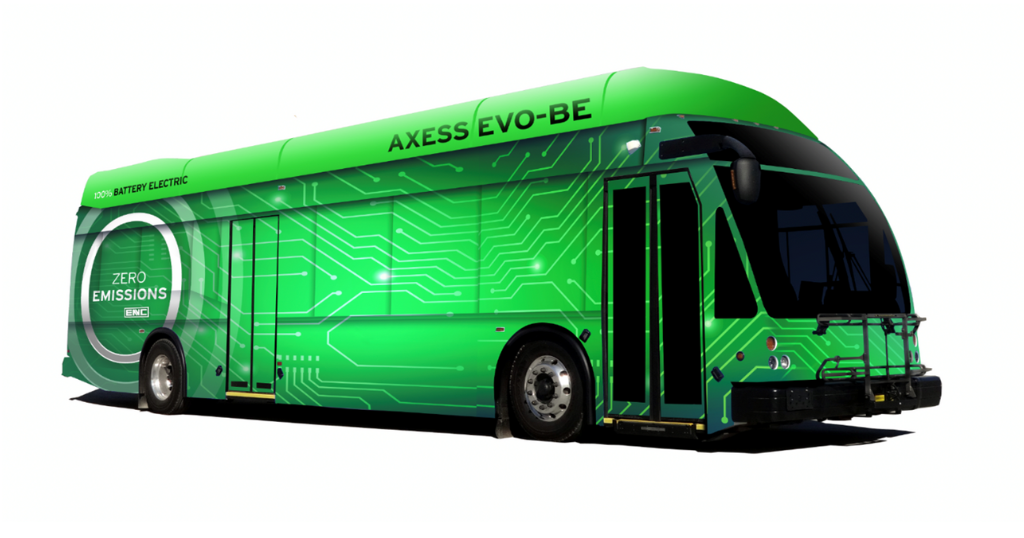 RIVERSIDE, Cali – Sept. 26, 2023 – ElDorado National (California) or ENC, a subsidiary of REV Group, Inc., and an industry leader in heavy-duty transit buses and emission-free technology, will display its Axess EVO-BE zero emission battery electric bus at the Zero Emission Bus Conference (ZEB Con), booth #138. The event will take place in San Diego, California, September 26-28. This marks the first time the Axess EVO-BE will be shown publicly.
ENC's Axess EVO-BE was developed along with the Axess EVO-FC. Both buses represent the next generation of zero emission transportation by utilizing advanced technology to enable longer ranges. With 738 kWh of energy storage, the Axess EVO-BE delivers a longer range per charge, making it ideal for transit and shuttle applications. Axess EVO-BE features a state-of-the-art electric propulsion system and is available in multiple configurations for passenger seating and wheelchair accommodations.
"We are incredibly excited to showcase the new Axess EVO-BE and our latest zero-emission technology at this year's ZEB Con," said Mike Ammann, vice president of sales, ENC. "This event is the perfect opportunity to show leaders in the drive for electrification the advanced performance and superior capabilities of our new battery electric bus."
ENC is currently taking orders for the Axess EVO-BE, Axess EVO-FC, and its entire line of zero emission buses. Visit https://www.eldorado-ca.com/ or contact an ENC sales rep to learn more.
###
About ElDorado National (California), Inc.
ENC, a subsidiary of REV Group Inc., has manufactured low floor and standard floor buses for over 45 years to public transit/paratransit, airport, and university transportation markets. ENC is best known in the industry for its customizable options including thousands of floorplan configurations, as well as ensuring unparalleled manufacturing and safety standards. All ENC models pass a comprehensive battery of durability and crash tests. ENC manufactures the greenest buses in the industry including the zero emissions Axess EVO-BE™ and Axess EVO-FC. All buses are crafted in the state-of-the-art 227,000 square-foot, ISO 9001 certified production facility in Riverside, California.
About REV Group, Inc.
REV Group companies are leading designers and manufacturers of specialty vehicles and related aftermarket parts and services, which serve a diversified customer base, primarily in the United States, through three segments: Fire & Emergency, Commercial, and Recreation. They provide customized vehicle solutions for applications, including essential needs for public services (ambulances, fire apparatus, school buses, and transit buses), commercial infrastructure (terminal trucks and industrial sweepers), and consumer leisure (recreational vehicles). REV Group's diverse portfolio is made up of well-established principal vehicle brands, including many of the most recognizable names within their industry. Several of REV Group's brands pioneered their specialty vehicle product categories and date back more than 50 years. REV Group trades on the NYSE under the symbol REVG. Investors-REVG
Press Contact:
Julie Nuernberg | Sr Dir of Marketing & Communications
REV Group
245 South Executive Drive
Brookfield, WI 53005
+1.262.389.8620 (mobile)