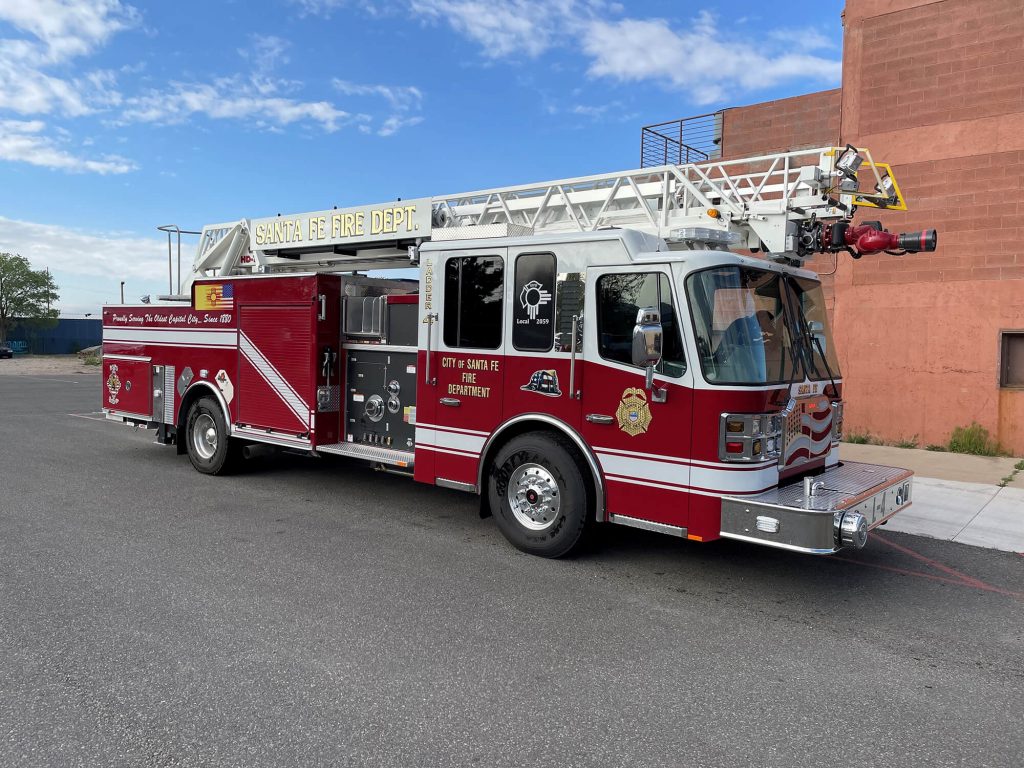 Ferrara Fire Apparatus Inc., a subsidiary of REV Group®, and a leading manufacturer of fire apparatus, is pleased to announce the delivery of a Ferrara HD-77TM ladder to the Santa Fe Fire Department in New Mexico.
Working with Ferrara's® dealer, 411 Emergency Equipment in Albuquerque, Santa Fe Fire Department will be utilizing this new apparatus to protect the New Mexico State Capitol.
Key features of the HD-77 ladder include:
96" wide extruded aluminum custom cab with reinforced roll cage construction
4,100 square inch windshield with a 43.1 degree viewing area for maximum visibility
Cummins L9 450 engine and Allison 3000 EVS™ transmission
Heavy duty 3/16" extruded marine grade aluminum body
3-section heavy duty steel ladder with -6⁰ to +72⁰ operational envelope
Waterous CSU 1500 gpm single stage pump
500 gallon water tank
This new apparatus will also feature the department's first clean cab configuration, with a separate compartment designated for bunker gear and SCBA storage. "The goal is to keep those contaminants outside the cab and keep our firefighters safe. Moving forward, all of our trucks will have this," said Brian Moya, Santa Fe's Assistant Chief of Support Services. "It was also important to work with a local dealer that provides great customer service as well as a long-term maintenance plan."
The Ferrara HD-77 ladder will replace an aerial that was damaged by an arsonist 18 months ago. Because the Ferrara HD-77 ladder was a stock unit, the department was able to get the much-needed apparatus more swiftly. Even so, Moya said they were still able to customize all compartments to meet their specific needs. This includes coating the interior of all compartments to maintain cleanliness of both the compartment and any tools or equipment stored there. 411 Equipment is mounting all equipment in the truck and providing final graphics before delivery.
"We are excited to partner with the Santa Fe Fire Department in providing an aerial that will meet the specific needs of its community," said Bert McCutcheon, Vice President and General Manger for Ferrara. "We believe they've made a great choice for their city with the Ferrara HD-77 ladder due to its 77' vertical and 70' horizontal reach in a compact and maneuverable truck."
###
About Ferrara Fire Apparatus, Inc.
Ferrara, part of REV Group (NYSE: REVG), builds custom heavy-duty fire apparatus for municipal and industrial fire departments. Located in Holden, Louisiana, Ferrara is focused on protecting firefighting personnel with a custom chassis line and extruded aluminum body that exceeds NFPA and industry safety requirements. For over 30 years, Ferrara has lead performance standards by delivering custom engineered fire trucks that provide maximum response capabilities.
About REV Group, Inc.
REV Group® is a leading designer and manufacturer of specialty vehicles and related aftermarket parts and services. We serve a diversified customer base, primarily in the United States, through three segments: Fire & Emergency, Commercial, and Recreation. We provide customized vehicle solutions for applications, including essential needs for public services (ambulances, fire apparatus, school buses, and transit buses), commercial infrastructure (terminal trucks and industrial sweepers) and consumer leisure (recreational vehicles). Our diverse portfolio is made up of well-established principal vehicle brands, including many of the most recognizable names within their industry. Several of our brands pioneered their specialty vehicle product categories and date back more than 50 years. REV Group trades on the NYSE under the