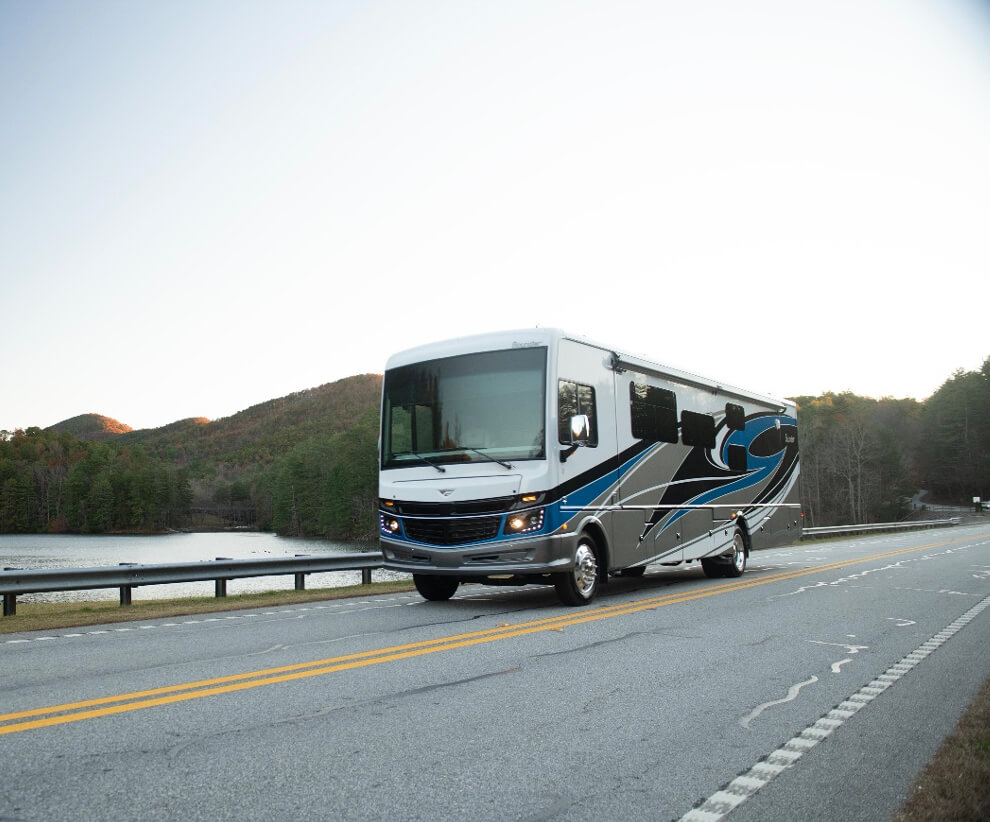 REV Recreation Group brand Fleetwood RV has created a series of five videos showcasing how its luxury motorhomes are meticulously made at its 480,000-square-foot manufacturing headquarters in Decatur, IN. The exclusive, behind-the-scenes video tour delivers a peek into a few of the steps involved in manufacturing a Class A motorhome and introduces some of the engineers, managers, welders, and technicians who design, manufacture, and assemble the various elements of a Fleetwood RV.
The factory tour videos deliver a top-to-bottom look at Fleetwood RV and cover the foundation, lamination process, cabinet shop, assembly, and paint process.
Fleetwood RV is one of the most-established brands in the motorhome industry and is known for its quality, innovative features, and family-friendly design options. One of Fleetwood's most popular models, the Bounder®, is celebrating its 35th anniversary in 2021 and has the distinction of being one of the best-selling motorhomes ever.
To watch the factory tour videos, visit FleetwoodRV.com. Select the "About" tab, click on "Factory Tours," and provide an email address.
Fleetwood RV is a brand from REV Recreation Group, a subsidiary of REV Group, Inc. (NYSE: REVG). For more information on Fleetwood RV, visit FleetwoodRV.com.
The Bounder® model from Fleetwood RV is celebrating its 35th anniversary in 2021 and has the distinction of being one of the best-selling motorhomes ever.
###
About REV Recreation Group
REV Recreation Group, Inc. (RRG) is a REV Group® subsidiary and a leading manufacturer of Class A Gas and Diesel recreational vehicle brands. This company has one of the best and longest standing distribution networks in the industry and boasts some of the industry's most recognized and iconic brand names such as American Coach®, Fleetwood RV®, and Holiday Rambler®. REV Recreation Group is headquartered in Decatur, IN, which is also its principal manufacturing location. In addition, RRG operates two state-of-the-art service and repair centers and a genuine parts online warehouse.
About REV Group, Inc.
REV Group® companies are leading designers and manufacturers of specialty vehicles and related aftermarket parts and services. Our companies serve a diversified customer base, primarily in the United States, through three segments: Fire & Emergency, Commercial, and Recreation. They provide customized vehicle solutions for applications, including essential needs for public services (ambulances, fire apparatus, school buses, and transit buses), commercial infrastructure (terminal trucks and industrial sweepers) and consumer leisure (recreational vehicles). REV's diverse portfolio is made up of well-established principal vehicle brands, including many of the most recognizable names within their industry. Several of our brands pioneered their specialty vehicle product categories and date back more than 50 years. REV Group trades on the NYSE under the symbol REVG.