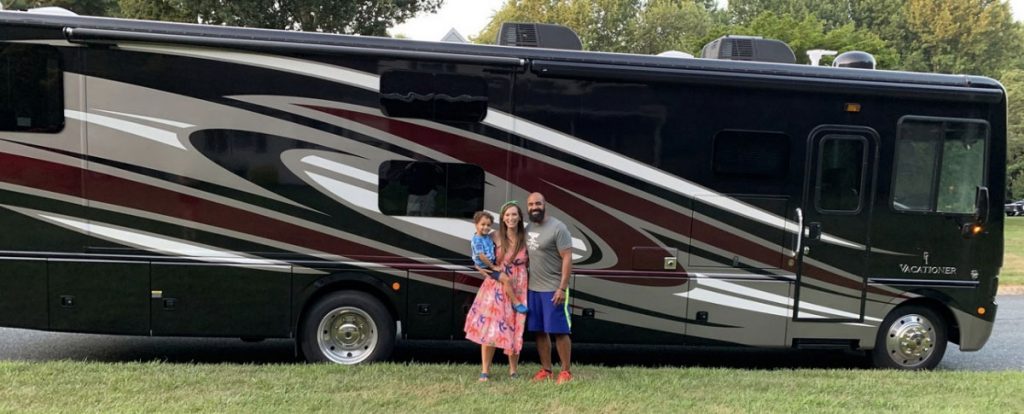 The holidays are typically marked by traditions and rituals. However, when a family is traveling the country, holidays become a bit different.
After one year of living the RV life full time, Kristi Stevens from the Adventurtunity Family shares tips and advice for how to celebrate holidays and special occasions. In 2020, Kristi and her husband, Spencer, quit their corporate jobs, sold their home and most of their possessions, and purchased a Class A, 2017 Holiday Rambler® Vacationer® 36H. Together with their now four-year-old son, Kade, the family hit the open road.
Holiday Rambler is an award-winning RV brand that is part of REV Recreation Group, Inc., a subsidiary of REV Group, Inc. The Holiday Rambler 2022 line features four diesel and three gas motorhomes.
Holiday Rambler has partnered with the Adventurtunity Family to chronicle their experiences as they travel the United States and share their stories on the Holiday Rambler blog.
Celebrating Holidays on the Road
by Kristi Stevens for Holiday Rambler
Holiday celebrations throughout the year have created some of our favorite memories, as they do for most families, especially when you have kids. It's not only fun to celebrate and create traditions, it also presents opportunities for engaged family time and education in each holiday season. And, if you have kids, you too know how incredible it is reliving holiday magic through their eyes!
Prior to living full time in our Vacationer, our holiday celebrations tended to be a little over the top. Our decorations were plentiful, and we would usually host holiday-themed meals for family and friends.
Of course, we knew our holiday celebrations on the road would look a bit different. Mostly because we packed all of our holiday decorations and entertaining supplies into our storage unit. So, we knew we needed to be creative and acquire festive items along the way. But we were still determined to find ways to celebrate that were fun, affordable, and didn't require a lot of space.
To our surprise, we were able to celebrate TEN holidays and special occasions over the past year. We hosted a Super Bowl party, Valentine's Day brunch, 4th of July dinner, and our son's 4th birthday party, complete with a bounce house and new friends!
If you are considering full time travel with your family or vacationing over a holiday season, embrace the holidays. It's so much more fun and a lot easier to celebrate than you may think. Here are some holiday celebration tips, tricks, and things we learned that are helpful when traveling or living small.
YEARCHEER
The absolute best thing we did was sign up for the YearCheer subscription box. They are holidays-in-a-box that include decorations, activities, a book, and tons of family fun for each holiday! The box gets delivered to your door, which is so convenient. It can make it a little challenging when traveling, but most campgrounds allowed us to receive packages, so it ended up working out great. Every YearCheer holiday box includes items for 3-4 kids and truly has been the best investment. One thing I love is that most of the items are just what you need, but not much that you have to keep or store. We, of course, keep the books and a few items here and there. But the majority is used and does not require being stored or saved. Additionally, each box changes from year to year so there is newness each holiday season instead of using the same decorations. They offer holiday boxes for Halloween, Thanksgiving, Hanukkah, Christmas, New Year's, Valentine's Day, St. Patrick's Day, Easter, and 4th of July.
BE RESOURCEFUL
There are so many elements in nature that can be appropriately used for holiday decor and fun activities. One of our favorites is painting rocks! For our Valentine's Day brunch, Thanksgiving dinner, and Halloween lunch, we painted smooth river rocks and added the names of our guests to them. It was a fun craft for our son and a good way for us to be creative when decorating and setting our table. We have even used tree branches and leaves that had already fallen to the ground for our Thanksgiving dinner decor. Along with some items from our YearCheer box, we were able to use sticks to create gratitude mobiles for Thanksgiving. Pinecones and acorns can make cool centerpieces or even ornaments as well.
DOLLAR TREE
Throughout all of our travels, we have consistently been able to easily find a Dollar Tree, Family Dollar, or Walmart. For holiday decorations and festive items, the Dollar Tree has been our favorite. They always have items for each holiday and the best part is the price. For under $20, you can have themed plates, cups, utensils, activity kits, candy, and a few decorations. One thing to note is that their items usually arrive in store earlier than you need them and sell out quickly. The one downfall is that, while we've learned to pick up items we love when we see them, it means we do tend to store items a few extra weeks before actually using them. But, typically, these things are small and easy to stow away for a period of time.
DESTINATION LOCATIONS
With a little bit of research, you can plan to stay in towns or at campgrounds that already have huge holiday celebrations planned. We have found this to be helpful specifically for Halloween and 4th of July. Halloween was the first holiday we experienced on our full-time travels. We learned very quickly that most campgrounds have massive Halloween celebrations that include costume contests, crafts, and trick or treating throughout the entire month. Basically, these campgrounds become Halloween destinations for families, especially on weekends. They do book up quickly, so, if you plan on traveling in October, keep that in mind, and secure your reservations early. Additionally, there are several towns across the country that are known for their holiday celebrations. Commonly, you'll find 4th of July parades, fall festivals, and holiday light celebrations.
A GRISWOLD TREE IS POSSIBLE
Celebrating the Christmas season was the one holiday we discussed prior to traveling full time. We considered bringing some of our decor and sentimental items with us but opted to start fresh on the road. A few traditions we kept intact were matching family pjs, sipping hot cocoa by the fire (our Vacationer has a cozy electric fireplace!), baking Christmas cookies, and having a real Christmas tree. Three out of the four were easy, but the Christmas tree, on the other hand, gave us a few challenges. But, where there's a will, there's a way! First, we decided to put our tree behind the driver's seat. Next, we needed to acquire as big a tree as we could comfortably fit in our small space. Our challenge was actually getting our tree back to the campsite with a Jeep Wrangler. Thankfully, kind folks offered to drive our tree back to the campground for us. Then it was time to decorate. We decided early on we would collect ornaments from all the places we traveled so that we would have meaningful mementos as well as decorations for our tree. Additionally, we made a few ornaments and added some tinsel from the Dollar Tree.
Caption: The Adventurtunity Family was able to fit a Christmas tree in their 2017 Holiday Rambler® Vacationer® 36H.
Celebrating the holidays while traveling may look different than it does in a sticks-and-bricks home, but it doesn't need to be any less special. Pick a few traditions or things that are important to you and your family and be creative in how you make those happen. Remember, the most important thing is that your family is together. Don't worry about your celebrations not being the same as years before. Embrace making new traditions, enjoy celebrating in a different state, and have fun!
To learn more about the Adventurtunity Family's life on the road, visit the Holiday Rambler blog or Instagram page.
Additional Adventurtunity Family images are available here.
# # #
About REV Recreation Group, Inc.
REV Recreation Group, Inc. is a REV Group® subsidiary and a leading manufacturer of Class A Gas and Diesel recreational vehicle brands. This company has one of the best and longest standing distribution networks in the industry and boasts some of the industry's most recognized and iconic brand names such as American Coach®, Fleetwood RV®, and Holiday Rambler®. Headquartered in Decatur, IN, which is also its principal manufacturing location, it operates two state-of-the-art service and repair centers and a genuine parts online warehouse.
About REV Group, Inc.
REV Group® companies are leading designers and manufacturers of specialty vehicles and related aftermarket parts and services, which serve a diversified customer base, primarily in the United States, through three segments: Fire & Emergency, Commercial, and Recreation. They provide customized vehicle solutions for applications, including essential needs for public services (ambulances, fire apparatus, school buses, and transit buses), commercial infrastructure (terminal trucks and industrial sweepers), and consumer leisure (recreational vehicles). REV Group's diverse portfolio is made up of well-established principal vehicle brands, including many of the most recognizable names within their industry. Several of REV Group's brands pioneered their specialty vehicle product categories and date back more than 50 years. REV Group trades on the NYSE under the symbol REVG. Investors-REVG