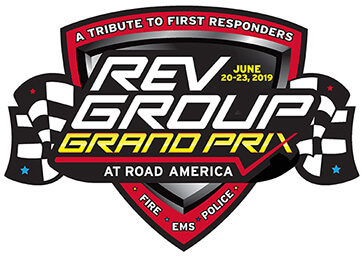 REV GROUP AND ROAD AMERICA TO HONOR FIRST RESPONDERS AT GRAND PRIX
REV Group and Road America have teamed up to pay tribute to first responders at the inaugural NTT IndyCar Series REV Group Grand Prix, June 20-23, 2019. As part of the tribute, all active-duty first responders will receive free entry to the REV Group Grand Prix during the entire weekend of activities, including the NTT IndyCar feature race. Additionally, REV Group and Road America have planned a unique race experience to honor the men and women who answer the call to protect and serve our communities. First responders, including law enforcement, fire, paramedics, and EMTs, will be admitted free of charge by showing valid identification indicating active service. Free admission must be redeemed at the gate and is only valid during the event weekend.
"We are honored to have the REV Group Grand Prix as a platform to recognize first responders. The employees of REV want to share our appreciation for the dedicated people who use our vehicles each day to serve their communities," says Tim Sullivan, President & CEO of REV Group.
A PARTNERSHIP WITH ROAD AMERICA WAS BORN
George Bruggenthies, an old friend of Sullivan's, and recently retired President of Road America asked if REV would sponsor an IndyCar series for the next three years to take place in Elkhart Lake, Wisconsin. "George told me that on any given day there are 200 first responders around the track. We said if we sponsored it, we would make it a tribute to first responders. I said, if we're going to do it, I want to do it right. I want to make sure all first responders get in for free all weekend. It's really a tribute to them."
Vehicles from REV Fire Group and REV Ambulance Group will be on display including, E-ONE, KME, Horton, AEV, and Wheeled Coach brands, allowing race fans to get a close look at some of the vehicles that equip the nation's first responders.
The NTT IndyCar Series (NICS) will take center stage at Road America, June 20 to 23, where an international lineup of drivers will compete on one of the world's most revered road courses. NICS Championship driver, Josef Newgarden, will return to defend his 2018 Road America win in a REV-branded Team Penske Dallara/Chevrolet.
Sullivan explains that getting involved with the race is about being part of the industry. "My grandfather was a fire chief for 30 years. My father was a firefighter. My uncle just retired as a captain," he says. "It's more than just providing vehicles. It's being connected with firefighters and EMTs. It's above and beyond vehicles. You can't be part of the industry unless you really embrace the people who work within it. It's something we want to be deeply involved in. It goes back to my personal roots, but it's also the right thing to do: to engage and bring first responders and give them the respect and the tribute that they deserve."
FIRST RESPONDERS ON AND OFF THE TRACK
"Safety is paramount at our track and in this sport, and the fire and medical team are critically important," says Mike Kertscher, Road America's President and General Manager. "Our award-winning Road America Safety Team, which is made up entirely of first responders, have saved many lives over the years, and we are thrilled that the REV Group Grand Prix gives us the opportunity to recognize all first responders on and off the track."
Additional event details can be found at www.revgroupgrandprix.com.