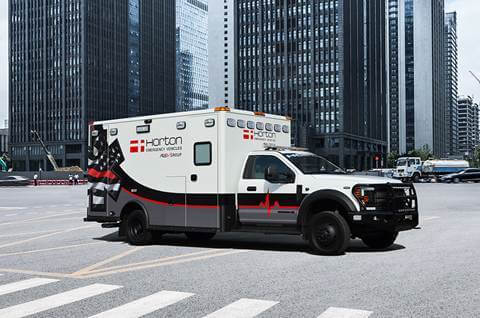 Horton Emergency Vehicles, a subsidiary of REV Group and a manufacturer of premium, highly-customized Type I, Type III and medium duty ambulances, has revealed its 2020 National Show Truck. The culmination of a year's worth of innovation and improvements, Horton's custom-built Type I truck is packed with features incorporated from dealer, customer and factory employee input. The 2020 edition includes significant improvements in technology, mobility, ease of use, fit and finish and the ability for emergency service providers to perform their critical functions while remaining safely buckled up.
"Building our annual show truck is a company-wide initiative that reflects Horton's spirit of innovation and customization," said Lance Randolph, Vice President and General Manager, Horton Emergency Vehicles. "Being able to translate customer needs into new dynamic features and engaging designs is what makes Horton unique in the industry."
Concept features include:
Flangeless grab bars
Engraved and lighted countertops
Recessed tape dispensers in the ceiling
A multi-function screen has been installed above the rear doors, offering a clock, video capability, turn signal, breaking indicators, and a timer all in one
New features consist of:
One-piece single rear threshold
New slider door behind the left front compartment
Buck-Stop Push Bar with Dominator and Pioneer Light Bars installed
Blackout package with custom graphics
Flip up and down table to work in conjunction with the mobility track bench seats
Electrical components were relocated the front wall as a space saving initiative driven by customer feedback
Enhanced 110V Heat & AC System controlled completely through Horton's premium i4G electrical system
This state-of-the-art ambulance also contains a bench seat with tracks to provide maximum mobility to deliver patient care while remaining seated and buckled in. The unit has a lighted side entry step and rear riser, as well as a 6" drop skirt and pioneer scene lights on both sides. The ambulance features chevron light housings, lighted door handles and privacy windows. The emergency lighting package includes a legacy model lo-profile lightbar, and Horton directional safety lighting on the rear of the ambulance. The National Show Truck includes a Horton 360 camera system with a 7" windshield mounted monitor and a side-view monitor enabling the crew to see anything approaching on the curbside of the ambulance before opening the side entry door. The ambulance comes standard with HOPS, the Horton Occupant Protection System which includes IMMI Roll-Tek airbags and Per4Max seatbelts.
To see all the features in Horton's 2020 National Show Truck, view the video here.
For more information on Horton, please visit the website https://www.hortonambulance.com/
###
About REV Group, Inc.
REV Group (REVG) is a leading designer, manufacturer, and distributor of specialty vehicles and related aftermarket parts and services. We serve a diversified customer base, primarily in the United States, through three segments: Fire & Emergency, Commercial, and Recreation. We provide customized vehicle solutions for applications, including essential needs for public services (ambulances, fire apparatus, school buses, and transit buses), commercial infrastructure (terminal trucks, industrial sweepers, and transportation services) and consumer leisure (recreational vehicles and 'RVs'). Our diverse portfolio is made up of well-established principal vehicle brands, including many of the most recognizable names within their industry. Several of our brands pioneered their specialty vehicle product categories and date back more than 50 years. REV Group trades on the NYSE under the symbol REVG. Investors-REVG