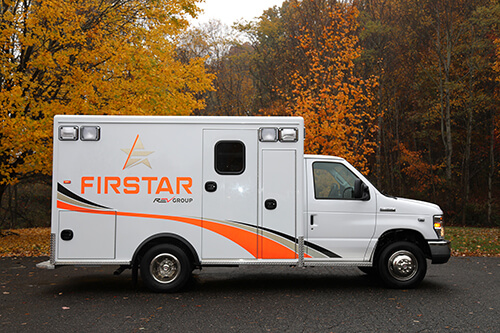 NEW AMBULANCE LINE FEATURING INNOVATIVE DESIGN AND REVOLUTIONARY PERFORMANCE
Firstar is a break-through, concept line of new ambulances from REV GROUP (REVG), the leading manufacturer of fire and emergency vehicles and the nation's largest producer of ambulances with over 50 years' experience. Firstar ambulances are engineered and purpose-built for affordability, durability and low maintenance. The line will debut at the American Ambulance Association Annual Conference & Trade Show (AAA) in Nashville, TN on Monday, November 4, 2019. At the show, Firstar will unveil two prototypes for 2020: the Firstar Type III Modular 146" unit on a Ford E-350 Chassis and the Firstar Type II RAM® ProMaster Van.
Firstar Type III Modular 146" unit on a Ford E-350 Chassis
Packed with features, yet purpose-built for affordability, durability and minimal maintenance, the Firstar Type III Modular 146" is truly revolutionary in its design fabrication and materials. Modern and hard-wearing gel-coated fiberglass is used throughout to make up the wall units, cabinetry, work areas and squad bench. Radius edges and seamless cabinetry is not only easier to clean and disinfect between patients, but the smooth edges reduce the risk of emergency responder injuries during collisions or sudden braking. The all-aluminum vehicle body features a fully-welded tubular superstructure with aluminum exterior skin, making for a strong and durable ambulance.
From the cab to the rear of the Type III Modular 146", special attention is given to create a comfortable crew environment. In the cab, the forward body wall has been recessed a full 10 inches for increased recline and movement, as well as a front console that has been ergonomically designed. The action area provides ample space to securely mount defibrillator/monitors while still providing workspace for patient care and easy access to vehicle controls. A welcomed new feature is an integrated "action tray" that runs alongside the patient at cot height and is within arm's reach for the attendant. The ambulance also boasts a high output air-conditioning system with dedicated multi-directional vents for attendant and patient comfort. And for ease of taking patients in and out of the back of the ambulance, Firstar 146" has large rear doors with an extra-tall 60" clearance.
Additional features include REV Ambulance Group's exclusive Per4Max seat belt system in every Firstar ambulance, which allows flexibility of movement while keeping the emergency responder restrained. For maximum storage, there are four large exterior compartments, three of which are diamond plate lined. And for service convenience, the ambulance's electrical system features individually printed circuit boards with integrated diagnostics. The rear step bumper provides an underride feature to reduce damage to the rear for those minor bumps.
Firstar Type II RAM® ProMaster Van
The Type II Firstar has been created to help solve the issue of increased response times, occupant safety and maintenance ease, just like the industry has demanded. Built on a RAM® ProMaster chassis, the only front-wheel-drive Type II chassis platform available, this vehicle offers better traction in rain and snow conditions. It's easy to maneuver in congested city environments and narrow streets, and yet still manages to pack a spacious interior with its raised-roof design, 72" in height, and a wider aisle between the cot and squadbench.
Smartly built and compact, the Firstar Type II has been designed with a focus on ergonomics providing easy access to patient care equipment. The primary attendant seat and secondary seating positions are comfortable and include REV's exclusive Per4Max seat belts. For enhanced visibility in the patient compartment, direct lighting has been added to light the floor at night, along with blue LED lighting in the cabinets. In addition, there is easy access to the electrical panel with a fold-down cabinet door which allows for quick repairs.
"The mission for Firstar was to leverage the latest in materials and fabrication processes to deliver a high-quality vehicle at an economical price point," said Anoop Prakash, President of the Ambulance Division at REV Group. "Our design focus on safety, quality and value comes through in the Firstar line, and we are eager to unveil the two new models at AAA Annual and hear customer feedback."
Firstar will be on display (Booth B) at the American Ambulance Association Annual Conference & Trade Show (AAA) in Nashville, TN from November 4-6, 2019.
###
About REV Group, Inc.
REV Group (REVG) is a leading designer, manufacturer and distributor of specialty vehicles and related aftermarket parts and services. We serve a diversified customer base primarily in the United States through three segments: Fire & Emergency, Commercial and Recreation. We provide customized vehicle solutions for applications including essential needs (ambulances, fire apparatus, school buses, mobility vans and municipal transit buses), industrial and commercial (terminal trucks, cut-away buses and street sweepers) and consumer leisure (recreational vehicles 'RVs', and luxury buses). Our brand portfolio consists of 29 well-established principal vehicle brands including many of the most recognizable names within our served markets. Several of our brands pioneered their specialty vehicle product categories and date back more than 50 years. REV Group trades on the NYSE under the symbol REVG. Investors-REVG