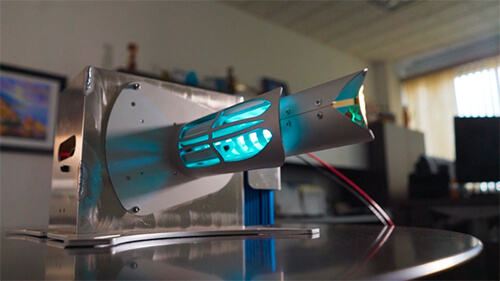 REV Group, a manufacturer of premium fire apparatus brands including E-ONE, KME, Ferrara, and Spartan Emergency Response, is proud to announce a partnership with United Safety & Survivability Corporation to provide industry-leading technology that will take the clean cab concept to the next level.
The new product, exclusive to the REV Group fire brands in the first responder market, is an active air filtration system that uses UV light and Photohydroinization technology to neutralize airborne pollutants such as bacteria, mold, and viruses, including COVID-19.  Studies have shown a 99% reduction of airborne pathogens.  The unit is a standalone device that is mounted in the cab of the apparatus and runs off the DC vehicles 12-volt system.  The unit can also be retrofit into completed apparatus.
"We are excited to release the next generation of clean cab products in partnership with the REV Fire Group." said Joe Mirabile, President and CEO of United Safety & Survivability Corporation.   "These UV PHI air systems paired with antimicrobial and antibacterial treatments will significantly increase the safety of our first responders by increasing air quality and overall surface cleanliness.  This represents the next generation in cutting edge clean cab improvements that our first responders deserve."
"When the COVID pandemic first hit, we knew we needed to take appropriate action to keep our first responders as safe as possible." said Mike Virnig, VP of Sales, REV Fire Group.  "We searched for a partner that had the technology to attack this new threat and we found that in USSC.  We are proud to improve upon our clean cab initiative and take this next step in protecting those that protect us."
To learn more about the technology and the partnership with REV Fire Group, tune in to REV Fire's live event Tuesday August 18th at 10:00 am EST.  You can register at www.revtruckexpo.com.
###
About REV Group, Inc.
REV Group (REVG) is a leading designer, manufacturer, and distributor of specialty vehicles and related aftermarket parts and services. We serve a diversified customer base, primarily in the United States, through three segments: Fire & Emergency, Commercial, and Recreation. We provide customized vehicle solutions for applications, including essential needs for public services (ambulances, fire apparatus, school buses, and transit buses), commercial infrastructure (terminal trucks and industrial sweepers) and consumer leisure (recreational vehicles). Our diverse portfolio is made up of well-established principal vehicle brands, including many of the most recognizable names within their industry. Several of our brands pioneered their specialty vehicle product categories and date back more than 50 years. REV Group trades on the NYSE under the symbol REVG. Investors-REVG
About United Safety & Survivability Corporation
United Safety and Survivability Corporation, formerly known as USSC Group, is committed to delivering the most innovative and reliable safety and survivability solutions that our customers can trust to protect life and property. As a global leader in the design and engineering of world-class safety, survivability and technology solutions across a variety of industries and categories, our portfolio of products includes seating for commercial buses, fire trucks, ambulances, military vehicles, motor coaches, rail cars and locomotives. We design and build specialty soldier survivability systems for military vehicles and our revolutionary fire suppression systems are used in school buses, public transit, heavy machinery and more. We provide PPE safety systems to doctors, nurses, and front-line responders.