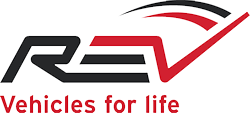 REV Group® (NYSE: REVG), designer and manufacturer of industry-leading specialty vehicle brands, announces Renegade RV® Vice President and General Manager Mike Lanciotti has been appointed President, REV Recreation Segment. In his new role, Mike will oversee all the recreation businesses and brands including Fleetwood RV®, Holiday Rambler®, American Coach®, Lance Camper®, Midwest Automotive Designs®, Renegade RV and Goldshield Fiberglass®. He will continue to report to REV Group President and CEO, Rod Rushing.
Mike joined Renegade RV as its Executive Vice President in March 2008 and was named CEO and President four months later. Renegade RV was acquired by REV Group on December 31, 2016 and Mike was named Vice President and General Manager of REV Renegade LLC. During his 13 years with Renegade RV, Mike built the business to be one of the top performing recreation brands within REV Group and solidified Renegade's position as best in Class in the Super C industry classification and a premier Class C producer in all categories.
"With a successful career spanning over 20 years of consistent business performance, experience implementing quality operational controls for industry-leading profitability and product vision that drove Renegade to the top of its class, Mike is the ideal leader to direct our Recreation segment and develop cross-brand strategies," said Rod Rushing, President and CEO, REV Group. "I am confident Mike's operational and commercial expertise will help our businesses meet the recent increased demand while exceeding expectations of consumers who are joining the RV lifestyle."
Prior to Renegade RV, Mike was President and Chief Operating Officer of Lock Joint Tube. During his nine-year tenure, Mike drove a significant expansion of the mechanical tube producer, from two to four plants with considerable sales and profitability growth in the process. He has also served in leadership roles at Jackson Tube Service and Copperweld Miami Division.
Mike holds an Executive MBA from Baldwin Wallace University and a bachelor's degree from Thiel College with a focus in Accounting and Mechanical Engineering.
###
About REV Group, Inc.
REV Group® is a leading designer and manufacturer of specialty vehicles and related aftermarket parts and services. We serve a diversified customer base, primarily in the United States, through three segments: Fire & Emergency, Commercial, and Recreation. We provide customized vehicle solutions for applications, including essential needs for public services (ambulances, fire apparatus, school buses, and transit buses), commercial infrastructure (terminal trucks and industrial sweepers) and consumer leisure (recreational vehicles). Our diverse portfolio is made up of well-established principal vehicle brands, including many of the most recognizable names within their industry. Several of our brands pioneered their specialty vehicle product categories and date back more than 50 years. REV Group trades on the NYSE under the symbol REVG. Investors-REVG