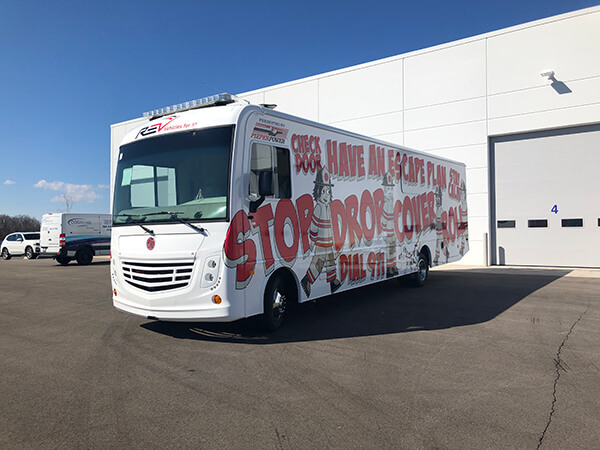 THE RV WILL BE USED TO HELP THE MILWAUKEE FIRE DEPARTMENT TEACH FIRE SAFETY
REV Recreation Group recently completed a custom-built RV for the Milwaukee Fire Department to serve as their Mobile Survive Alive House. The RV is a first of its kind mobile fire education unit that will be used to engage children in the greater Milwaukee area.
Currently, the Milwaukee Fire Department offers an educational program that teaches the dangers of fire and fire safety for kids, and the new Mobile Survive Alive House will be an integral part of this program. "The job of firefighting has evolved over the years, educating children on fire safety has become an important part of our community efforts," stated Lieutenant Michael Ball, Community Relations Director for the Milwaukee Fire Department. "The Survive Alive House is a key component of how we demonstrate fire safety to children."
The Mobile Survive Alive House will be taken to schools and appear at various events throughout the Milwaukee area. "This mobile unit allows us to go to our citizens anywhere in the city to educate them about fire safety," said John Litchford, Milwaukee Deputy Fire Chief. "This will help us achieve our yearly goal of zero fire deaths in Milwaukee."
The custom RV includes a variety of technology and fire training devices, including:
A Lion® Training Stove that works in tandem with a custom fire extinguisher to demonstrate the proper technique to extinguish a stove fire.
Two bedroom-style classrooms with smoke generators and doors with integrated heatmats to simulate a fire. Each bedroom-style classroom has a residential window with steps for evacuation training.
A kitchen-style classroom in the center of the vehicle with bench seating and two large TVs that have camera feeds from the bedrooms.
An exterior TV under a power awning that can be used for training videos.
An LED light bar above the cockpit with a PA system and siren—donated by Whelen Engineering, a global leader in the emergency warning industry.
"REV Group is committed to the education and safety of the young people throughout the Milwaukee area," stated Tim Sullivan, CEO of REV Group. "We are also committed to our first responders and we're pleased to support their goal of zero fire deaths. The Mobile Survive Alive Unit is an extension of that commitment."
The engineering team at REV Group's Class A RV division worked directly with the Milwaukee Fire Department to build the custom RV.