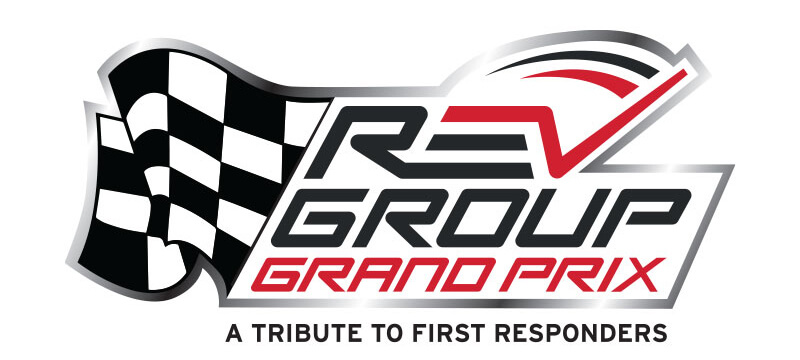 FIRST RESPONDERS RECEIVE FREE ENTRY TO THE INDYCAR SERIES REV GROUP GRAND PRIX DOUBLEHEADER WEEKEND
REV Group, Inc (NYSE: REVG), a Milwaukee-based manufacturer of industry-leading specialty vehicle brands including fire apparatus and ambulances, has teamed up with Road America for a second year to pay tribute to first responders with free entry at the NTT IndyCar Series REV Group Grand Prix doubleheader weekend July 9th-12th, 2020.
All active-duty first responders, paid or volunteer, will receive FREE entry at Road America in Elkhart Lake, a world class 4.048 mile, 14-turn race track surrounded by 640 acres of rolling green hills, and will be treated to a packed weekend of activities, including the REV Group Grand Prix feature races on Saturday, July 11th and Sunday, July 12th. First responders will be admitted free of charge by showing valid identification indicating active service from Thursday, July 9th through Sunday, July 12th. FREE admission must be redeemed at the gate and is only valid during the event weekend.
"Now more than ever, we recognize and celebrate first responders' resilience and commitment to put the safety of others, before their own. The REV Group Grand Prix allows us a platform to honor first responders and share our appreciation for the dedicated people who use our ambulances and fire apparatus each day to serve their communities," said Rod Rushing, President and CEO of REV Group.
Furthermore, first responders attending on Saturday and Sunday will receive a complimentary tribute baseball cap at the REV Group Fire & Emergency Vehicle Showcase area. The area will have vehicles from REV's Fire & Emergency brands including Spartan Emergency Response, E-ONE, Wheeled Coach and Horton on display, allowing fans to get a closer look at the REV specialty vehicles that equip first responders.
"Safety is paramount at Road America, and our fire and medical teams are critically important," said Mike Kertscher, President and General Manager of Road America. "We are thrilled that the REV Group Grand Prix gives us the opportunity to recognize all first responders both on and off the track, especially this year when they've been working tirelessly on the frontlines. Our sprawling grounds offer plenty of room to spread out and enjoy a full weekend of racing."
Additional event details can be found at https://www.revgroupgp.com and https://www.roadamerica.com/rev-group-grand-prix-presented-amr-doubleheader
###
NOTES TO EDITORS
About REV Group
REV Group (REVG) is a leading designer, manufacturer, and distributor of specialty vehicles and related aftermarket parts and services. We serve a diversified customer base, primarily in the United States, through three segments: Fire & Emergency, Commercial, and Recreation. We provide customized vehicle solutions for applications, including essential needs for public services (ambulances, fire apparatus, school buses, and transit buses), commercial infrastructure (terminal trucks and industrial sweepers) and consumer leisure (recreational vehicles). Our diverse portfolio is made up of well-established principal vehicle brands, including many of the most recognizable names within their industry. Several of our brands pioneered their specialty vehicle product categories and date back more than 50 years. REV Group trades on the NYSE under the symbol REVG. Investors-REVG
About Road America
Established in 1955, Road America is conveniently located between Milwaukee and Green Bay in Elkhart Lake, Wisconsin. The world's best racers have competed at this legendary four-mile, 14-turn road circuit for over 60 years. Along with over 500 events held seasonally at the 640-acre facility, several major weekends are open to the public, which include the IndyCar Series, the MotoAmerica Series, three vintage racing events, numerous Sports Car Club of America (SCCA) events, the IMSA WeatherTech SportsCar Championship, and NASCAR. Road America's park-like grounds offer amazing viewing opportunities, numerous camping options, fantastic concessions, and high-speed excitement to hundreds of thousands of spectators each year. Fans can also stay and play in cabins located conveniently on the grounds and find all sorts of souvenirs, collectibles, and apparel at the 7,500 sq. ft Paddock Shop. Affectionately known by many as America's National Park of Speed, Road America can accommodate groups of all sizes including weddings and corporate events in the Tufte Conference Center. In addition to public race weekends, Road America offers a variety of group event programs including geocaching, disc golf, and off-road adventure tours, karting and the Road America Motorcycle and Driving Schools. For more information, visit www.roadamerica.com Follow Road America on Facebook, Twitter, Instagram or YouTube or call 800-365-7223