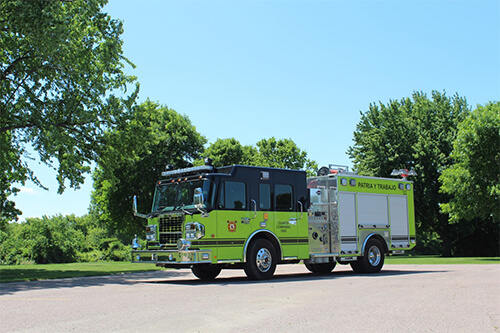 REV Group, Inc. (NYSE: REVG), a manufacturer of industry-leading specialty vehicle brands, announced today it has completed the acquisition of Spartan Emergency Response (Spartan ER), a leading designer, manufacturer and distributor of custom emergency response vehicles, cabs and chassis for the emergency response market, and its brands, from Spartan Motors, Inc. (NASDAQ: SPAR) effective February 1, 2020. Spartan ER was acquired for approximately $55 million in cash, subject to a net working capital adjustment and certain liabilities of the business to be retained by Spartan Motors, Inc. post-closing.
Spartan Emergency Response and its brands, Spartan Fire Apparatus and Chassis, Smeal Fire Apparatus, Ladder Tower (LCT), and UST, will immediately become part of REV's Fire & Emergency ("F&E") segment. The newly combined business will further solidify F&E as a top-two North American fire apparatus manufacturer offering significant production scale, diverse product offerings, wide-ranging channel relationships and broad geographic sales coverage.
"We are excited to acquire a top North American fire apparatus manufacturer of scale with a well-recognized, innovative and broad product offering, long-standing relationships with dealers and municipal customers, and a growing installed base of over 6,000 vehicles[1]," states Tim Sullivan, President and CEO of REV Group. "It's our long-term strategy to continue to grow this segment, as well as continue to establish REV Group as a leader in the innovation of fire apparatus and other emergency response vehicles."
As of September 30, 2019, Spartan ER generated last twelve months ("LTM") net revenues of $253.3 million and acquired Spartan ER backlog represents approximately 74 percent of anticipated calendar 2020 sales. A supplemental slide deck describing this transaction has been posted to the REV Group, Inc. investors website at https://investors.revgroup.com.
About REV Group
REV Group, Inc. (NYSE: REVG) is a leading designer, manufacturer and distributor of specialty vehicles and related aftermarket parts and services. We serve a diversified customer base primarily in the United States through three segments: Fire & Emergency, Commercial and Recreation. We provide customized vehicle solutions for applications including: essential needs (ambulances, fire apparatus, school buses and municipal transit buses), industrial and commercial (terminal trucks, cut-away buses and street sweepers) and consumer leisure (recreational vehicles ("RVs") and luxury buses). Our brand portfolio consists of 33 well-established principal vehicle brands including many of the most recognizable names within our served markets. Several of our brands pioneered their specialty vehicle product categories and date back more than 50 years.
About Spartan Emergency Response
Spartan Emergency Response is a leading designer, manufacturer and distributor of custom emergency response vehicles, cabs, chassis and complete apparatus made to customer specifications and used by the fire industry throughout the United States and Canada, as well as select markets in South America and Asia.
Forward Looking Statements
This news release contains statements that the Company believes to be "forward-looking statements" within the meaning of the Private Securities Litigation Reform Act of 1995. This news release includes statements that express our opinions, expectations, beliefs, plans, objectives, assumptions or projections regarding future events or future results and therefore are, or may be deemed to be, "forward-looking statements." These forward-looking statements can generally be identified by the use of forward-looking terminology, including the terms "believes," "estimates," "anticipates," "expects," "strives," "goal," "seeks," "projects," "intends," "forecasts," "plans," "may," "will" or "should" or, in each case, their negative or other variations or comparable terminology. They appear in a number of places throughout this news release and include statements regarding our intentions, beliefs, goals or current expectations concerning, among other things, our results of operations, financial condition, liquidity, prospects, growth, strategies and the industries in which we operate.
Our forward-looking statements are subject to risks and uncertainties, including those highlighted under "Risk Factors" and "Cautionary Statement on Forward-Looking Statements" in the Company's annual report on Form 10-K, and in the Company's subsequent quarterly reports on Form 10-Q, together with the Company's other filings with the SEC, which risks and uncertainties may cause actual results to differ materially from those projected or implied by the forward-looking statement. Forward-looking statements are based on current expectations and assumptions and currently available data and are neither predictions nor guarantees of future events or performance. You should not place undue reliance on forward-looking statements, which only speak as of the date hereof. The Company does not undertake to update or revise any forward-looking statements after they are made, whether as a result of new information, future events, or otherwise, expect as required by applicable law.
Investors-REVG
Investor Contact
Drew Konop
VP, Investor Relations
Email: investors@houstonh15.sg-host.com
Phone: 1-888-738-4037 (1-888-REVG-037)
Media Contact:
Julie Nuernberg
Director of Public Relations & Social Media Marketing
Email: julie.nuernberg@houstonh15.sg-host.com
---
[1] Represents units sold since 2006 (includes custom chassis sold to OEMs).