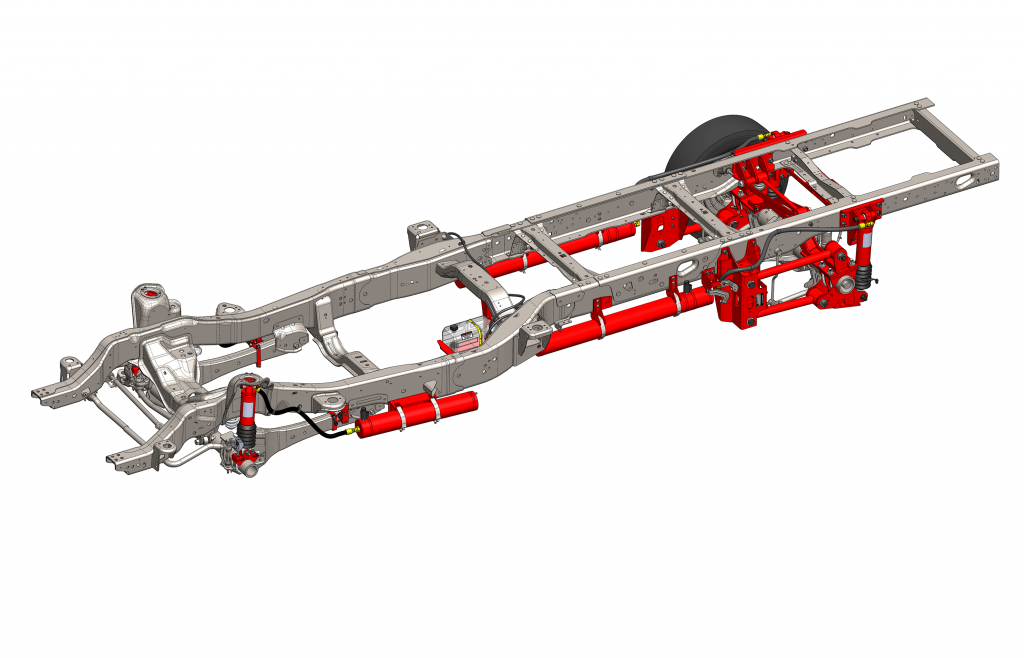 REV Group (REVG), manufacturer of industry-leading specialty vehicle brands, announces select Bus and RV subsidiaries will now have the upgrade option of LiquidSpring, an innovative, high-tech suspension system which reduces body roll and vibration.
ElDorado and Champion buses, and Fleetwood RV, will join REV Ambulance brands Horton, AEV, Leader, Wheeled Coach, Road Rescue and McCoy Miller, to offer LiquidSpring as a standard factory-installed upgrade option on their supported chassis. LiquidSpring is an active suspension system utilizing variable spring rates. The suspension uses a microprocessor to optimize the ride based on the vehicle's steering, speed, braking level, and the motion at each wheel. It also senses sharp turns or evasive maneuvers and stiffens in milliseconds to improve handling. LiquidSpring can help prevent driver fatigue from fighting the wind and can offer better driver and passenger comfort.
"At REV Group, our vehicles are designed and manufactured to 'connect and protect'," said Brian Perry, President of Commercial Segment, REV Group. "We are committed to offering the best in safety innovation and LiquidSpring Smart Suspension technology helps ensure better driver and passenger comfort and stability."
Bus
Not only helping bus driver fatigue, LiquidSpring also provides a more comfortable ride for ElDorado and Champion passengers, especially for those with mobility conditions who are more impacted by harsh roads or rural roads.
Recreation
LiquidSpring provides a coach-like ride when included in Fleetwood's smaller, gas RV units, Southwind and Bounder, and helps against driver fatigue when driving in windy conditions. This smoother experience can also result in less bracing against bumps in the road, as well as less cabin noise from frame creaking and panels stretching.
Ambulance
REV Group has worked with LiquidSpring for a few years now, offering LiquidSpring as an upgrade option for its emergency vehicles. The suspension assists with a smoother ride which allows for a more comfortable transport for patients and more stability for emergency responders to work while vehicle is moving.
###
About REV Group, Inc.
REV Group (REVG) is a leading designer, manufacturer and distributor of specialty vehicles and related aftermarket parts and services. We serve a diversified customer base primarily in the United States through three segments: Fire & Emergency, Commercial and Recreation. We provide customized vehicle solutions for applications including essential needs (ambulances, fire apparatus, school buses, mobility vans and municipal transit buses), industrial and commercial (terminal trucks, cut-away buses and street sweepers) and consumer leisure (recreational vehicles 'RVs', and luxury buses). Our brand portfolio consists of 29 well-established principal vehicle brands including many of the most recognizable names within our served markets. Several of our brands pioneered their specialty vehicle product categories and date back more than 50 years. REV Group trades on the NYSE under the symbol REVG. Investors-REVG