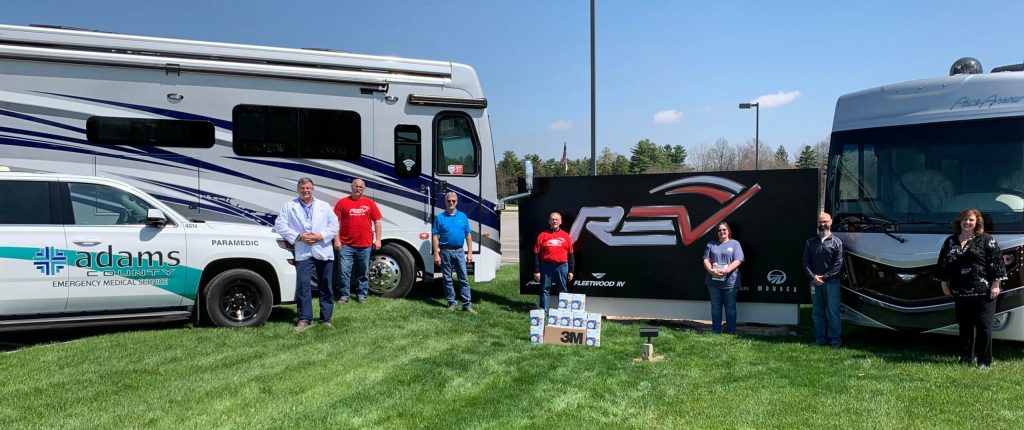 REV Recreation Group, manufacturer of Fleetwood RV, Holiday Rambler and American Coach motorhomes, has donated several boxes of N-95 masks to the staff at Adams Memorial Hospital in Decatur, Indiana.
Kevin Wellman, Director of Emergency Medical Services at the hospital stated, "the masks are crucial at this time and very much appreciated as the hospital prepares for the apex of COVID-19. Per CDC guidelines, if the N-95 masks are not visibly soiled or broken down, clinicians may wear the masks up to five times."
"Our top priority is to ensure the safety of our team, but with our production temporarily suspended, we have the opportunity to help keep our community safe," said Bill Reith, Vice President and General Manager, REV Recreation Group. "With the widespread shortage of PPE, our team, along with our paint supplier Rollie Williams, is delighted to donate a supply of N-95 masks to our local Adams Memorial Hospital. We are truly grateful to all the health care workers who are serving at the frontlines, risking their lives to save others in the fight against this pandemic."
Pictured above are several REV Recreation Group associates, hospital representatives, and two of the latest Fleetwood RV motorhome editions.
For more information, please visit Fleetwood RV, Holiday Rambler and American Coach,
###
About REV Group, Inc.
REV Group (REVG) is a leading designer, manufacturer and distributor of specialty vehicles and related aftermarket parts and services. We serve a diversified customer base, primarily in the United States, through three segments: Fire & Emergency, Commercial and Recreation. We provide customized vehicle solutions for applications including essential needs (ambulances, fire apparatus, school buses and municipal transit buses), industrial and commercial (terminal trucks, cut-away buses and street sweepers) and consumer leisure (recreational vehicles and 'RVs'). Our diverse portfolio is made up of well-established principal vehicle brands including many of the most recognizable names within their industry. Several of our brands pioneered their specialty vehicle product categories and date back more than 50 years. REV Group trades on the NYSE under the symbol REVG. Investors-REVG