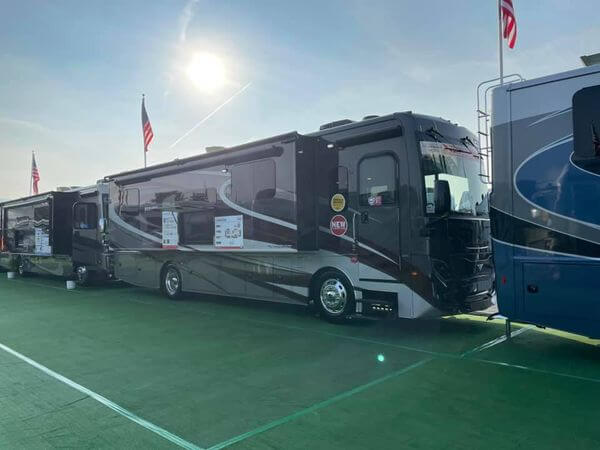 REV Recreation Group announces its most successful show results at America's Largest RV Show in Hershey, Pennsylvania. From September 15 – 19, customers were able to order and purchase new units from brands including Fleetwood RV®, Holiday Rambler®, American Coach®, Renegade RV® and Lance®.
"We were delighted to be back at America's Largest RV Show and to experience the exciting and energetic atmosphere firsthand. As expected, demand was strong, especially amongst new customers," said Mike Lanciotti, president, REV Recreation Group. "Attendees had done their homework and were eager to walk the product to validate their decision."
Renegade RV
With 17 motor coaches on display, the dealers representing Renegade RV said it was their best show to date. New for 2022, the Renegade Explorer was the model garnering the most attention, along with the Verona and Renegade's sprinters, Villagio and Vienna.
Lance Camper
Lance Camper had ten of its travel trailers and five truck campers on display for customers to view, some who had travelled from as far afield as Costa Rica and Hawaii. Sales exceeded 2019 show results by 20%, with equal demand for travel trailers and truck campers.
Fleetwood RV, Holiday Rambler and American Coach
With over 29 models on display, the Fleetwood RV Frontier® and Holiday Rambler Nautica®, both Class A Diesel motorhomes, received the most interest from consumers. Total sales across the three brands nearly doubled from 2019.
The Pennsylvania Recreation Vehicle and Camping Association (PRVCA) said 61,320 attended the five-day event at the Giant Center in Hershey, Pennsylvania, it's second-largest attendance in its more than 50-year history. The attendance record was set in 2017 at 64,154.
###
About REV Recreation Group
REV Recreation Group includes subsidiaries of REV Group, Inc. that manufacture a diverse range of recreational vehicles as well as molded fiberglass and lamination. In addition to a genuine parts online warehouse, the segment operates two state-of-the-art service and repair centers. From Lancaster, California to Bristol, Indiana, REV Recreation Group companies span the United States and produce Class B custom sprinter vans, high-end Class C/Super C motorhomes, luxury Class A motor coaches, travel trailers and truck campers. With one of the industry's best and longest-standing distribution networks, the segment boasts some of the industry's most recognized and iconic brand names such as American Coach® and Fleetwood RV®.
About REV Group, Inc.
REV Group® companies are leading designers and manufacturers of specialty vehicles and related aftermarket parts and services, which serve a diversified customer base, primarily in the United States, through three segments: Fire & Emergency, Commercial, and Recreation. They provide customized vehicle solutions for applications, including essential needs for public services (ambulances, fire apparatus, school buses, and transit buses), commercial infrastructure (terminal trucks and industrial sweepers), and consumer leisure (recreational vehicles). REV Group's diverse portfolio is made up of well-established principal vehicle brands, including many of the most recognizable names within their industry. Several of REV Group's brands pioneered their specialty vehicle product categories and date back more than 50 years. REV Group trades on the NYSE under the symbol REVG. Investors-REVG