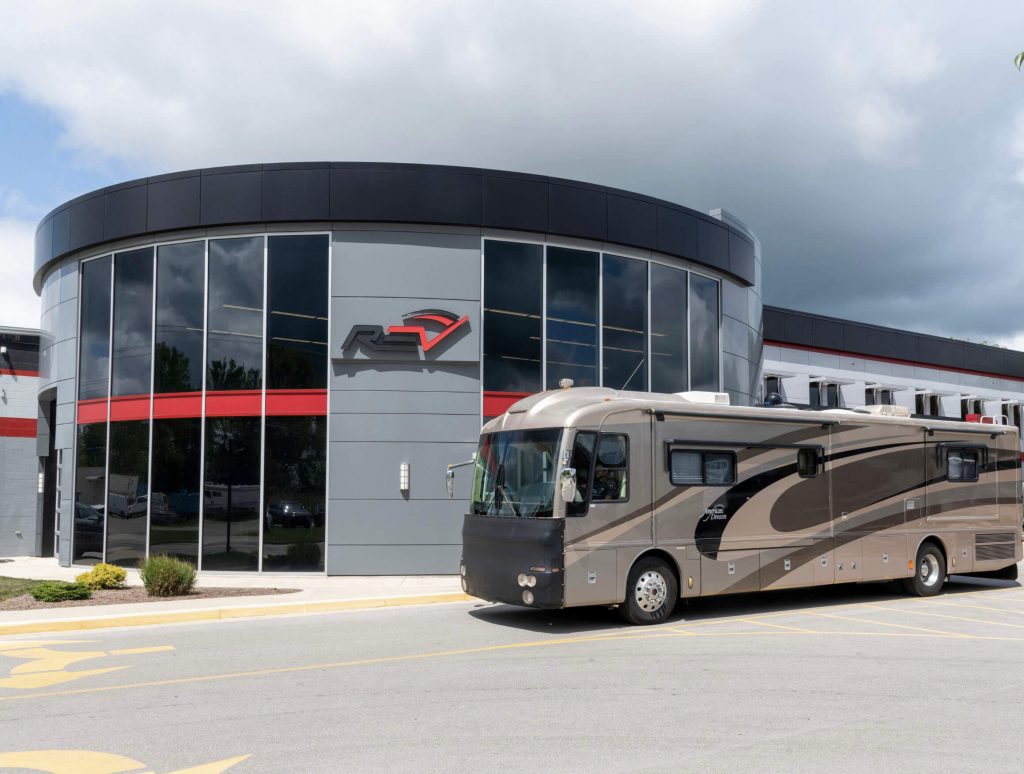 REV Recreation Group, a subsidiary of REV Group®, Inc. (NYSE: REVG), debuts a new website for its state-of-the-art service and repair centers which includes an evolution of the branding plus an enhanced focus on its offering. REV RV Service & Repair centers can handle any make or model of recreational vehicle and are located in Coburg, Oregon covering the West Coast, and in Decatur, Indiana covering the Midwest and East Coast.
"RVs are a home away from home," said Bill Reith, Vice President and General Manager of REV Recreation Group in Decatur, IN. "Our REV RV Service & Repair centers' skilled technicians are capable of keeping any RV from any brand on the road in the best condition possible."
From regular maintenance such as simple oil changes and battery checks to more intricate work such as chassis maintenance, alignments, and comprehensive rebuilds, the centers also offer complete collision repair. The team works closely with the insurance company to ensure everything is completed to the customer and insurance adjuster's expectations. Both facilities include a paint center which is equipped for any sort of job including delamination, complete sidewall repair, computerized color matching and even custom paintwork.
The 60 technicians, including RVIA experts with a background in motorhome production, are the highest skilled in the industry, who average more than 15 years of RV experience. Factory-certified and always current on the latest motorhome innovations, the technicians can help to upgrade motorhomes from adding Wi-Fi and solar kits to putting in cedar wardrobes, replacing cabinetry and installing new flooring.
With over 100,000 square feet in both facilities combined, the Coburg center is nestled between two national forests, and the Pacific Ocean is just an hour and a half away, making it a convenient location for RV owners. The Decatur center, located next to the REV Genuine Parts distribution center which allows for a faster service, offers free laundry facilities and 49 paved campsites where owners can plug in at no charge.
For more information, visit revservicecenters.com
###
About REV Group®, Inc.
REV Group® (REVG) is a leading designer, manufacturer, and distributor of specialty vehicles and related aftermarket parts and services. We serve a diversified customer base, primarily in the United States, through three segments: Fire & Emergency, Commercial, and Recreation. We provide customized vehicle solutions for applications, including essential needs for public services (ambulances, fire apparatus, school buses, and transit buses), commercial infrastructure (terminal trucks and industrial sweepers) and consumer leisure (recreational vehicles). Our diverse portfolio is made up of well-established principal vehicle brands, including many of the most recognizable names within their industry. Several of our brands pioneered their specialty vehicle product categories and date back more than 50 years. REV Group trades on the NYSE under the symbol REVG. Investors-REVG