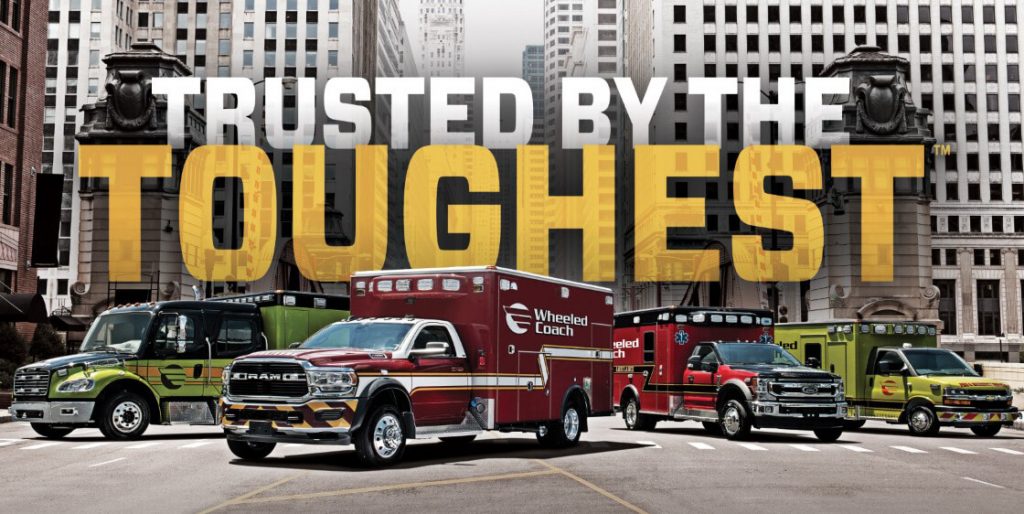 Wheeled Coach, a subsidiary of REV Group, Inc. and an industry-leading manufacturer of emergency vehicles, marks its 45th year with a campaign to celebrate its renowned legacy including a brand video, new tagline, 'Trusted By The Toughest™' and updated website.
"Wheeled Coaches are built to perform under the most demanding conditions, just like the EMS providers who use our vehicles, such as the Fire Department of New York (FDNY)," said Erik Stoor, Vice President and General Manager, Wheeled Coach. "Our passion to provide mission-critical vehicles means we use advanced processes that ensure the highest quality, repeatable results and precision. Our commitment to quality and safety is why after nearly half a century, Wheeled Coach continues to be an industry leader."
The campaign highlights Wheeled Coach's achievement of attaining many firsts in the industry. The company was the first in the emergency vehicle industry to:
Conduct IHS Side Impact Criteria Crash and Roll-Over Testing
Receive the ISO Certified ambulance manufacturer accreditation
Produce CNC machine-cut doors for repeatable accuracy
Engineer internal emergency door releases
Introduce the patented Cool-Bar™ for improved air flow, more accessibility to the compressor and enhanced exterior lighting.
Designed for urban streets as well as rural, Wheeled Coach has built and delivered over 50,000 ambulances since 1975 to large and small fire stations, municipalities, and commercial fleets across the U.S., in addition to being an approved ambulance supplier for the U.S. General Services Administration (GSA). Every ambulance is built in-house in Winter Park, Florida by the team of manufacturing and engineering experts who customize each Wheeled Coach emergency vehicle according to our customers' precise specifications. Wheeled Coach offers a dedicated dealer network as well as a comprehensive product warranty for exceptional aftermarket support. The campaign will serve to shine a spotlight on these benefits as well as on Wheeled Coach's proprietary features including:
Safeguard Box Frame™: a highly reinforced, but ultra-light roll cage superstructure with strategically positioned metal bars, creating one of the strongest, safest and most durable ambulance bodies.
TrueForm™ Wall Construction: a precision assembly process which incorporates Wheeled Coach's StraightLine™ Laser-guided Fixture Alignment to create accurate, square, repeatable frames that fit every time.
AntiCor™Protection System: this system includes layer upon layer of anti-corrosion features, such as one-piece aluminum skins, DuraSeam door system, engineered pre-paint, pre-punched holes, SermaGard® ceramic coated bolts, nine-step ToughCoat™ Paint Process and more, that when combined can handle the most demanding conditions.
ToughCoat™ Paint Process: Wheeled Coach's exclusive nine-step process uses precision application standards centered around a revolutionary high-tech primer with adhesion and anti-corrosive properties for a durable, long-lasting finish.
"Wheeled Coach is proud to be at the service of our nation's EMS providers," concludes Erik Stoor. "We look forward to celebrating our 50th anniversary and beyond."
For more information, visit www.wheeledcoach.com.
###
About REV Group, Inc.
REV Group® (REVG) is a leading designer, manufacturer, and distributor of specialty vehicles and related aftermarket parts and services. We serve a diversified customer base, primarily in the United States, through three segments: Fire & Emergency, Commercial, and Recreation. We provide customized vehicle solutions for applications, including essential needs for public services (ambulances, fire apparatus, school buses, and transit buses), commercial infrastructure (terminal trucks and industrial sweepers) and consumer leisure (recreational vehicles). Our diverse portfolio is made up of well-established principal vehicle brands, including many of the most recognizable names within their industry. Several of our brands pioneered their specialty vehicle product categories and date back more than 50 years. REV Group trades on the NYSE under the symbol REVG. Investors-REVG