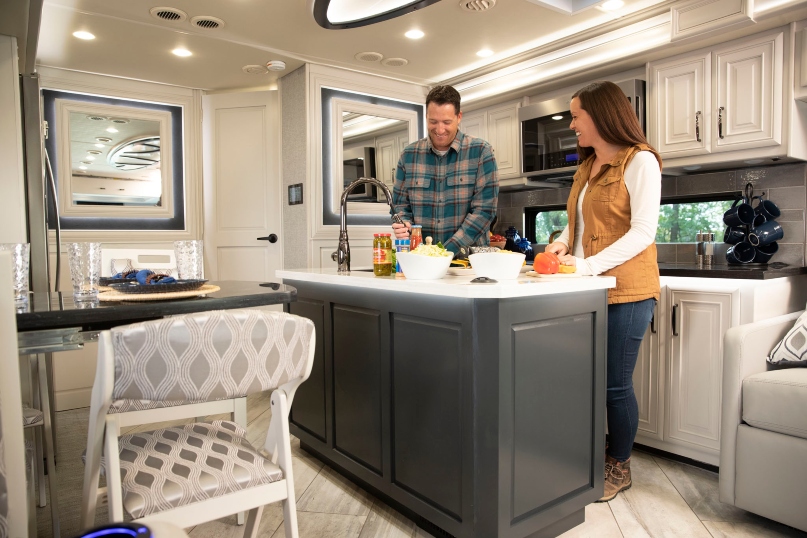 DECATUR, IN – March 21, 2023 – For those exploring the possibility of becoming full-time RVers, one common question or concern can be sacrificing some amenities which they are accustomed to at home.
Becoming a full-time RVer doesn't mean you have to give up 'at home' amenities at all. At Fleetwood RV, for example, our coaches are made for whatever adventure RVers may have in mind. Several Fleetwood RV floor plans, including the Discovery® 36Q and our Discovery® LXE 36HQ, come equipped with Fleetwood's luxurious, spacious kitchen island design, which was developed with full-timers or resort living in mind.
The kitchen island in the middle of the coach is perfect for RVers who like to set up for an extended stay. With a layout that's perfect for entertaining and providing impressive amounts of extra storage, having the Fleetwood kitchen island can make the RV feel even more like home and provide an extra level of comfort. In addition, the ingenuity in the floor plan design means RVers can still access the half-bath at the middle of the coach and the bed when the slides are in and the coach is in motion. This makes it a great floor plan for families on the go or those who want to spread out and stay awhile.
Some people choose to stay in permanent RV parks because of how budget-friendly it is compared with renting or owning a home. Becoming a full-time RVer is also a great way to meet new people and explore more of nature – all of which makes finding the right long-term RV resort essential. There are different types of long-term RV parks offering monthly, seasonal, and annual parking plans.
Fleetwood RV highlights the benefits of its kitchen island floor plan in a recent blog post, which you can read at https://www.fleetwoodrv.com/resort-style-living-wherever-you-roam/.
To learn more about the Fleetwood products offering innovative kitchen island floor plans, visit the website https://www.fleetwoodrv.com/.
###
About REV Recreation Group, Inc.
REV Recreation Group, Inc. is a REV Group® subsidiary and a leading manufacturer of Class A Gas and Diesel recreational vehicle brands. This company has one of the best and longest standing distribution networks in the industry and boasts some of the industry's most recognized and iconic brand names such as American Coach®, Fleetwood RV®, and Holiday Rambler®. Headquartered in Decatur, IN, which is also its principal manufacturing location, it operates two state-of-the-art service and repair centers and a genuine parts online warehouse.
About REV Group, Inc.
REV Group companies are leading designers and manufacturers of specialty vehicles and related aftermarket parts and services, which serve a diversified customer base, primarily in the United States, through three segments: Fire & Emergency, Commercial, and Recreation. They provide customized vehicle solutions for applications, including essential needs for public services (ambulances, fire apparatus, school buses, and transit buses), commercial infrastructure (terminal trucks and industrial sweepers), and consumer leisure (recreational vehicles). REV Group's diverse portfolio is made up of well-established principal vehicle brands, including many of the most recognizable names within their industry. Several of REV Group's brands pioneered their specialty vehicle product categories and date back more than 50 years.
REV Group trades on the NYSE under the symbol REVG. Investors-REVG