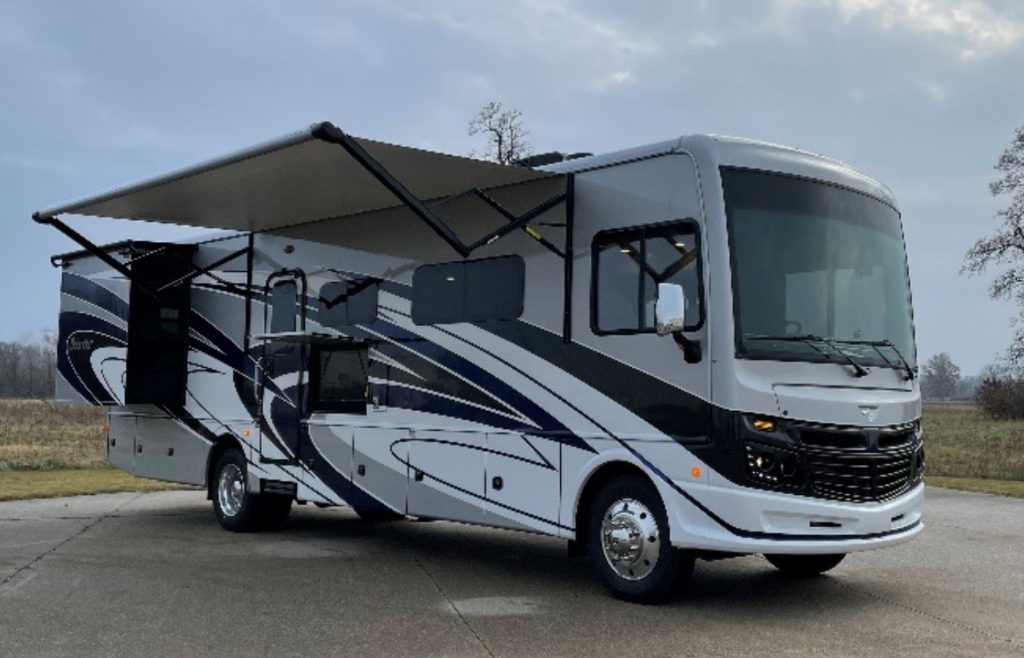 We may not all be gold medal contenders, but with the Olympics underway this February it's easy to get in the spirit of things. For families who are inspired to take in some cold weather sports, Fleetwood RV has curated a list of locations that offer everything from bobsledding and snowshoeing to ice skating and more. And, while Florida and Georgia might not seem like typical winter states, there are chilly activities to discover. So, pack the RV with extra blankets, fleece pajamas, and a s'mores kit and hit the road for some seasonal adventures.
Fleetwood RV is one of the most-established brands in the motorhome industry and is known for its quality, innovative features, and family-friendly designs. For 2022, Fleetwood is debuting its Bounder 35GL. With four distinct zones, the RV feels like a "traditional" home and includes a space at the front for work and entertainment, a mid-ship open concept kitchen, a split lavatory with a private water closet, and a spacious master bedroom. In addition to the master, the RV has a sleeper sofa and an optional drop-down Hide-A-Loft bed to sleep up to six.
Fleetwood RV is a brand within REV Recreation Group, Inc. a subsidiary of REV Group®, Inc.
Please note: each location has been researched but be sure to call ahead to confirm hours of operation, advance ticketing requirements, and other relevant details.
Lake Placid, New York
Home to the 1932 and 1980 Winter Olympics, Lake Placid is a charming mountain town with snow-covered hills, spectacular views, and lots of unique winter activities. Head out for a quiet snowshoe hike, explore miles of cross-country ski trails, or give fat tire biking a try.
In the heart of Lake Placid is the newly renovated James C. Sheffield Speed Skating Oval where Eric Heiden won an astounding five Olympic gold medals in 1980. Today, the Speed Skating Oval is open to the public for skating and is one of the few outdoor rinks of its kind in the country.
Another attraction is the eight-person Skyride gondola that takes visitors to an observation deck where they can get up close and personal with the ski jumpers who launch from a ramp and fly the length of a football field. Enjoy a panoramic vista of Adirondack High Peaks from the top of a glass-enclosed elevator, and then experience what the jumpers see as they start to accelerate towards the end of the ramp.
Truly adventurous types can cruise down the track at the Lake Bobsled Experience at Mt. Van Hoevenberg. This can't-miss experience is for adrenaline junkies searching for a thrilling ride.
RVers can spend the night at North Pole Resorts, a family-run camping resort in the Adirondack Mountains. (Reservations can be made from February 1.)
Margaritaville at Lanier Islands, Buford, Georgia
If winter sends a chill down your spine but you still want to be active, head south to Margaritaville at Lanier Islands where it is possible to fully embrace the winter season. Surrounded by nature, and just a 40-minute drive from Atlanta, the setting is rustic and peaceful with beautiful views of Lake Lanier and an upscale RV resort Camp Margaritaville RV Resort at Lanier Islands.
The main attraction is Snow Island where kids of all ages can take an unforgettable tube ride down one of America's longest snow rides. The 575-foot, eight-story high Parrot Mountain snow tube slide is not for the faint of heart. To unwind after the slide, stop by snowball alley for a snowball fight, grab some skates and hit the rink, or sip a tasty hot chocolate.
At night, Margaritaville's Lakeside Lights Spectacular takes guests on a dazzling walk through an incredible lighting extravaganza on the Paradise Beachside of Margaritaville's entertainment complex.
Conveniently, RVers can spend the night at Camp Margaritaville RV Resort at Lanier Islands.
There's a reason so many snowbirds head south for the winter and land in the Sunshine State. And, while there's no snow in sight, there is ice – sort of.  For winter sports action, take in a Florida Panthers hockey game. The Florida Panthers play their home games at FLA Live Arena in Sunrise, Florida – just 13 miles from Fort Lauderdale.
Another icy activity can be found at Rink on the Beach in nearby Pompano Beach. Watch as children and adults take figure skating lessons or lace up a pair of skates and take a few twirls around the rink during public skating hours.
The best part about being in southern Florida during the winter may be that it's warm enough to enjoy the beach, even in the middle of February. Spend the day on the sand or walking along Fort Lauderdale Beach's newly renovated Beachfront Promenade.
Winter sports around these parts include surfing (lessons are available), paddleboarding, and snorkeling.
Speaking of snorkeling, check out Lauderdale By the Sea. This charming seaside village north of Fort Lauderdale sits atop a barrier island that's a mere seven feet above sea level. Below the water is a shipwreck snorkel trail where divers can examine a British cargo steamer that sank after striking a reef in 1900.
RVers can spend the night at Aztec RV Resort that's dedicated exclusively to Class A motorcoaches.
Snowbird Resort, Alta, Utah
For more traditional winter sports, head west. Snowbird Resort is in the heart of Utah's Wasatch Mountains at the top of Little Cottonwood Canyon, about 45 minutes from Salt Lake City. The jagged peaks and alpine landscape at Snowbird make it one of the most scenic resorts in the state and one of the top destinations for expert skiers.
Enjoy an out-of-bounds adventure in Alta's expansive backcountry. From snowcat skiing to heli-skiing to guided backcountry tours and more, Alta has it all. Snowbird even has the only ski tunnel in North America that allows skiers to navigate through the mountain and come out on the other side.
To learn more about the area, check out Ski With a Ranger, a complimentary 45-minute tour that begins at the top of Sunnyside lift every Saturday at 1 p.m. Ski down an easy run and learn about Cottonwood Canyon's geology, history, winter ecology, and wildlife.
For those who want to focus on the "wild side," Snowshoe with a Naturalist is offered on select winter dates. Look for animal tracks and learn about the big and small critters and animals that left them, all while surrounded by some of Utah's most beautiful mountains. Guides cover everything from animal adaptations and trees to the history of Little Cottonwood Canyon and Alta.
RVers can spend the night at Sun Outdoors – just minutes away from the Great Salt Lake.
Olympic Valley, Lake Tahoe, California
Situated on the banks of the Truckee River in the west hills of Lake Tahoe, the stunning resort town of Olympic Valley at Palisades Tahoe was the site of the 1960 Winter Olympics and remains a popular winter destination today for beginner to advanced athletes.
Olympic Valley is all about adventure and exploration with 3,600 acres and an average annual snowfall of 400 inches that make the perfect setting for just about any winter sport. Visitors can enjoy skiing, snowboarding, snowmobiling, snow shoeing, dogsledding, and more. Even not-so-adventurous types can ascend to the mountaintops to take in breathtaking views of Lake Tahoe.
After a long and physical day on the mountain, be sure to take part in après ski activities and entertainment that follow a day on the slopes. Don't miss Le Chamois, an iconic ski bar that Powder Magazine describes as "a vortex that draws people in at the end of the day where they can brag about what they skied." It's also the place where some of the world's greatest skiers and snowboarders have bellied up to the bar.
Families can take advantage of the Tahoe S'more Tour with its three locations. Enjoy a day of sledding, purchase a s'mores kit, and find the fire pit or heater that suites your fancy. Either way, it's a great way to enjoy the outdoors.
RVers can spend the night at Coachland RV Resort that provides easy access to Lake Tahoe and Northstar Ski Resort.
For more travel tips and ideas and to see the latest Fleetwood RV models, follow Fleetwood RV on Facebook and Instagram.
###
About REV Recreation Group, Inc.
REV Recreation Group, Inc. is a REV Group® subsidiary and a leading manufacturer of Class A Gas and Diesel recreational vehicle brands. This company has one of the best and longest standing distribution networks in the industry and boasts some of the industry's most recognized and iconic brand names such as American Coach®, Fleetwood RV®, and Holiday Rambler®. Headquartered in Decatur, IN, which is also its principal manufacturing location, it operates two state-of-the-art service and repair centers and a genuine parts online warehouse.
 About REV Group, Inc.
REV Group® companies are leading designers and manufacturers of specialty vehicles and related aftermarket parts and services, which serve a diversified customer base, primarily in the United States, through three segments: Fire & Emergency, Commercial, and Recreation. They provide customized vehicle solutions for applications, including essential needs for public services (ambulances, fire apparatus, school buses, and transit buses), commercial infrastructure (terminal trucks and industrial sweepers), and consumer leisure (recreational vehicles). REV Group's diverse portfolio is made up of well-established principal vehicle brands, including many of the most recognizable names within their industry. Several of REV Group's brands pioneered their specialty vehicle product categories and date back more than 50 years. REV Group trades on the NYSE under the symbol REVG. Investors-REVG