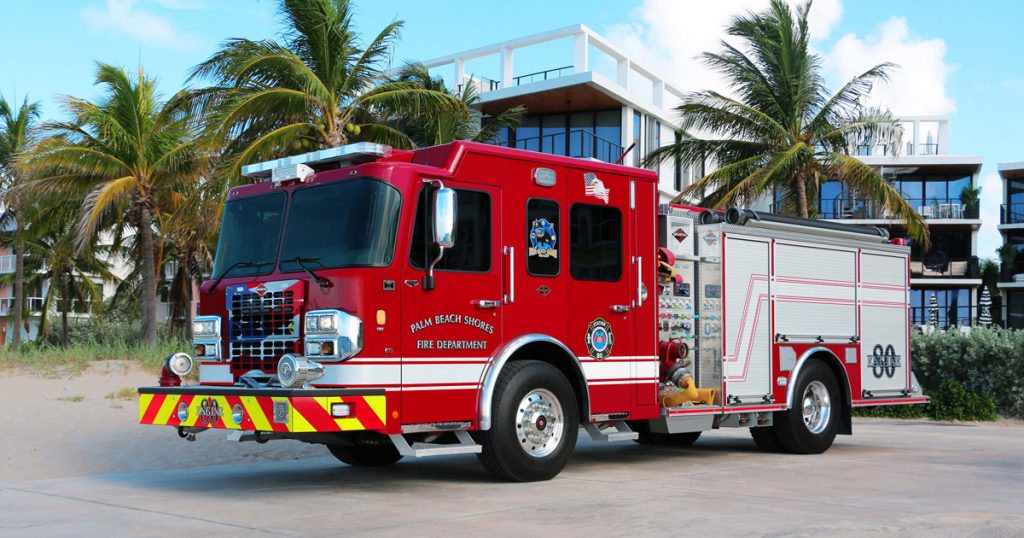 Spartan Emergency Response, a subsidiary of REV Group, Inc., and leading manufacturer of fire apparatus, announces the Palm Beach Shores Fire Department has taken delivery of a Spartan Emergency Response S-180 Pumper. It marks the first delivery from new Spartan Emergency Response dealer REV Technical Center in Florida.
Key features of the Spartan Custom Pumper include:
Spartan Metro Star®5" Cab with 10" Raised Roof
S-180 Aluminum Pumper Body
Cummins® L9 450 HP Engine
Allison 3000 EVS Transmission™
Air Purification System in Cab
Severe Duty Interior
Occupant Advance Protection System
Hale DSD 1500 GPM Pump
FRC In-Control 400 Pressure Governor
UPF 750 Gallon Water Tank
21" Front Bumper Extension
6" Front Suction
PAC-Trac Wall Mounted Tool Boards
SCBA Combo Storage
Whelen® Warning and Scene Light Package
Federal Q2B Siren
Rear View Camera System
This pumper will serve an area with single and multi-family residential structures, high-rise buildings, commercial properties and several marinas in Palm Beach Shores. It will be used by the department for fire suppression, EMS response, technical rescue, auto extrication and water rescue.
"Safety and efficiency were paramount in the decision to purchase this pumper," said Palm Beach Shores Fire Chief Trevor Steedman. "The engineering features were well thought out and construction was top quality. We are looking forward to this Spartan pumper providing reliable service for many years to come."
"Chief Steedman and his dedicated volunteer firefighters serve a community in a uniquely traditional method in the heart of a Florida coastal beach environment. With our REV RTC® partner, we are grateful to provide a Spartan ER S-180 pumper to the department for reliable service through the next generation of residents and visitors," said Chris Wade, Spartan Director of Sales.
###
About Spartan Emergency Response
Spartan Emergency Response, comprised of REV Group subsidiaries Spartan Fire, LLC, Smeal SFA, LLC, Smeal LTC, LLC and Smeal Holding, LLC, is a North American leader in the emergency response market and offers brands including Spartan Authorized Parts, Spartan Factory Service Centers, Spartan Fire Chassis, Smeal, and Ladder Tower. Spartan Emergency Response vehicles are well known for safety, quality, durability, aftermarket product support, and first-to-market innovation. The company operates facilities in Michigan, Pennsylvania, South Dakota, and Nebraska. 
About REV Group, Inc.
REV Group companies are leading designers and manufacturers of specialty vehicles and related aftermarket parts and services, which serve a diversified customer base, primarily in the United States, through three segments: Fire & Emergency, Commercial, and Recreation. They provide customized vehicle solutions for applications, including essential needs for public services (ambulances, fire apparatus, school buses, and transit buses), commercial infrastructure (terminal trucks and industrial sweepers), and consumer leisure (recreational vehicles). REV Group's diverse portfolio is made up of well-established principal vehicle brands, including many of the most recognizable names within their industry. Several of REV Group's brands pioneered their specialty vehicle product categories and date back more than 50 years. REV Group trades on the NYSE under the symbol REVG. Investors-REVG