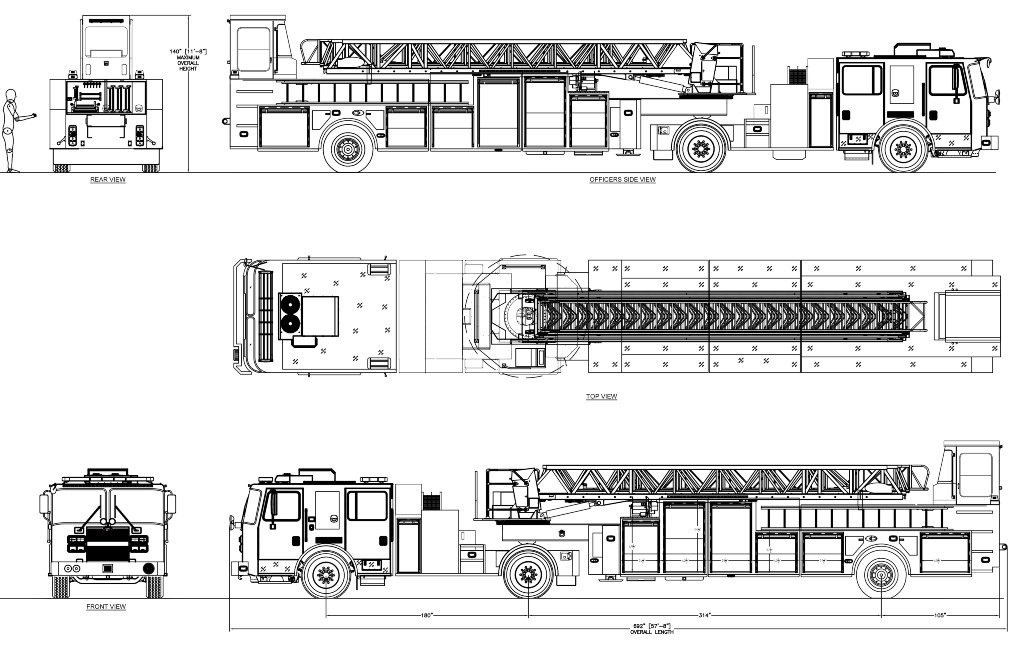 HOLDEN, LA – May 11, 2023 – KME, a subsidiary of REV Group, Inc., and a leading manufacturer of fire apparatus, is pleased to announce Phoenixville (Pennsylvania) Fire Department has placed an order for a KME® 100-foot Tractor-Drawn AerialCat™ (TDA) to serve its area.
As the first TDA to service the Phoenixville borough, this specific type of truck was chosen because of the maneuverability and compartmentation. Phoenixville worked closely with Campbell Supply, a KME dealer, to specify the truck to meet the department's unique needs.
Other features include:
KME Severe Service™ X-MFD cab with 10" raised roof
Hendrickson STEERTEK™ NXT front and trailer steer axles for improved cramp angles on both
Cummins X15 605 HP engine
Allison 4000 EVS™ transmission
Hale DSD 1,500 GPM single stage pump
300-gallon water tank
90-degree jack knife capability
14-foot jack stance
500-pound unrestricted wet or dry tip load rating
-7 degree low to 80-degree elevation rating
"KME was one of the only manufacturers who offered the package we were looking for," said Eamon Brazunas, Fire Chief of Phoenixville Fire Department. "We are pleased with all aspects of owning and operating KME apparatus and we have peace of mind knowing we have a dealer and manufacturer who stand behind their product and will provide knowledgeable resources and support after the sale."
"KME appreciates the opportunity to continue to serve the Phoenixville Fire Department and we value the trust they have placed in our apparatus and our dealer, Campbell Supply Company," said Chris McClung, Vice President, Global Sales and Marketing for REV Fire Group.
For more information on KME TDA's, visit the KME website at: http://www.kmefire.com/TDA
###
About Kovatch Mobile Equipment Corp.
KME, a subsidiary of REV Group, engineers and custom manufactures a full range of fire apparatus for municipal, federal, and wildland/urban interface markets. Additional information on KME can be found at kmefire.com.
About REV Group, Inc.
REV Group companies are leading designers and manufacturers of specialty vehicles and related aftermarket parts and services, which serve a diversified customer base, primarily in the United States, through three segments: Fire & Emergency, Commercial, and Recreation. They provide customized vehicle solutions for applications, including essential needs for public services (ambulances, fire apparatus, school buses, and transit buses), commercial infrastructure (terminal trucks and industrial sweepers), and consumer leisure (recreational vehicles). REV Group's diverse portfolio is made up of well-established principal vehicle brands, including many of the most recognizable names within their industry. Several of REV Group's brands pioneered their specialty vehicle product categories and date back more than 50 years. REV Group trades on the NYSE under the symbol REVG. Investors-REVG