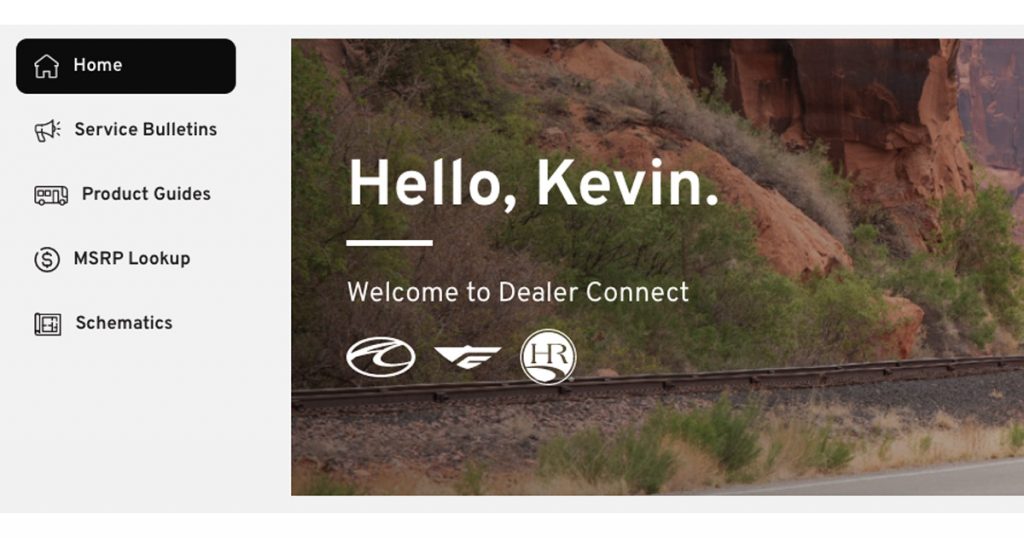 REV Recreation Group, Inc., a subsidiary of REV Group, Inc., has launched Dealer Connect, its brand-new sales and service portal for its Fleetwood RV, Holiday Rambler and American Coach brands.
Featuring a mobile-friendly, responsive design, the new Dealer Connect is designed to put accurate and easy-to-access information at users' fingertips. The site's robust yet flexible architecture will enable REV Recreation Group, Inc. to regularly update and enhance the site moving forward, providing its dealer partners with a better, more consistent long-term user experience.
The innovative portal will serve as a one-stop digital resource for a wide variety of key assets and information, including:
Up-to-the-minute service bulletins
Comprehensive and current product guides
Product schematics
Warranty and service information
Parts information
In addition, the new Dealer Connect will also serve as a robust product and service training platform for dealer personnel.
"We're committed to equipping our dealer partners and their staff with the tools they need to succeed," said Don Gephart, Marketing Manager with REV Recreation Group, Inc. "By uploading all the information dealers need in one place, it serves as a valuable asset and trusted resource they can rely on anywhere, anytime."
To learn more and access the new Dealer Connect, dealer personnel are encouraged to contact their REV RV Account Manager.
###
About REV Recreation Group, Inc.
REV Recreation Group, Inc. is a REV Group® subsidiary and a leading manufacturer of Class A Gas and Diesel recreational vehicle brands. This company has one of the best and longest standing distribution networks in the industry and boasts some of the industry's most recognized and iconic brand names such as American Coach®, Fleetwood RV®, and Holiday Rambler®. Headquartered in Decatur, IN, which is also its principal manufacturing location, it operates two state-of-the-art service and repair centers and a genuine parts online warehouse.
About REV Group, Inc.
REV Group companies are leading designers and manufacturers of specialty vehicles and related aftermarket parts and services, which serve a diversified customer base, primarily in the United States, through three segments: Fire & Emergency, Commercial, and Recreation. They provide customized vehicle solutions for applications, including essential needs for public services (ambulances, fire apparatus, school buses, and transit buses), commercial infrastructure (terminal trucks and industrial sweepers), and consumer leisure (recreational vehicles). REV Group's diverse portfolio is made up of well-established principle vehicle brands, including many of the most recognizable names within their industry. Several of REV Group's brands pioneered their specialty vehicle product categories and date back more than 50 years. REV Group trades on the NYSE under the symbol REVG. Investors-REVG