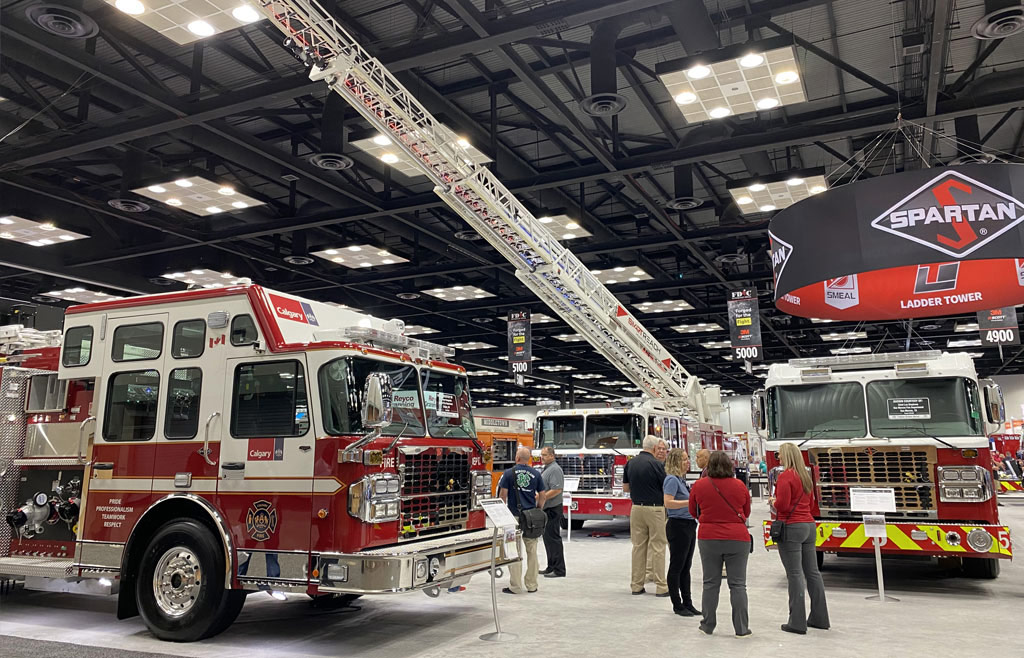 Spartan Emergency Response, a subsidiary of REV Group® and leading manufacturer of fire apparatus, is proud to offer the latest innovative products and technologies – including Vector™, the first North American-style fully electric fire truck – at FDIC International (Fire Department Instructors Conference) in Indianapolis, Indiana from April 28-30, 2022.
Debuting at FDIC, Vector was developed with technology partner Emergency One Group LTD – maker of the world's first EV fire truck. This new electric fire truck enables departments to drive and pump on electric only. It packs 316 kW of proven automotive-grade batteries to deliver the longest electric pumping duration in the industry.
Spartan Emergency Response will also showcase its 107' Rear Mount Aerial with Smart Reach™ Multi-Stance™ technology. This features the patented Smeal™ ladder and outrigger control system, offering a 360-degree, no dead-zone functionality that can be adapted to the scene while maintaining full reach, and access to real-time data. With the Multi-Stance technology, operators can set the outriggers to any reach that the fire scene will accommodate. The Smart Reach control console also offers the next generation of electric and hydraulic aerial controls, giving users the ultimate in smooth operation.
Spartan Emergency Response will display several aerials, platforms, and pumpers, including:
Top Mount Pumper from Vernon Township, IN: Built on a Spartan Metro Star® Chassis with our exclusive Tri-Max Body DesignTM, this pumper features a Waterous CXS 1500 GPM pump, 1000-gallon tank, black laminol pump panel, and low hosebed configuration,
Side Mount Pumper from Waco Fire Department, TX: Equipped with the Advanced Protection System® and Waterous CSU 1500 GPM pump, this pumper features a 750-gallon tank, 30-gallon foam cell, and FoamPro 2002 foam system with power fill.
107' Smart Reach Aerial from Rye Brooke Fire Department, NY: Features 12', 14', or 16' Outrigger Spread with Multi-Stance Technology, 100' horizontal reach, Waterous CSUC20 2,000 GPM pump, 480-gallon tank, and 20 percent grade fore/aft leveling capabilities.
100' Rear Mount Platform from Fuquay-Varina Fire Department, NC: Built on a Spartan Gladiator EMFD chassis with a Waterous CSUC20 1500 GPM pump, 98' horizontal reach, 1250 lbs. dry / 500 lbs wet unrestricted tip load, and FP-4 stabilizing system that provides maximum stability and superior leveling capabilities on steep terrain.
100' Rear Mount Aerial from Detroit Fire Department, MI: Configured with a low overall travel height with an enclosed side mount pump panel featuring a Darley AG 11/2 single stage PTO pump with 150 GPM and maximized storage capacity with a transverse pump compartment and torque box ladder storage with a compliment of Duo Safety Ladders.
Spartan Gladiator® Chassis from Austin Fire Department, TX: Features a 99" wide cab with spacious crew area for rehabilitation with flat floors and line-x coated tread plate for superior durability and easy cleaning.
Spartan Metro Star Chassis from Leighton, MI: A 94" wide cab with Advanced Climate Control and Advanced Protection System to keep crew comfortable and safe.
REV Fire Group's World of Innovation and Protection at Booth #4516 will feature the most recent technological advancements for Spartan Emergency Response customers, including:
Active Air Purification System: Kills 99 percent of pathogens, including the virus which causes COVID-19, in the air and on surfaces.
ECO IDLE-TEC™: The idle reduction system specifically designed for fire apparatus that serves to reduce operating costs, and to help protect the environment and improve driver safety and comfort.|
GE DisInFx: Utilizes UVC and UVA technology to help reduce viruses in air and bacteria and fungus on surfaces including SARS-CoV-2 which causes COVID-19. The small device can be easily installed into the cab headliner and has white and red LED lights which exceed NFPA surface illumination requirements, providing the necessary cab interior lighting.
"We are committed to sharing our new products and technologies at FDIC that help make the firefighter's job safer and easier," said Kent Tyler, President of REV Fire Group. "We are continuing the tradition this year with Vector, the 107 Smart Reach aerial and more."
Visit Spartan Emergency Response at Booth #3801 and Booth #4516 for the latest products and technologies available for the fire industry.
###
About Spartan Emergency Response
Spartan Emergency Response®, comprised of REV Group subsidiaries Spartan Fire, LLC, Smeal SFA, LLC, Smeal LTC, LLC and Smeal Holding, LLC, is a North American leader in the emergency response market and offers brands including Spartan Authorized Parts, Spartan Factory Service Centers, Spartan Fire Chassis®, Smeal™, and Ladder Tower™. Spartan Emergency Response vehicles are well known for safety, quality, durability, aftermarket product support, and first-to-market innovation. The company operates facilities in Michigan, Pennsylvania, South Dakota, and Nebraska.
About REV Group, Inc.
REV Group® companies are leading designers and manufacturers of specialty vehicles and related aftermarket parts and services, which serve a diversified customer base, primarily in the United States, through three segments: Fire & Emergency, Commercial, and Recreation. They provide customized vehicle solutions for applications, including essential needs for public services (ambulances, fire apparatus, school buses, and transit buses), commercial infrastructure (terminal trucks and industrial sweepers), and consumer leisure (recreational vehicles). REV Group's diverse portfolio is made up of well-established principal vehicle brands, including many of the most recognizable names within their industry. Several of REV Group's brands pioneered their specialty vehicle product categories and date back more than 50 years. REV Group trades on the NYSE under the symbol REVG. Investors-REVG