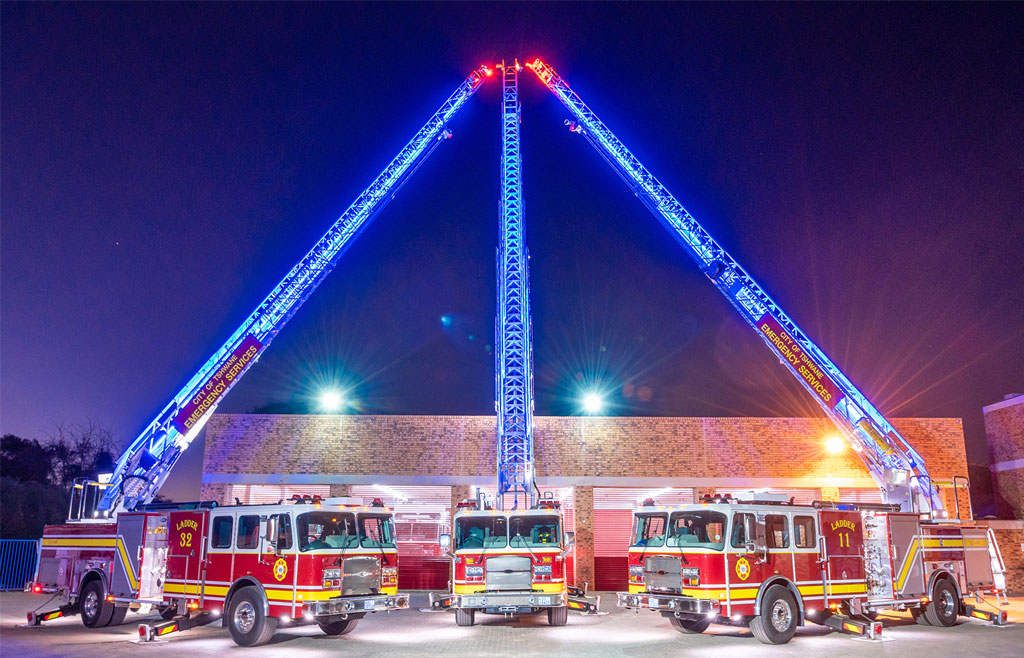 E-ONE, a subsidiary of REV Group, Inc. (NYSE: REVG) and a business unit within REV Fire Group, is pleased to announce the delivery two 110 Quints and one CR 137 Aerial to the City of Tshwane Emergency Services in South Africa.
Key features of the two E-ONE HM 110 Quints include:
Rugged E-ONE Cyclone® cab with roll-cage design and right-hand drive
Integral torque box chassis with Cummins® ISL 400 HP engine
Single rear axle and high departure angle for improved manoeuvrability
Welded extruded aluminium aerial with 110' vertical reach and pre-piped waterway
Crisscross under-slung outriggers with only 11' spread
Deluxe Advanced Aerial Control System (AACS) with tip aerial controls and wireless aerial controls
Tip camera, full length blue LED ladder climbing lights and laser jack pad spotting lights
444 cubic foot breathing air system plumbed to tip of ladder
1500 GPM (6000 lpm) Hale DSD pump with 500-gallon (1890 litre) water tank
2002 FoamPro® foam system with 30-gallon (113 litre) foam tank
Extruded aluminium body with SideStacker® hosebed
Enclosed storage for 127' of ground ladders
8KW Smart Power hydraulic generator
Key features of the E-ONE CR 137 Aerial include:
Rugged E-ONE Cyclone® cab with roll-cage design, occupant protection air bags
137' extruded aluminium aerial with waterway at end of section 4 (110')
Deluxe Advanced Aerial Control System (AACS) with Wireless aerial controls
Crisscross under-slung outriggers with only 13' 8" spread with Laser jack pad spotting lights
Integral torque box chassis with Cummins ISM 500 HP engine
20000 LB bumper mounted electric winch
6600 lpm (1750 GPM) pump
Waterway shut-off valve. Mounted to allow waterway to be used as a Hi-Vol discharge
1100 litre (300 gallon) water tank
113 litre (30 gallon) foam tank
Waterous 140-P CAFS system for (2) crosslays, (2) 2.5" discharges and waterway discharge
Class 1 SmartFoam™ foam system
Extruded aluminium body with center hosebed
Storage for 115' of ground ladders including (1) 35' three-section ladder
"These trucks are the first of their kind to be deployed to an African city and will significantly enhance the capabilities of Tshwane's Emergency Services department," said Alderman Randall Williams, Executive Mayor of Tshwane, in a city press release. "These vehicles are truly impressive and will support the department in their mission to protect the lives of residents, their properties and infrastructure across the city."
"These three aerials are the latest addition to Tshwane's growing fleet of E-ONE custom apparatus," said Joel Allen, E-ONE's Director of International Sales. "E-ONE is proud to partner with our exclusive distributor in South Africa, Supergroup/Fleet Africa, to continue supplying our premium emergency vehicles to the world-class Tshwane fire brigade."
###
About E-ONE, Inc.
E-ONE® is a leading fire apparatus manufacturer, making emergency vehicles, rescue trucks, aerial fire trucks, rescue pumpers and custom fire apparatus, and has produced more than 28,000 vehicles delivered around the world. Headquartered in Ocala, Florida, E-ONE is an industry leader in product innovations, new technologies and exceeding customer expectations. E-ONE is owned by the REV Group (NYSE: REVG).
About REV Group, Inc.
REV Group® companies are leading designers and manufacturers of specialty vehicles and related aftermarket parts and services, which serve a diversified customer base, primarily in the United States, through three segments: Fire & Emergency, Commercial, and Recreation. They provide customized vehicle solutions for applications, including essential needs for public services (ambulances, fire apparatus, school buses, and transit buses), commercial infrastructure (terminal trucks and industrial sweepers), and consumer leisure (recreational vehicles). REV Group's diverse portfolio is made up of well-established principal vehicle brands, including many of the most recognizable names within their industry. Several of REV Group's brands pioneered their specialty vehicle product categories and date back more than 50 years. REV Group trades on the NYSE under the symbol REVG. Investors-REVG