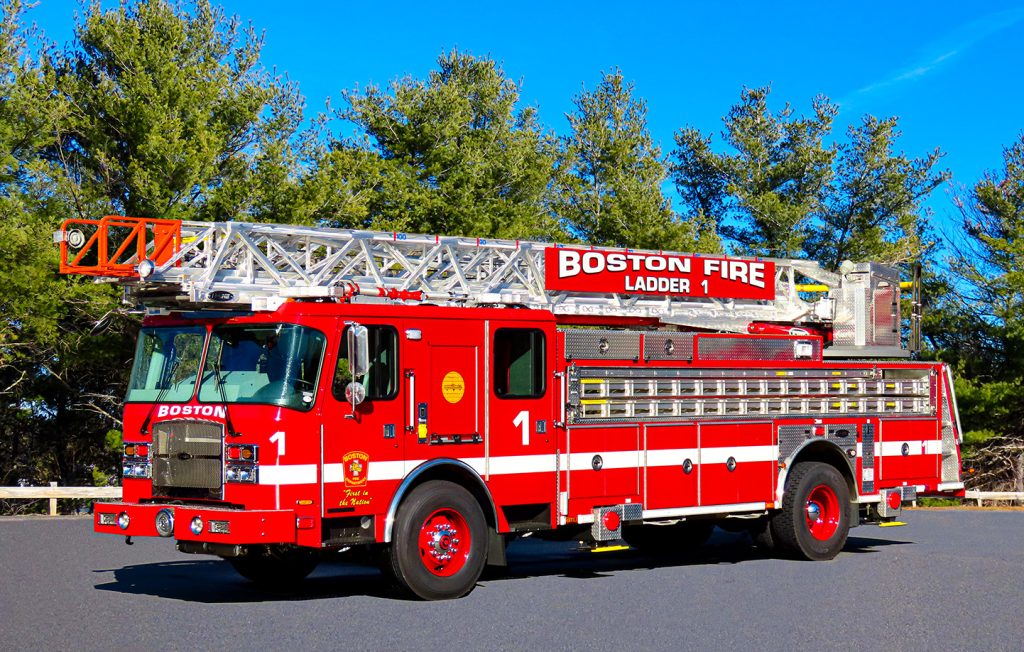 OCALA, FL – April 13, 2023 – E-ONE, a subsidiary of REV Group, Inc., and a leading manufacturer of fire apparatus, announces the Boston Fire Department has ordered six more E-ONE aerials as part of a new three-year contract with Greenwood Emergency Vehicles, the exclusive dealer for E-ONE in Massachusetts.
This latest order for six E-ONE Metro 100' aerials will increase the total to 32 E-ONE aerials ordered by the Boston Fire Department since 2016.
The LTH (low travel height) Metro 100' ladder truck is a perfect design for the tight city streets in one of the country's oldest cities, and the 10' 8" low overall height ensures that every fire truck will fit in any firehouse in the city, and under the low bridges of Storrow Drive, a major crosstown roadway in Boston.
Some of the top features of these trucks include:
Short 220" wheelbase and 38' 7" overall length allows for great maneuverability in the city
Narrow 11' jack spread
Electronic stability control
Severe duty interior including severe duty dash, overhead, and door panels
"Inner City" bumpers with angled corners for improved turning radius
Zinc flame spray coating on the integral torque box for corrosion protection in the damp New England climate
Storage for 265' of ground ladders including a 50', 40', (2) 35', 28, 20' 16' 14' 10' and a 17' Little Giant ladder
Custom Whelen warning and scene lighting package
"We remain grateful and continue to be humbled by the faith that the "First In The Nation" Fire Department has placed in Greenwood and Emergency One, and we certainly consider it a privilege and an honor to work with them," said Mark MacDonald, President, Greenwood Emergency Vehicles.
"It is a privilege to help the Boston Fire Department better serve its citizens with fire apparatus designed to meet the city's specific needs," said Larry Daniels, Director of Sales, E-ONE.  "The Metro 100 – with its low travel height, short wheelbase and narrow 11' jack spread – is the perfect truck for this big city department and we look forward to working with them for years to come."
###
About E-ONE, Inc.
E-ONE is a leading fire apparatus manufacturer, making emergency vehicles, rescue trucks, aerial fire trucks, rescue pumpers and custom fire apparatus, and has produced more than 28,000 vehicles delivered around the world. Headquartered in Ocala, Florida, E-ONE is an industry leader in product innovations, new technologies and exceeding customer expectations. E-ONE is owned by the REV Group (NYSE: REVG).
About REV Group, Inc.
REV Group companies are leading designers and manufacturers of specialty vehicles and related aftermarket parts and services, which serve a diversified customer base, primarily in the United States, through three segments: Fire & Emergency, Commercial, and Recreation. They provide customized vehicle solutions for applications, including essential needs for public services (ambulances, fire apparatus, school buses, and transit buses), commercial infrastructure (terminal trucks and industrial sweepers), and consumer leisure (recreational vehicles). REV Group's diverse portfolio is made up of well-established principal vehicle brands, including many of the most recognizable names within their industry. Several of REV Group's brands pioneered their specialty vehicle product categories and date back more than 50 years. REV Group trades on the NYSE under the symbol REVG. Investors-REVG