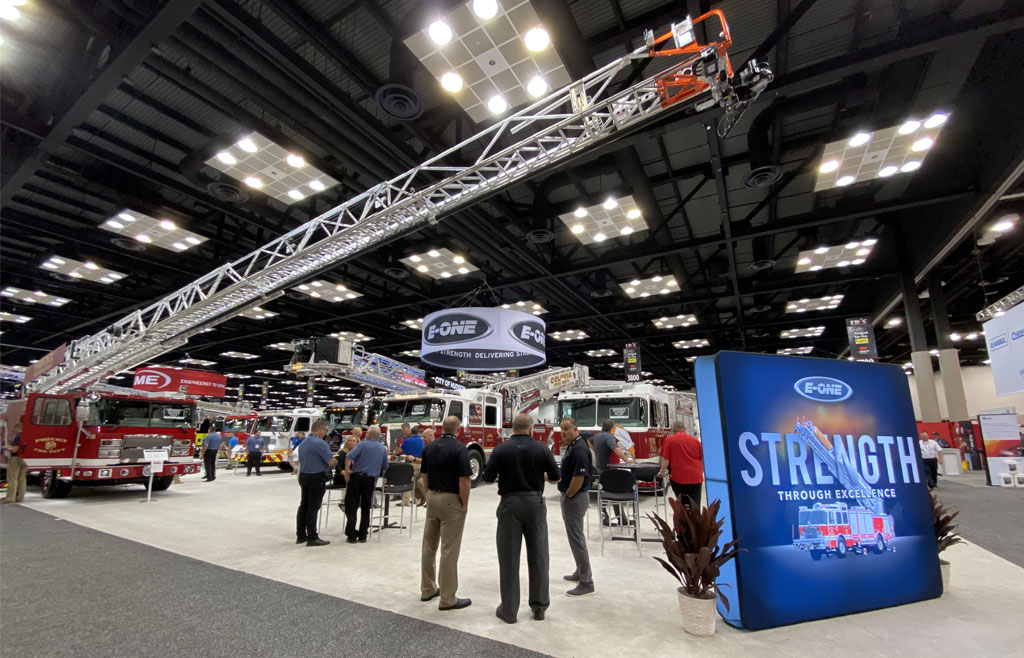 E-ONE, a subsidiary of REV Group® and a business unit within REV Fire Group, will showcase the latest in fire apparatus and technology including the first North American-style fully electric fire truck at FDIC International (Fire Department Instructors Conference) in Indianapolis, Indiana April 28-30, 2022.
REV Fire Group's Vector™ will make its debut at FDIC, allowing attendees to see and learn about the first North American-style fully electric fire truck. Developed with technology partner Emergency One Group LTD – maker of the world's first EV fire truck – this new electric fire truck packs 316 kW of proven automotive-grade batteries to deliver the longest electric pumping duration in the industry. This enables departments to drive and pump on electric only.
Attendees can also expect to see a cross section of the fire apparatus that showcase E-ONE's "Strength Through Excellence," at Booth #4800, including three aerials and two custom pumpers. The trucks on display will include:
HP 100 Platform: With its high strength integral torque box chassis providing a rock-solid foundation, this platform features crisscross underslung outriggers with only 15'6" spread and the new short-jack system for greater leveling capability. This "truck company" design with an 80" cab offers an integrated full width transverse storage compartment with interior access.
HP 75 Aerial Ladder: E-ONE's HP 75 is a high-performance and versatile aerial featuring great compartmentation, ground ladder storage, SideStacker™hosebed, 500-gallon tank, a 1500 GPM pump, short 210" wheelbase and an extruded aluminum ladder exceeding the NFPA's 1901 requirements.
Metro 100 Quint: Engineered for today's busy fire departments, this aerial features a compact design with a 235" wheelbase, short rear overhang and raised departure angle for great maneuverability. The truck features a severe duty cab, 1500 GPM pump, 300-gallon tank, full depth compartments, SideStacker™ hosebed, 148' of ground ladders and 100' aerial for a versatile and durable package.
Cyclone® Custom Pumper: This unit features the 100" wide cab with barrier style doors, lowered cab entry steps and a severe duty interior. The extruded aluminum low hosebed body features a full height, full depth compartment on the officer's side and a custom chain saw box.
Typhoon® Custom Pumper with Stainless Steel Body: This short wheelbase unit has a low hosebed body with driver side full height compartments. It features an officer side ladder rack for 24' and 14' ladders, four rear discharges for preconnected handlines and a .75" heated gross decontamination outlet.
E-ONE will also be part of REV Fire Group's World of Innovation and Protection at Booth #4516 featuring the latest technological advancements for the fire service, including:
GE DisInFx: Utilizes UVC and UVA technology to help reduce viruses in air and bacteria and fungus on surfaces including SARS-CoV-2 which causes COVID-19. The small device can be easily installed into the cab headliner and features white and red LED lights which exceed NFPA surface illumination requirements, providing the necessary cab interior lighting.
Active Air Purification System: Kills 99 percent of pathogens, including the virus which causes COVID-19, in the air and on surfaces.
ECO IDLE-TEC™: The idle reduction system specifically designed for fire apparatus that serves to reduce operating costs and to help protect the environment and improve driver safety and comfort.
"E-ONE will once again feature a great line-up of industry-leading, mission-critical vehicles at FDIC," said Kent Tyler, President of REV Fire Group. "The E-ONE display will showcase some of the industry's leading technology to support our first responders as they protect and serve their communities, as well as three of our most popular and most versatile aerial models and both aluminum and stainless-steel pumper configurations."
###
About E-ONE, Inc.
E-ONE® is a leading fire apparatus manufacturer, making emergency vehicles, rescue trucks, aerial fire trucks, rescue pumpers and custom fire apparatus, and has produced more than 28,000 vehicles delivered around the world. Headquartered in Ocala, Florida, E-ONE is an industry leader in product innovations, new technologies and exceeding customer expectations. E-ONE is owned by REV Group (NYSE: REVG).
About REV Group, Inc.
REV Group® companies are leading designers and manufacturers of specialty vehicles and related aftermarket parts and services, which serve a diversified customer base, primarily in the United States, through three segments: Fire & Emergency, Commercial, and Recreation. They provide customized vehicle solutions for applications, including essential needs for public services (ambulances, fire apparatus, school buses, and transit buses), commercial infrastructure (terminal trucks and industrial sweepers), and consumer leisure (recreational vehicles). REV Group's diverse portfolio is made up of well-established principal vehicle brands, including many of the most recognizable names within their industry. Several of REV Group's brands pioneered their specialty vehicle product categories and date back more than 50 years. REV Group trades on the NYSE under the symbol REVG. Investors-REVG