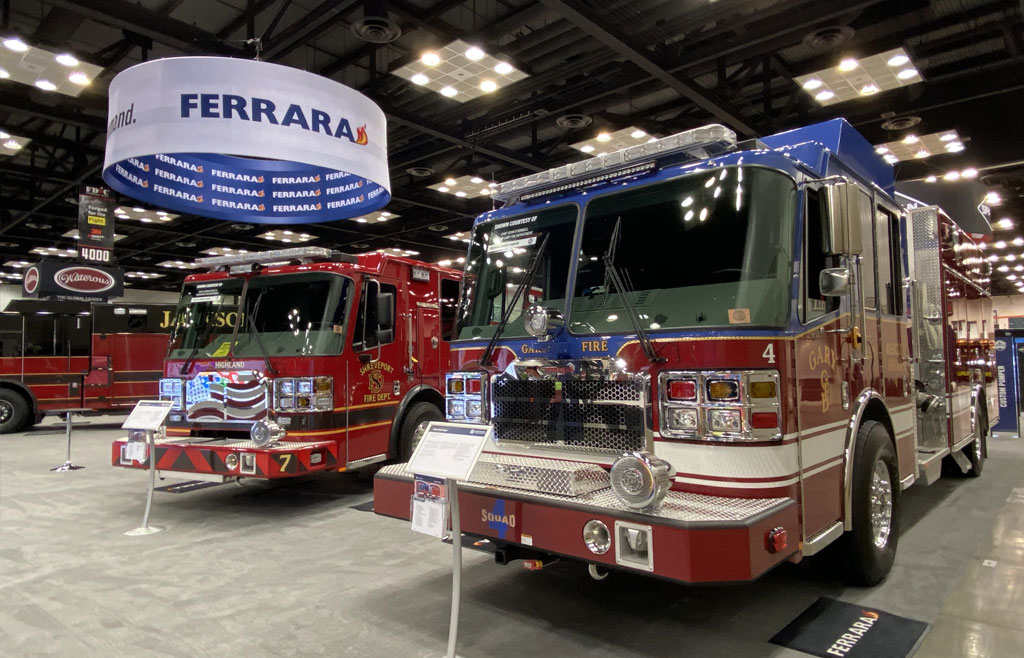 Ferrara Fire Apparatus, Inc., a subsidiary of REV Group® and leading manufacturer of custom-built, heavy-duty fire apparatus, will exhibit the latest in fire apparatus and technology, including the first North American style fully electric fire truck at FDIC International (Fire Department Instructors Conference) in Indianapolis, Indiana from April 28-30, 2022.
REV Fire Group's Vector™ will make its debut at FDIC, allowing attendees to see and learn about the first North American style fully electric fire truck. Developed with technology partner Emergency One Group LTD – maker of the world's first EV fire truck – Vector packs 316 kW of proven automotive-grade batteries to deliver the longest electric pumping duration in the industry. This enables fire departments to drive and pump on electric only.
Ferrara will display the following products at Booth #4101:
Cinder® Custom Pumper from Gary (IN) Fire Department: Specs include a 24" front bumper extension, a 102" wide rescue style extruded aluminum body, full height/full depth rear compartment and six roof top storage compartments.
Igniter® Custom from Jackson (NJ) Fire District: Built on the Igniter LFD Chassis with 10" raised roof, 24" custom front bumper extension, extruded aluminum rescue style body with roll up doors and a wheelbase of 197".
MVP Rescue Pumper from Jackson Township (IN) Fire Department: Featuring a Cinder LFD Chassis with 8" raised roof and 24" front bumper extension, a 103" wide full rescue extruded aluminum body, a 44" wide hosebed 72" from the ground and six coffin compartments.
Custom Pumper from Shreveport (LA) Fire Department: Designed on a Cinder XMFD Chassis with 8" raised roof and 21" custom front bumper extension. This unit also features an extruded aluminum rescue style body with full height center rear compartment and four 18" deep roof compartments.
Ferrara will also be part of REV Fire Group's World of Innovation and Protection at Booth #4516, which will feature the latest technological advancements for the fire service, including:
GE DisInFx: Utilizes UVC and UVA technology to help reduce viruses in air and bacteria and fungus on surfaces including SARS-CoV-2 which causes COVID-19. The small device can be easily installed into the cab headliner with white and red LED lights which exceed NFPA surface illumination requirements, providing the necessary cab interior lighting.
ECO IDLE-TEC™: The idle reduction system specifically designed for fire apparatus that serves to reduce operating costs, protect the environment, and improve driver safety and comfort.
Active Air Purification System: Kills 99 percent of pathogens, including the virus which causes COVID-19, in the air and on surfaces.
"At Ferrara, every truck is authentic, just like our team and we look forward to seeing you at FDIC," said Kent Tyler, President of REV Fire Group. "We are extremely excited and proud to share the Ferrara story and show off our line-up of heavy-duty fire trucks this year at FDIC."
To see all the Ferrara apparatus and Vector at FDIC, visit Booth #4101.
###
About Ferrara Fire Apparatus, Inc.
Ferrara, a subsidiary of REV Group, builds custom, heavy-duty fire apparatus for municipal and industrial fire departments. Located in Holden, Louisiana, Ferrara is focused on protecting firefighting personnel with a custom chassis line and extruded aluminum body that exceeds NFPA and industry safety requirements. For over 30 years, Ferrara has led performance standards by delivering custom-engineered fire trucks that provide maximum response capabilities.
About REV Group, Inc.
REV Group® companies are leading designers and manufacturers of specialty vehicles and related aftermarket parts and services. Our companies serve a diversified customer base, primarily in the United States, through three segments: Fire & Emergency, Commercial, and Recreation. They provide customized vehicle solutions for applications, including essential needs for public services (ambulances, fire apparatus, school buses, and transit buses), commercial infrastructure (terminal trucks and industrial sweepers) and consumer leisure (recreational vehicles). REV's diverse portfolio is made up of well-established principal vehicle brands, including many of the most recognizable names within their industry. Several of our brands pioneered their specialty vehicle product categories and date back more than 50 years. REV Group trades on the NYSE under the symbol REVG.