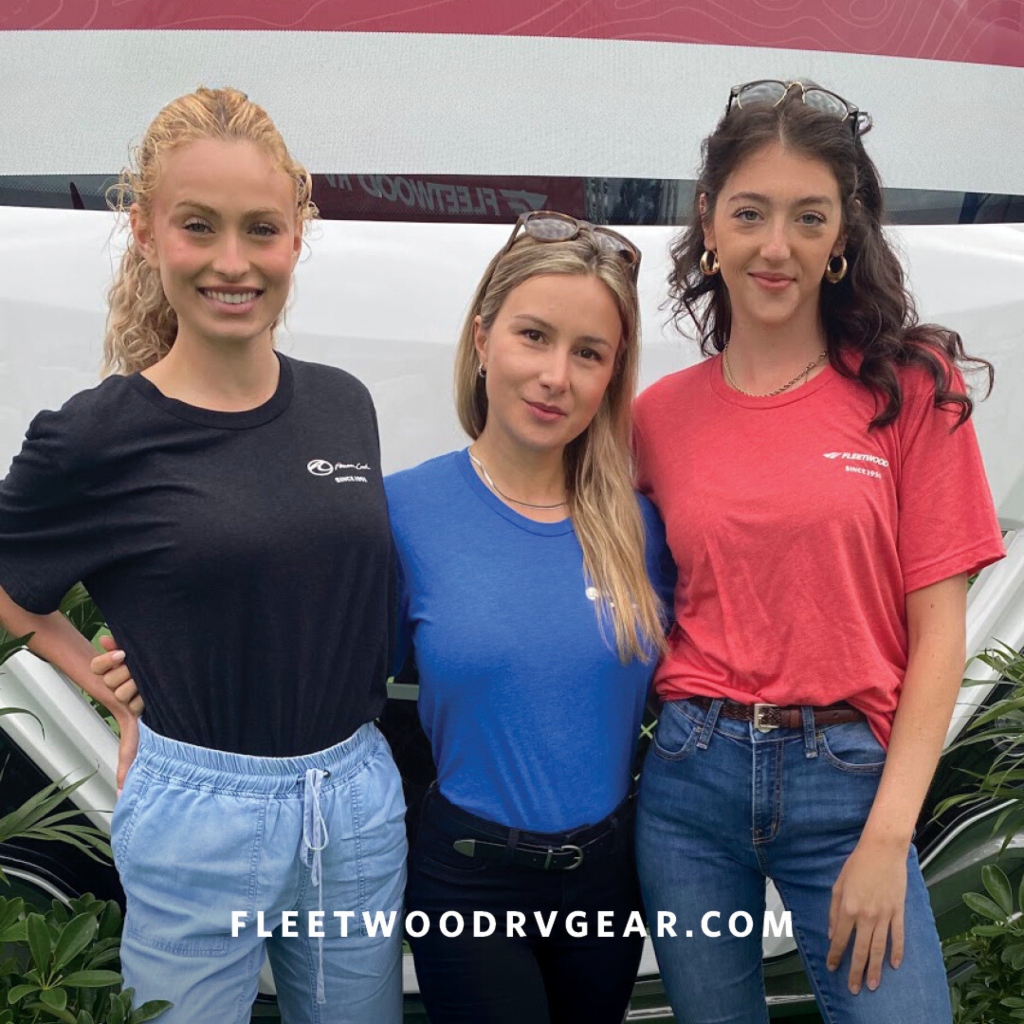 DECATUR, IN – May 11, 2023 – REV Recreation Group, Inc. is making it easier for American Coach®, Fleetwood RV® and Holiday Rambler® motorhome owners to hit the road in style this summer with the recent launch of new online gear shops for each brand.
The new American Coach, Fleetwood RV and Holiday Rambler online gear shops offer RVers of each brand a growing selection of exclusive, branded apparel and other goods to help them wear their pride on their sleeves – as well as display it around their coach.
Highlights of the initial product selection include high-quality outerwear, unique T-shirts, a variety of headwear and pet accessories. Shipping is free on all orders within the contiguous United States.
"We're proud to have some of the most passionate and loyal owners in the industry, and we're thrilled to give them so many options to show their passion and loyalty through our new online gear shop," said Don Gephart, Marketing Manager for REV Recreation Group, Inc. "The initial feedback we're receiving from owners has been incredibly positive, and we can't wait to continue increasing the selection of branded products available to them through the store."
REV Recreation Group, Inc. plans to continue expanding product selection in the coming months, including camping accessories and space-saving kitchen gadgets and other items. Seasonally appropriate apparel and other items will be added as well throughout the year.
 ###
About REV Recreation Group, Inc.
REV Recreation Group, Inc. is a subsidiary of REV Group, Inc. and a leading manufacturer of Class A Gas and Diesel recreational vehicle brands. This company has one of the best and longest standing distribution networks in the industry and boasts some of the industry's most recognized and iconic brand names such as American Coach®, Fleetwood RV®, and Holiday Rambler®. Headquartered in Decatur, IN, which is also its principal manufacturing location, it operates two state-of-the-art service and repair centers and a genuine parts online warehouse. 
About REV Group, Inc.
REV Group companies are leading designers and manufacturers of specialty vehicles and related aftermarket parts and services, which serve a diversified customer base, primarily in the United States, through three segments: Fire & Emergency, Commercial, and Recreation. They provide customized vehicle solutions for applications, including essential needs for public services (ambulances, fire apparatus, school buses, and transit buses), commercial infrastructure (terminal trucks and industrial sweepers), and consumer leisure (recreational vehicles). REV Group's diverse portfolio is made up of well-established principal vehicle brands, including many of the most recognizable names within their industry. Several of REV Group's brands pioneered their specialty vehicle product categories and date back more than 50 years. REV Group trades on the NYSE under the symbol REVG. Investors-REVG