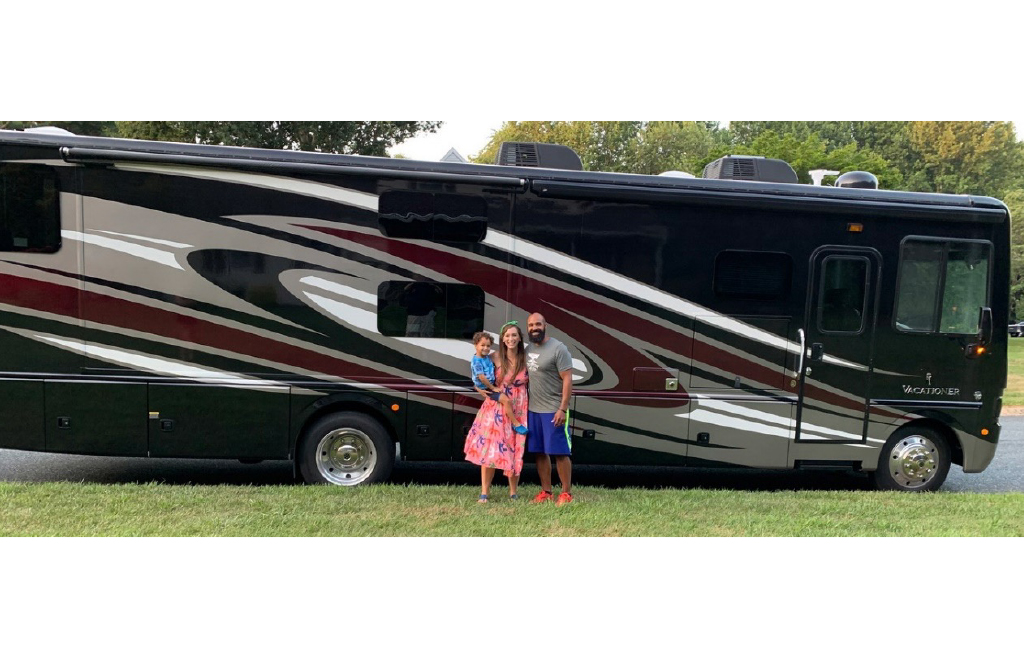 After approximately 18 months of full-time RV life, Kristi Stevens from the Adventurtunity Family says Utah is one of the family's favorite destinations. In fact, the family of three spent a full four months in the western state and report they still have a long list of things to discover and do.
In 2020, Kristi and her husband, Spencer, quit their corporate jobs, sold their home and most of their possessions, and purchased a Class A, 2017 Holiday Rambler® Vacationer® 36H. Together with their now five-year-old son, Kade, the Stevens hit the open road. Along the way, they added another family member—Roku Blu, a golden retriever.
Holiday Rambler is an award-winning RV brand that is part of REV Recreation Group, Inc., a subsidiary of REV Group, Inc. The Holiday Rambler 2022 line features four diesel and three gas motorhomes.
Holiday Rambler has partnered with the Adventurtunity Family to chronicle their experiences as they travel the United States and share their stories on the Holiday Rambler blog.
Our Top 10 Experiences in Utah
by Kristi Stevens for Holiday Rambler
We often get asked about our favorite place to travel. And, while we have a few, Utah tops our list. So much so that out of twelve months of full-time travel we spent four of them in Utah. We learned quickly that our decisions would come down to what we were going to have to regretfully skip. Even after four months in Utah, we still have a long list of places to visit.
If you are heading to Utah in the near future, we're going to help you. First, know there is not a bad season to visit. Winter months are packed with fun. If you love snow and cooler temps, the northern part of the state is where it's at. In the southern part of the state, you'll find the mild temps you're searching for if you don't like the heat. Summer is pleasant in the north, and yes, a bit warmer in the south, but perfect for swimming, paddling, kayaking, and any other water sport you're into. With that said, we have rounded up our top 10 favorite experiences and places to visit throughout Utah. We've also included a few tips and tricks along the way.
Midway
Our Christmas goal was to have snow, so we set out for Park City. We stayed just south of Park City in a town called Heber City where we fell in love with the neighboring town of Midway. Full of small-town charm, small businesses line the main street with their Swiss motif. Our favorite restaurant there, Café Galleria, has heated snow globes on the patio that you can reserve to enjoy your meal. Not too far from there are two attractions that are hidden gems in this tiny town. One is the Ice Castle, one of the largest man-made ice sculptures in the country. The other is the Crater Swim where you can swim in geothermally heated water inside of a crater. On the opposite side of town, you'll find cross country skiing and snow tubing. Oh, and there is a famous creamery, too. If you are in the Park City area, take a short break from the slopes and shops to visit Midway. You won't be sorry.
Lone Rock Beach
After spending part of the winter in Park City, we headed south to thaw out and happened to visit Lone Rock Beach on a whim. Located on Lake Powell at the southern Utah/northern Arizona border, Lone Rock Beach is one of the coolest spots to camp. It's a large sandy beach with crystal blue water and the namesake rock reaching to the sky from the depths of the water. Once you get set up, you can take ATVs and Jeeps off-road, have bonfires, enjoy the water, and meet new people. Our first time there we just had our Wrangler, but we loved it so much we went back several more times and even boondocked with our Vacationer for seven nights! Whether camping or visiting for the day, it's a beautiful place so don't miss it.
Zion National Park
One of our favorite national parks to date is Zion. We stayed on the east side of the park for one month and highly recommend staying there for a few reasons. It's much more peaceful, less touristy, and closer to other must-see locations like Bryce Canyon and Kanab, Utah. Within the park, we recommend driving the entire road, pulling off at the turnouts, and exploring the sandstone scenery. If you're up for it, Angels Landing is an incredible hike and a great workout. Unfortunately, we weren't able to hike the Narrows, but it's high on our must-try list and one we recommend checking out.
Bryce Canyon National Park
We made the mistake of waiting to explore Bryce Canyon until the end of our month stay. And on top of that, we thought we could do it in a day. Don't make our mistakes and plan accordingly. Bryce Canyon National Park absolutely deserves several dedicated days to visit. There are so many hikes to explore, and its terrain is so captivating you need an hour or two just to take it all in. One thing to note is that dogs are not allowed on hiking trails in most national parks in Utah. We made that mistake and brought our pup. Needless to say, we will be returning to properly visit Bryce Canyon and all the beauty it has to offer.
Coral Pink Sand Dunes State Park
We could write a few blog posts on our favorite hidden gem, Kanab, Utah. Instead, we're simply going to highlight a few of the most unique places within Kanab that you should visit at some point. One is Coral Pink Sand Dunes. We saw the signs driving down the road and decided to check it out, and we're so glad we did. Up until that visit, we hadn't really seen rolling hills of sand. What surprised us the most was that there were trees and vegetation growing in and around the dunes. Not only was it a beautiful sight, it was fun, too. We rented a wooden sled from the state park station and went sledding down the dunes. Be prepared for a wicked good time and don't forget to close your mouth on your way down.
The Wave
There are only seven wonders in the world, but from where I stand, The Wave could easily be the eighth. Out of all of the places we have been to and seen in the past year, The Wave is one of the most visually stunning and yet surprisingly unknown to many. It's a sandstone formation created by slow wind and rain erosion, resulting in a flowing rock phenomenon that seems to defy physics. It is technically in Arizona but is only accessible through Utah. There is a lottery system to hike to The Wave with only 64 permits awarded each day. You can apply online months in advance or show up in person to enter the drawing for the next day. The in-person allotment is up to 16 permits and as many as 300 people could be applying in person each day. It's not the easiest place to adventure to, but it is absolutely worth it to see this spectacular wonder of nature.
White Pocket
Many locals told us, if we weren't able to obtain a permit for The Wave, we should explore White Pocket. Thankfully we won The Wave lottery and still went to White Pocket. Our advice is to try for The Wave but do White Pocket regardless. To reach either site, you start out driving along a long wash-boarded dirt and gravel road outside of Kanab. The drive to White Pocket is much longer and more difficult. It's about a 20-mile drive, which takes almost two hours. After the washboard road, you'll travel on narrow trails and deep sand paths to reach the parking lot. A high clearance 4×4 is a must. But, once there, you'll experience another physics-defying sight of tan, pink, and peach hued sandstone that looks as if it was poured across the landscape and shaped with an ice cream scoop. Peppered throughout the area are little water pools, hoodoos created by wind, peaks to climb, and beauty as far as your eyes can see. Make sure you bring plenty of water, food, and tell someone where you are going because you won't have cell service for most of the drive and time you spend there.
Thanksgiving Point
We have to mention Thanksgiving Point because it was such a wonderful and educational experience for Kade. It's located on the outskirts of Salt Lake City and is a collection of five experiential places. As a visitor, you are able to purchase tickets to just one or a few of the experiences or buy a hopper pass and visit all five. We went with the hopper pass and made a full day of it. If heading to Thanksgiving Point, we highly recommend doing the experiences in this order:  the Museum of Ancient Life; Butterfly Biosphere; Ashton Gardens; Museum of Natural Curiosity; and Farm Country. It's a blast for kids and adults alike.
Moab
We must, of course, mention Moab because it's 100% a must see. Moab is an absolute gold mine of adventure—from floating the Colorado River to rock climbing, hiking, jeeping, and so much more. It's also home to Arches and Canyonland National Parks but make sure you take time to explore other areas like Fisher Towers and Corona Arch. Of course, if you have an off-road vehicle and like to see what it can do, there's no better place to challenge yourself than on the endless trails of Moab. The Poison Spider and Top of the World trails were among our favorites. If you happen to travel in-season, the national parks tend to fill up quickly so plan on getting to the gate early. You can also go later in the afternoon when people start to leave. Sunset in Arches is amazing and so are the nighttime stars.
Moab Skydive
I'm ending with this one because it isn't for the faint of heart, but it was a thrilling experience. We decided to skydive in Moab on our ninth wedding anniversary and happened to meet up with the husband of another full-time travel couple. If skydiving has ever been a consideration for you, Moab is the place to do it. The price was reasonable, and the views are epic. You could see both Arches and Canyonlands National Parks as well as the La Sal Mountains all while freefalling from 17,000 feet. From start to finish, the experience is about 45 minutes. Be sure to upgrade to the photo/video package so you can relive and share the experience with your friends and family for years to come.
We could go on and on about all the wonders of Utah—from the amazing places we experienced to the many that still occupy our to-do list. Ultimately, if you're a lover of the outdoor lifestyle, we feel you can't go wrong in Utah. No matter where you visit, you're bound to have a wonderful and adventurous time!
To learn more about the Adventurtunity Family's life on the road, visit the Holiday Rambler blog or Instagram page.
# # #
About REV Recreation Group, Inc.
REV Recreation Group, Inc. is a REV Group® subsidiary and a leading manufacturer of Class A Gas and Diesel recreational vehicle brands. This company has one of the best and longest standing distribution networks in the industry and boasts some of the industry's most recognized and iconic brand names such as American Coach®, Fleetwood RV®, and Holiday Rambler®. Headquartered in Decatur, IN, which is also its principal manufacturing location, it operates two state-of-the-art service and repair centers and a genuine parts online warehouse.
About REV Group, Inc.
REV Group® companies are leading designers and manufacturers of specialty vehicles and related aftermarket parts and services, which serve a diversified customer base, primarily in the United States, through three segments: Fire & Emergency, Commercial, and Recreation. They provide customized vehicle solutions for applications, including essential needs for public services (ambulances, fire apparatus, school buses, and transit buses), commercial infrastructure (terminal trucks and industrial sweepers), and consumer leisure (recreational vehicles). REV Group's diverse portfolio is made up of well-established principal vehicle brands, including many of the most recognizable names within their industry. Several of REV Group's brands pioneered their specialty vehicle product categories and date back more than 50 years. REV Group trades on the NYSE under the symbol REVG. Investors-REVG