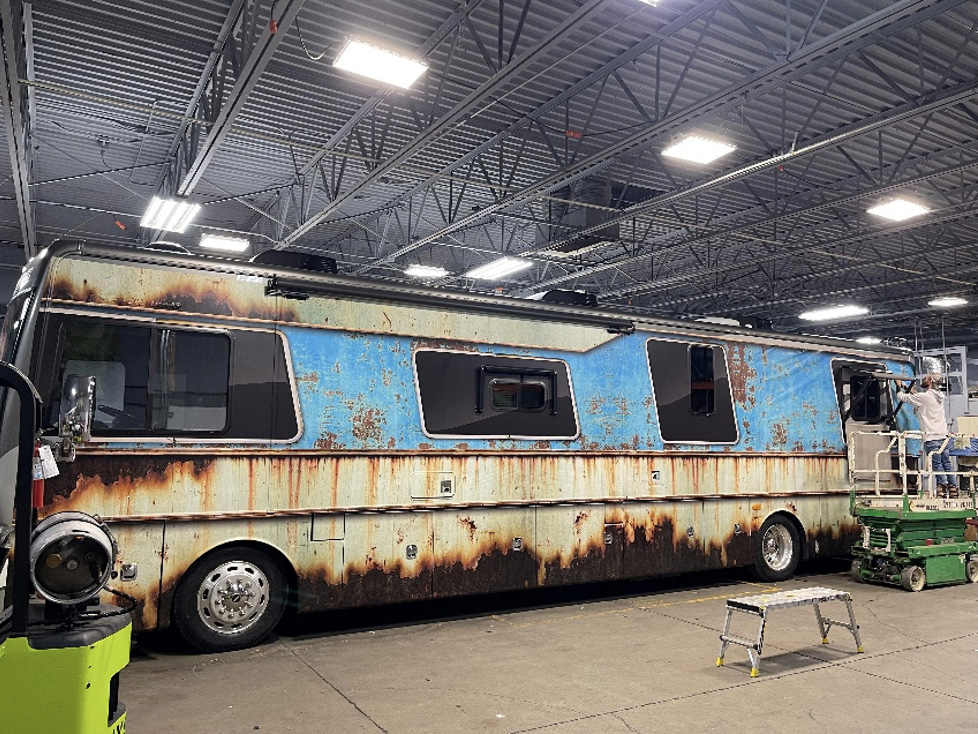 This Christmas, if you spot a rusty, old, faded but familiar-looking RV traveling down Interstate 75, just know that it's been wrapped in custom graphics by its owner and it's actually a well-cared for 2014 Fleetwood RV Discovery® model. Fleetwood RV is a brand within REV Recreation Group, Inc., which is a subsidiary of REV Group, Inc.
The 'transformed' RV is owned by TJ and Heather Bedacht of Cincinnati, Ohio, and the family of five is heading south to spend Christmas at Disney World in Florida. Conveniently, the Bedachts own GCI Digital Imaging, which makes large-scale vehicle wraps.
"We bought our Fleetwood this summer and for this trip we wanted it to look different," explains TJ. "We talked about a bunch of ideas and came up with the 'Cousin Eddie' look because my uncle is a huge fan of the 1989 film National Lampoon's Christmas Vacation. Originally, we planned to keep it a secret but just couldn't hold back, so my uncle does know it's going to pull up in front of his house sometime soon."
Photo caption: The pristine 2014 Fleetwood RV Discovery 40G model in the midst of its 'Cousin Eddie' transformation.                                                                
The family had talked about buying an RV for the last five years and this June found a 2014 Fleetwood RV Discovery 40G model that was in amazing condition. It had been stored inside and had just 17,000 miles on it.
Two days after purchasing their very first RV, the family packed up their Discovery and headed to Dallas for a soccer tournament. During the past seven months, the Bedachts have traveled 10,000 miles and have become huge RV fans.
"We love the fact that we're able to continue with our daily life while going down the road," says TJ. "Heather and the kids can watch TV, play games, or have lunch and the miles just zoom by."
The Discovery 40G model is a 41' Class A Diesel luxury motorhome with a Cummins engine and a XC-Series Freightliner chassis. The 40G can sleep up to six with a set of bunk beds, pull-out sofa, and king bed. It has a spacious kitchen with a free-standing dinette, full bathroom with a shower, stacked washer and dryer, and two LED TVs.
Fleetwood RV is one of the most-established brands in the motorhome industry and is known for its quality, innovative features, and family-friendly design options. In fact, the Fleetwood Frontier was named a "Best New Model for 2022" by RV Pro magazine.
"It's obviously not a traditional look for one of our RVs but it shows how families can have fun and make lasting memories in all sorts of ways," says Deb Stapel, Director of Marketing for REV Recreation Group's Class A products.
To see the latest Fleetwood RV models, follow Fleetwood RV on Facebook and Instagram.
The Bedacht Family's Christmas Itinerary
The family pulled out from Cincinnati the evening of Dec. 17 and are arriving at the Wilderness Lodge at Disney World after a few days on the road. The Bedachts are also stopping in Fort Myers to share the RV with their uncle Jack and other family members.
If you spot the infamous RV, go ahead and snap a pic and tag Fleetwood RV on Facebook and Instagram.
###
About REV Recreation Group, Inc.
REV Recreation Group, Inc. is a REV Group® subsidiary and a leading manufacturer of Class A Gas and Diesel recreational vehicle brands. This company has one of the best and longest standing distribution networks in the industry and boasts some of the industry's most recognized and iconic brand names such as American Coach®, Fleetwood RV®, and Holiday Rambler®. Headquartered in Decatur, IN, which is also its principal manufacturing location, it operates two state-of-the-art service and repair centers and a genuine parts online warehouse.
About REV Group, Inc.
REV Group® companies are leading designers and manufacturers of specialty vehicles and related aftermarket parts and services, which serve a diversified customer base, primarily in the United States, through three segments: Fire & Emergency, Commercial, and Recreation. They provide customized vehicle solutions for applications, including essential needs for public services (ambulances, fire apparatus, school buses, and transit buses), commercial infrastructure (terminal trucks and industrial sweepers), and consumer leisure (recreational vehicles). REV Group's diverse portfolio is made up of well-established principal vehicle brands, including many of the most recognizable names within their industry. Several of REV Group's brands pioneered their specialty vehicle product categories and date back more than 50 years. REV Group trades on the NYSE under the symbol REVG. Investors-REVG