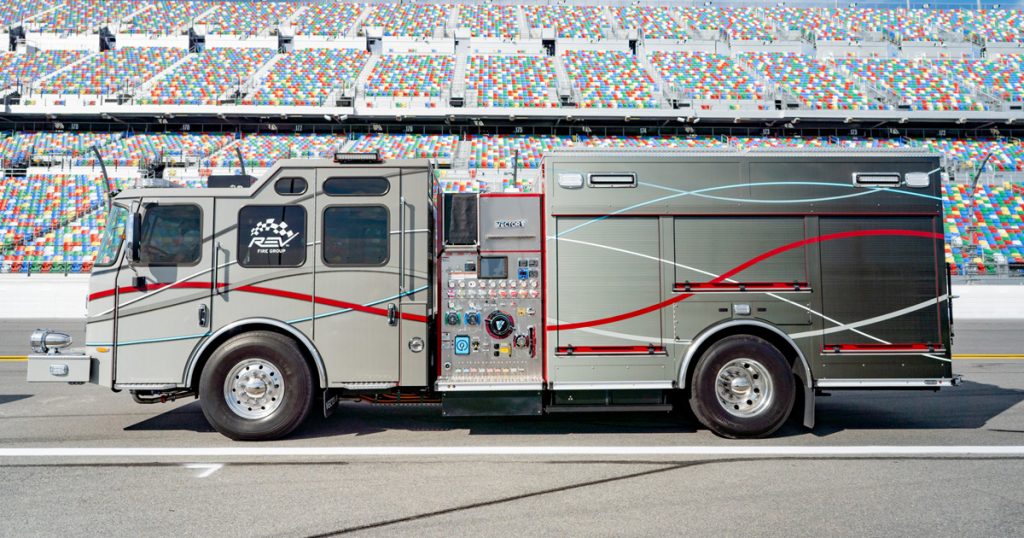 REV Fire Group, which includes REV Group Inc. manufacturers of E-ONE®, KME®, Ferrara™, Spartan Fire Chassis™, Spartan Emergency Response®, Smeal™, and Ladder Tower™ fire apparatus brands, is proud to announce its all-electric Vector fire truck is one of four REV Fire pumpers that will be part of the firefighting fleet used at Daytona International Speedway (DIS) in 2023. The exclusive partnership is now in its second year.
The zero emission and zero greenhouse gas Vector fire apparatus aligns with Daytona International Speedway sustainability initiatives, including a project to plant more than 100 trees within view of the track's grandstands in April 2022. Similar initiatives championed by NASCAR and its partners include a blended biofuel, in-venue recycling efforts, and the recycling of racing oils and race-used tires.
"We are excited to provide the all-electric Vector for our Florida neighbor, Daytona International Speedway, to protect its employees, NASCAR drivers and the many fans and spectators who attend "The Great American Race" and other events," said Mike Virnig, Vice President of the REV Fire Group, which is headquartered in Ocala, Fla. "Vector also protects the environment, making this a perfect collaboration with DIS and NASCAR and their many green initiatives designed to reduce the track and sport's carbon footprint and promote sustainability."
With its 327 kilowatt-hours (kWh) of proven automotive-grade batteries, the Vector delivers the longest electric pumping duration in the fire industry, accomplishing all driving and pumping tasks exclusively on electrically generated power. The design also features low battery cell placement, offering a safer, lower center of gravity for enhanced stability while operating at the Speedway.
Vector and the other REV Fire apparatus will be used at the Daytona 500, the Rolex 24 at Daytona and the Coke Zero Sugar 400.
This past December Daytona International Speedway hosted a two-day test session for the Grand Touring Prototype (GTP) class, new hybrid-powered race cars set to debut in the Rolex 24 At Daytona which kicks off the IMSA WeatherTech SportsCar Championship on Jan. 28-29.
###
About REV Group, Inc.
REV Group companies are leading designers and manufacturers of specialty vehicles and related aftermarket parts and services, which serve a diversified customer base, primarily in the United States, through three segments: Fire & Emergency, Commercial, and Recreation. They provide customized vehicle solutions for applications, including essential needs for public services (ambulances, fire apparatus, school buses, and transit buses), commercial infrastructure (terminal trucks and industrial sweepers), and consumer leisure (recreational vehicles). REV Group's diverse portfolio is made up of well-established principal vehicle brands, including many of the most recognizable names within their industry. Several of REV Group's brands pioneered their specialty vehicle product categories and date back more than 50 years. REV Group trades on the NYSE under the symbol REVG. Investors-REVG
About Daytona International Speedway
Daytona International Speedway is a state-of-the-art motorsports facility and was awarded the SportsBusiness Journal's prestigious Sports Business Award for Sports Facility of the Year in 2016. Daytona International Speedway is the home of The Great American Race – the DAYTONA 500. Though the season-opening NASCAR Cup Series event garners most of the attention – as well as the largest audience in motorsports – the approximately 500-acre motorsports complex, also known as the World Center of Racing, boasts the most diverse schedule of racing on the globe. Some of the exciting racing events include January's Rolex 24 At DAYTONA and Roar Before The Rolex 24, February's DAYTONA 500 and Speedweeks Presented by AdventHealth, March's Bike Week At DAYTONA Presented By Monster Energy, featuring DAYTONA Supercross and the DAYTONA 200, the August Coke Zero Sugar 400 weekend, and much more. The Speedway grounds are also used extensively for other events that include concerts (Welcome to Rockville, Heroes Honor Festival, etc.), sporting events (DAYTONA Soccer Fest, CLASH DAYTONA, etc.) civic and social gatherings, car shows, photo shoots, production vehicle testing and police motorcycle training.