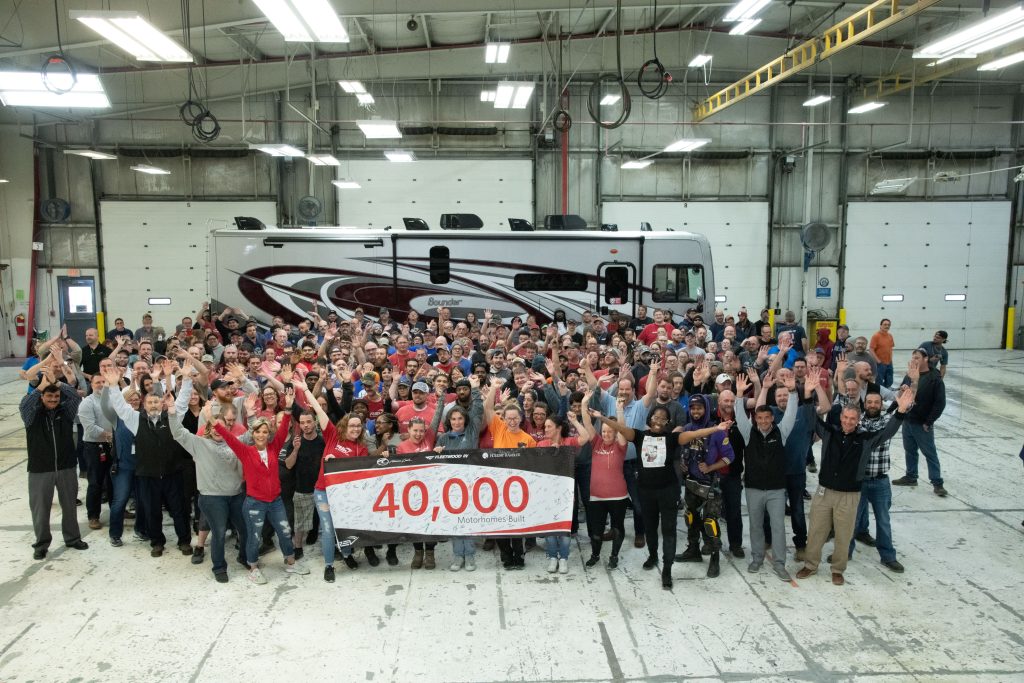 DECATUR, IN – March 9, 2023 – The greatest selling motorhome of all time helped REV Recreation Group, Inc. celebrate a major manufacturing milestone at its Decatur headquarters Thursday.
A 2023 Fleetwood Bounder that rolled off the production line marked the 40,000th unit the company – which makes American Coach, Fleetwood and Holiday Rambler motorized recreational vehicles in Decatur – has manufactured since Fleetwood and American Coach joined REV Group in 2008. Holiday Rambler joined REV Recreation Group, Inc. in 2013. Leaders from REV Recreation Group, Inc. celebrated the milestone with employees at an event Thursday in Decatur.
"This is an incredible milestone and very exciting day for everyone at our company," said Alan Farash, Vice President and General Manager for REV Recreation Group, Inc. "Over the past 15 years, we've led the way in building motorhomes known for their dependability, durability and usability. You only reach a milestone like this through quality people building quality products, and that's exactly what we have at REV Recreation Group, Inc."
###
About REV Recreation Group, Inc.
REV Recreation Group, Inc. is a REV Group® subsidiary and a leading manufacturer of Class A Gas and Diesel recreational vehicle brands. This company has one of the best and longest standing distribution networks in the industry and boasts some of the industry's most recognized and iconic brand names such as American Coach®, Fleetwood RV®, and Holiday Rambler®. Headquartered in Decatur, IN, which is also its principal manufacturing location, it operates two state-of-the-art service and repair centers and a genuine parts online warehouse.
About REV Group, Inc.
REV Group companies are leading designers and manufacturers of specialty vehicles and related aftermarket parts and services, which serve a diversified customer base, primarily in the United States, through three segments: Fire & Emergency, Commercial, and Recreation. They provide customized vehicle solutions for applications, including essential needs for public services (ambulances, fire apparatus, school buses, and transit buses), commercial infrastructure (terminal trucks and industrial sweepers), and consumer leisure (recreational vehicles). REV Group's diverse portfolio is made up of well-established principal vehicle brands,including many of the most recognizable names within their industry. Several of REV Group's brands pioneered their specialty vehicle product categories and date back more than 50 years.
REV Group trades on the NYSE under the symbol REVG. Investors-REVG