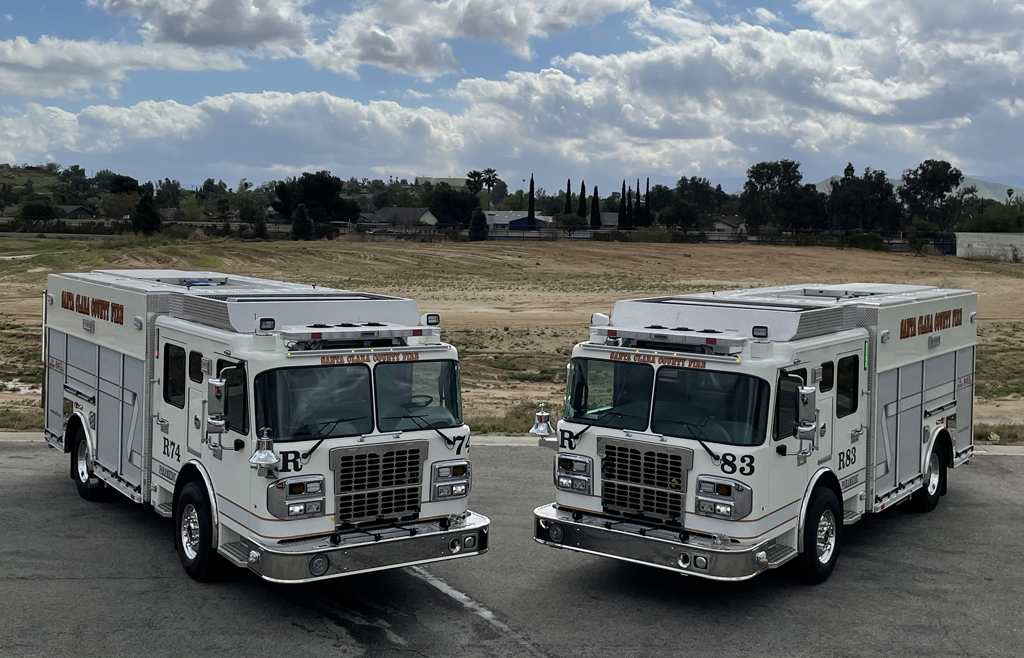 Spartan Emergency Response, a subsidiary of REV Group® and leading manufacturer of fire apparatus, is pleased to announce the Santa Clara County Fire Department has taken delivery of two new Smeal Custom Rescue Pumpers. These fire trucks were sold by Fire Apparatus Solutions, an authorized Smeal dealer.
Key features of the Smeal Custom Rescue Pumpers include:
• Spartan Metro Star® EMFD with 5" raised roof
• 174" wheelbase
• 30'2" overall length
• Extreme duty interior
• Advanced climate control system
• Cummins X12 500 HP engine
• 1250 GPM Hale DSD pump
• Hale 3.3 SmartFoam system
• Duo-Safety Ladder package: 35' 3-section, 14' roof and 10' folder ladders
• Long tool storage compartment below ladder tunnel
• Wheel well storage
• 8000 watt hydraulic generator
• Command Light Tower
• Hannay Cord Reel 200' of 10/3 yellow cord hose
These pumpers will primarily serve in wildland/urban interface areas where they carry out truck company duties on structure fires. However, they also offer technical rescue services for vehicle collisions on major highway systems, according to David Snow, Director of Support Services for the Santa Clara County Fire Department in California.
"The Santa Clara County Fire Department is pleased to take delivery of two rescue pumpers that will replace two similar units," Snow said. "The primary role of these new vehicles is fire suppression; however, they also fulfill essential functions within rescue and support operations within our service area."
"We were honored to produce these two trucks at our Snyder, NE, facility," said Chris Wade, Director of Sales, Spartan Emergency Response. "Santa Clara County Fire has designed a thoroughly researched, multi-mission rescue pumper for any services needed by the community. They used their experience of previous generations of apparatus to continue meeting the maturing scenarios they find themselves in. We are proud to partner with them in completing functional, attractive units."
###
About Spartan Emergency Response
Spartan Emergency Response®, comprised of REV Group subsidiaries Spartan Fire, LLC, Smeal SFA, LLC, Smeal LTC, LLC and Smeal Holding, LLC, is a North American leader in the emergency response market and offers brands including Spartan Authorized Parts, Spartan Factory Service Centers, Spartan Fire Chassis®, Smeal™, and Ladder Tower™. Spartan Emergency Response vehicles are well known for safety, quality, durability, aftermarket product support, and first-to-market innovation. The company operates facilities in Michigan, Pennsylvania, South Dakota, and Nebraska.
About REV Group, Inc.
REV Group® companies are leading designers and manufacturers of specialty vehicles and related aftermarket parts and services, which serve a diversified customer base, primarily in the United States, through three segments: Fire & Emergency, Commercial, and Recreation. They provide customized vehicle solutions for applications, including essential needs for public services (ambulances, fire apparatus, school buses, and transit buses), commercial infrastructure (terminal trucks and industrial sweepers), and consumer leisure (recreational vehicles). REV Group's diverse portfolio is made up of well-established principal vehicle brands, including many of the most recognizable names within their industry. Several of REV Group's brands pioneered their specialty vehicle product categories and date back more than 50 years. REV Group trades on the NYSE under the symbol REVG. Investors-REVG