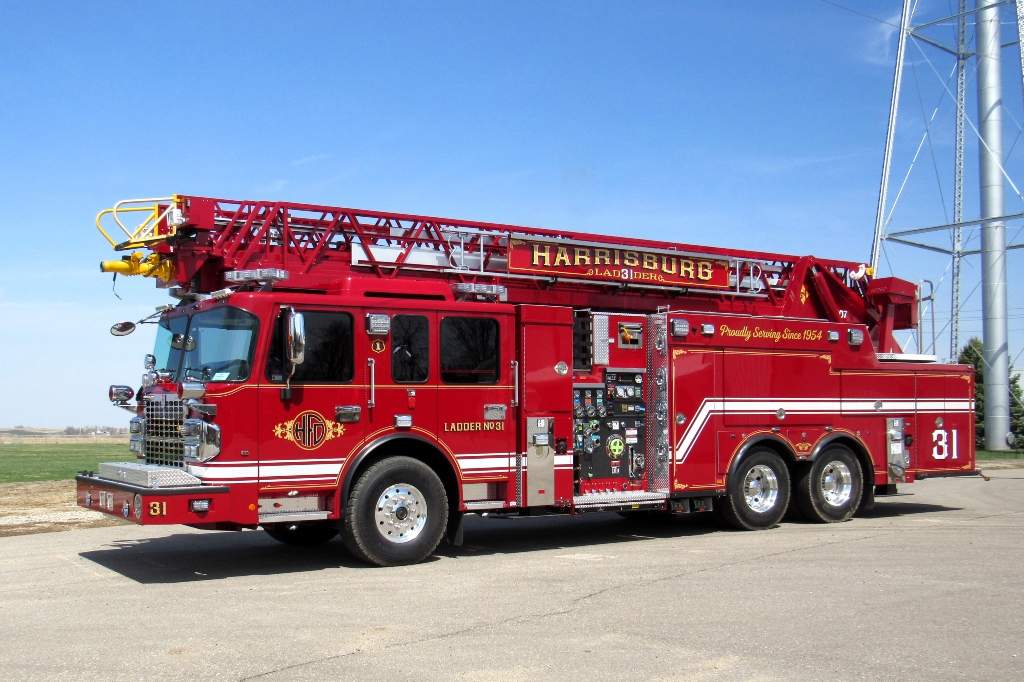 BRANDON, SD – April 19, 2023 –  Spartan Emergency Response, a subsidiary of REV Group, Inc., and leading manufacturer of fire apparatus, will offer the latest innovative products and technologies – including Vector™, the first North American-style fully electric fire truck – at FDIC International (Fire Department Instructors Conference) in Indianapolis, Indiana from April 27-29, 2023.
REV Fire Group's Vector is returning to FDIC, allowing attendees to see the first North American-style fully electric fire truck. With its 327 kilowatt-hours (kWh) of proven automotive-grade batteries, Vector delivers the longest electric pumping duration in the fire industry, accomplishing all driving and pumping tasks exclusively on electrically generated power. The design also features low battery cell placement, offering a safer, lower center of gravity for enhanced stability while operating.
Spartan Emergency Response will have multiple fire apparatus on display including the 107' Rear Mount Aerial with Smart Reach® Multi-Stance® technology. Featuring the patented Smeal™ ladder and outrigger control system, it offers a 360-degree, no dead-zone functionality that can be adapted to the scene while maintaining full reach, and access to real-time data. The Multi-Stance technology allows operators to set the outriggers to any reach that the fire scene will accommodate. The Smart Reach control console also offers electric and hydraulic aerial controls, giving users the ultimate in smooth operation.
Other Spartan Emergency Response apparatus on display will include:
Top Mount Pumper from Rising Sun Fire Department, Indiana: Built on a Spartan Metro Star® Chassis, this pumper features a 1500 GPM pump, 1000-gallon tank, black Speedliner pump panel, and internal right side ladder storage.
Side Mount Pumper from Kyle Fire Department, Texas: Equipped with the Advanced Protection System® and 1500 GPM pump, this pumper features a Metro Star LFD chassis, 750-gallon tank, 30-gallon foam cell, FoamPro 2001 foam system, and 21" severe duty front bumper.
107' Smart Reach Aerial from Harrisburg Fire Department, North Carolina: Features 12', 14', or 16' Outrigger Spread with Multi-Stance Technology, 100' horizontal reach, 2,000 GPM pump, 500-gallon tank, and 20 percent grade fore/aft leveling capabilities.
100' Rear Mount Platform from Greenfield Fire Department, Indiana: Built on a Spartan Gladiator® LFD chassis with torque box storage for 129' of ladders, 98' horizontal reach, 1250 lbs. dry / 500 lbs wet unrestricted tip load, 12.5" extended front bumper and left and right-side EMS compartments with exterior hinged access doors.
As part of this year's theme of "Protecting Those Who Protect Us," REV Fire Group will offer a special promotion at FDIC on the Active Air Purification System, which eliminates 99% of pathogens, including the virus which causes COVID-19, in the air and on surfaces. Attendees can register for a drawing with a chance to win a free unit for their department and receive 10% or $150 off their order for these units.
"We are committed to delivering new and innovative products that protect communities," said Mike Virnig, President of REV Fire Group. "That's why we are excited to showcase the 107 Smart Reach aerial, the all-electric Vector and the Active Air Purification system."
REV Fire Group will host a happy hour and live product walk-arounds from 2-4 p.m. on Thursday and Friday of the conference, including live interviews with National Fire Radio.
Visit Spartan Emergency Response at Booth 4200 for the latest products and technologies available for the fire industry.
###
About Spartan Emergency Response
Spartan Emergency Response, comprised of REV Group subsidiaries Spartan Fire, LLC, Smeal SFA, LLC, Smeal LTC, LLC and Smeal Holding, LLC, is a North American leader in the emergency response market and offers brands including Spartan Authorized Parts, Spartan Factory Service Centers, Spartan Fire Chassis, Smeal, and Ladder Tower. Spartan Emergency Response vehicles are well known for safety, quality, durability, aftermarket product support, and first-to-market innovation. The company operates facilities in Michigan, Pennsylvania, South Dakota, and Nebraska.
About REV Group, Inc.
REV Group companies are leading designers and manufacturers of specialty vehicles and related aftermarket parts and services, which serve a diversified customer base, primarily in the United States, through three segments: Fire & Emergency, Commercial, and Recreation. They provide customized vehicle solutions for applications, including essential needs for public services (ambulances, fire apparatus, school buses, and transit buses), commercial infrastructure (terminal trucks and industrial sweepers), and consumer leisure (recreational vehicles). REV Group's diverse portfolio is made up of well-established principal vehicle brands, including many of the most recognizable names within their industry. Several of REV Group's brands pioneered their specialty vehicle product categories and date back more than 50 years. REV Group trades on the NYSE under the symbol REVG. Investors-REVG