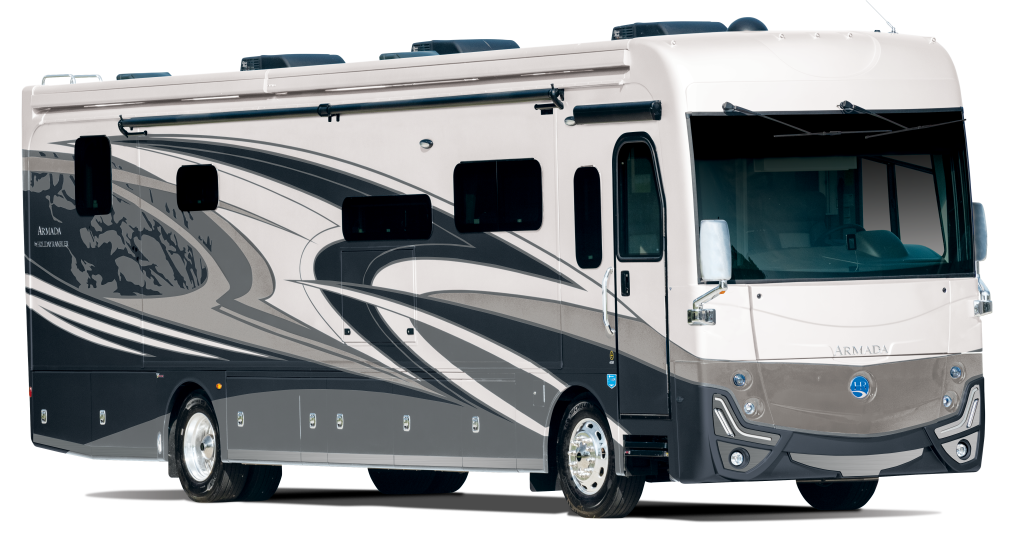 DECATUR, IN – June 16, 2023 – The Fleetwood Family of brands (Fleetwood RV®, Holiday Rambler®, American Coach®) is planning to celebrate a significant upcoming milestone with an equally significant expansion of its product lineup.
Long known for its legendary lineup of Class A coaches, the Fleetwood Family will celebrate its 75th anniversary in 2025 with the introduction of brand-new Class B and Class C models from Fleetwood RV and Holiday Rambler.
The expansion into Class B and Class C motorhomes will also provide RVers increased options at every stage of the motorized ownership lifecycle. From outdoor enthusiasts eager to join the RV lifestyle to experienced RVers, these new Fleetwood and Holiday Rambler products will offer solutions at every turn. All models feature the contemporary construction, design, and technology – and expansive service network to keep them on the road – that the Fleetwood Family of Brands is known for.
"This expansion of our product lineup will make it easier and more exciting than ever for RVers to experience firsthand what makes being a part of the Fleetwood family so unique and enjoyable," said Alan Farash, Vice President and General Manager, REV Recreation Group, Inc. "We can think of no better way to celebrate 75 years of being a brand that families trust than by providing families – and all RVers – more opportunities to become members of the Fleetwood family."
Fleetwood and Holiday Rambler dealers will benefit from the opportunity to begin offering a full line of motorized products with consistency and innovation across the entire lineup.
"The feedback and input we've already received from our valued dealer partners in the development of these products has been outstanding," Farash added. "Their insights, combined with our unparalleled expertise and experience, are critical in ensuring we're bringing Class B and Class C products that truly stand out in the marketplace and keep our customers in the Fleetwood Family of brands for life."
Fleetwood plans to introduce its initial lineup of Class B and Class C models for the 2025 model year.
About REV Recreation Segment
REV Recreation Segment includes subsidiaries of REV Group, Inc. that manufacture a diverse range of recreational vehicles as well as molded fiberglass and lamination. In addition to a genuine parts online warehouse, the segment operates two state-of-the-art service and repair centers.  From Lancaster, California to Bristol, Indiana, REV Recreation Segment companies span the United States and produce Class B custom sprinter vans, high-end Class C/Super C motorhomes, luxury Class A motor coaches, travel trailers and truck campers. With one of the industry's best and longest-standing distribution networks, the segment boasts some of the industry's most recognized and iconic brands; Lance®, Holiday Rambler®, Renegade RV™, American Coach® and Fleetwood RV®, and Midwest Automotive Designs™.
About REV Group, Inc.
REV Group companies are leading designers and manufacturers of specialty vehicles and related aftermarket parts and services, which serve a diversified customer base, primarily in the United States, through three segments: Fire & Emergency, Commercial, and Recreation. They provide customized vehicle solutions for applications, including essential needs for public services (ambulances, fire apparatus, school buses, and transit buses), commercial infrastructure (terminal trucks and industrial sweepers), and consumer leisure (recreational vehicles). REV Group's diverse portfolio is made up of well-established principal vehicle brands, including many of the most recognizable names within their industry. Several of REV Group's brands pioneered their specialty vehicle product categories and date back more than 50 years. REV Group trades on the NYSE under the symbol REVG. Investors-REVG