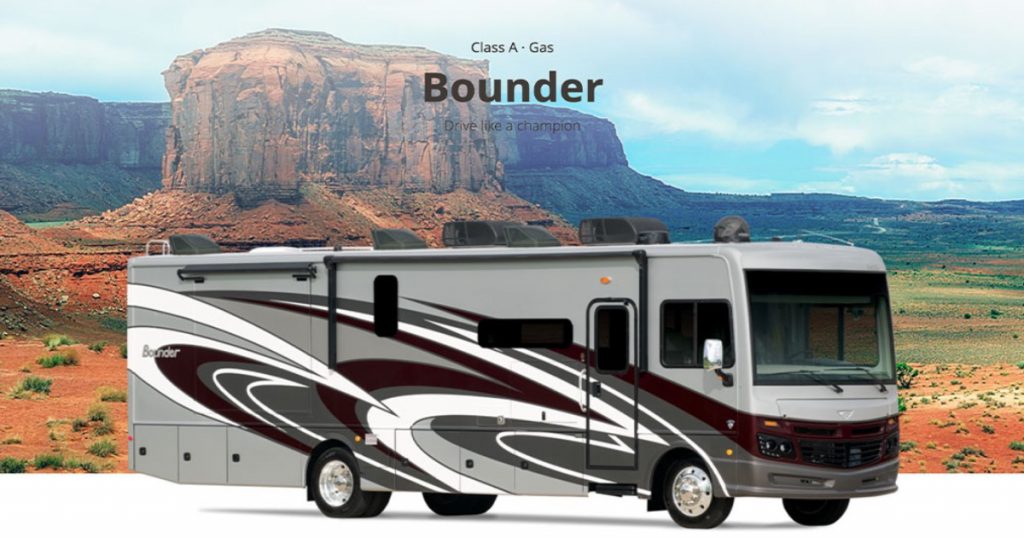 For families looking for out-of-the-world fun, Fleetwood RV has curated a list of four destinations that deliver a space odyssey.
Fleetwood RV is one of the most-established brands in the motorhome industry that's ideal for families. The Bounder® 35GL from Fleetwood RV is a new floorplan that features four distinct zones, making it feel like a "traditional" home. It includes space at the front for work and entertainment, a mid-ship open concept kitchen, a split lavatory with a private water closet, and a spacious master bedroom. In addition to the master, the RV has a sleeper sofa and an optional drop-down loft bed so the RV can sleep up to six children and adults.
Once the RV is packed, travelers can hit the road to take in views of planets, walk on a moon-like surface, chat with an astronaut, and learn more about life beyond the stars.
Please note: each location has been researched but be sure to call ahead to confirm hours of operation, advance ticketing requirements, and other relevant details.
Griffith Park Observatory
The easiest way to add some outer space to your next road trip is to visit a city with an observatory. Griffith Park Observatory is a stunning building and campus, admission is free, and it's smack dab in the heart of Los Angeles, which means an endless list of things to do when you're done looking at and learning about the stars.
Kennedy Space Center
History buffs and space nuts alike should point their RVs towards Merritt Island, Florida, home to the legendary Kennedy Space Center. You could easily spend a week working your way through all of the attractions, from exploring the actual equipment used in missions to learning about the history, and even going through some astronaut training yourself! And if you time the trip right, you might be able to catch an actual space shuttle launch while you're in the area.
Craters of the Moon Monument and National Preserve
If you want a vacation destination that feels like another planet entirely, look no further than Idaho. Specifically, the Craters of the Moon Monument and National Preserve. According to an official website, "the monument preserves around 53,500 acres of volcanic formations and lava flows on the northern rim of the Snake River Plain in south central Idaho." The result is a wonderfully weird terrain that you'll never forget.
Roswell, New Mexico
A list of out-of-this-world destinations wouldn't be complete without including one of the most famous of all. Nestled in scenic southeast New Mexico, Roswell is a tourist treat, offering plenty of UFO-centric features and attractions, as well as plenty of non-UFO offerings. Each July, the town hosts its UFO Festival, which celebrates the Roswell Incident.
Fleetwood RV is a brand within REV Recreation Group, Inc. a subsidiary of REV Group, Inc.
For more travel tips and ideas and to see the latest Fleetwood RV models, follow Fleetwood RV on Facebook and Instagram.
###
About REV Recreation Group, Inc.
REV Recreation Group, Inc. is a REV Group subsidiary and a leading manufacturer of Class A Gas and Diesel recreational vehicle brands. This company has one of the best and longest standing distribution networks in the industry and boasts some of the industry's most recognized and iconic brand names such as American Coach®, Fleetwood RV®, and Holiday Rambler®. Headquartered in Decatur, IN, which is also its principal manufacturing location, it operates two state-of-the-art service and repair centers and a genuine parts online warehouse.
About REV Group, Inc.
REV Group companies are leading designers and manufacturers of specialty vehicles and related aftermarket parts and services, which serve a diversified customer base, primarily in the United States, through three segments: Fire & Emergency, Commercial, and Recreation. They provide customized vehicle solutions for applications, including essential needs for public services (ambulances, fire apparatus, school buses, and transit buses), commercial infrastructure (terminal trucks and industrial sweepers), and consumer leisure (recreational vehicles). REV Group's diverse portfolio is made up of well-established principal vehicle brands, including many of the most recognizable names within their industry. Several of REV Group's brands pioneered their specialty vehicle product categories and date back more than 50 years. REV Group trades on the NYSE under the symbol REVG. Investors-REVG