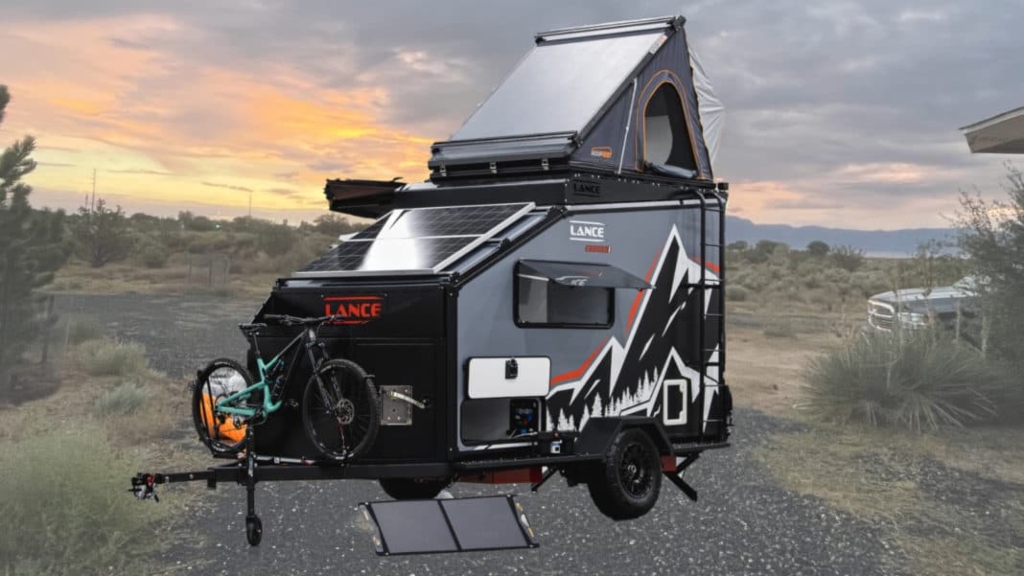 LANCASTER, CA – March 10, 2023 – Lance Camper Mfg. Corp., a REV Group company, announces manufacturing will commence from April 2023 for its new Enduro Off-Road Trailer. As a leading manufacturer of Truck Campers and Travel Trailers, this marks Lance's expansion into the overlanding product segment.
Lance first debuted the Enduro prototype as an overland-style concept trailer in November 2021, specifically designed to appeal to the overlanding, off-road and boondocking demographic. Following design modifications based on feedback from the public and dealer partners, the 2023 Enduro production model is a single-axle trailer with a floorplan which centers around an interior wet bath, u-shaped dinette, and an exterior kitchen. It features an all-new exoskeleton frame design and Curt independent suspension system with available state-of-the-art solar/ battery technology, onboard fresh water supply and filtration.
"Lance is no stranger to the adventure camping segment with our Truck Campers. Some might call the Truck Camper: the original overlanding RV," said Gary Conley, Director of Sales and Marketing, Lance. "What we have done with the Enduro is taken the 'get out there and camp' sprit we know so well and combined it with Lance quality to make an off-grid trailer we think people are going to love."
"Off-road enthusiasts push the limits of their vehicles which is not recommended with traditional trailers. With the Enduro, it offers the amenities overlanders want like a full stand-up shower, larger than a queen size bed and a real u-shaped dinette, plus heated/ cooled forced air and water in a capable and towable package with a dry weight under 3300 lbs," said Randy Hunter, Product Development Manager, Lance.
Lance will repurpose current space in one of its Lancaster facilities for production of the Enduro. The Exchange Place building will build the Enduro and become the headquarters for Sales, Marketing and Product Development. Allowing these departments the space to grow, communicate and drive further innovation in conjunction with the warranty and service teams.
###
About Lance Camper
Founded in 1965 with headquarters in Lancaster, CA and a production facility in Decatur, IN, Lance Camper Mfg. Corp. is the premier manufacturer of high-quality, ultra-lightweight composite-built truck campers and travel trailers in North America. Lance's recent 17th-year win of the RVDA's prestigious and coveted DSI (Dealer Satisfaction Index) Quality Circle Award reflects both Lance's product quality and service provided to Lance dealers and consumers.  Lance Camper Mfg. Corp. is a subsidiary of REV Group, Inc.
About REV Group, Inc.
REV Group companies are leading designers and manufacturers of specialty vehicles and related aftermarket parts and services, which serve a diversified customer base, primarily in the United States, through three segments: Fire & Emergency, Commercial, and Recreation. They provide customized vehicle solutions for applications, including essential needs for public services (ambulances, fire apparatus, school buses, and transit buses), commercial infrastructure (terminal trucks and industrial sweepers), and consumer leisure (recreational vehicles). REV Group's diverse portfolio is made up of well-established principal vehicle brands, including many of the most recognizable names within their industry. Several of REV Group's brands pioneered their specialty vehicle product categories and date back more than 50 years. REV Group trades on the NYSE under the symbol REVG. Investors-REVG